Avatar 2's Opening Weekend Wasn't Huge Enough To Fight Back Against Dropping Movie Theater Stocks
The opening of "Avatar: The Way of Water" is nothing to balk at with the long-in-development sequel raking in more than $400 million worldwide in its opening weekend, per Box Office Mojo. The numbers, however, fell below some projections that had the movie topping $500 million globally in its debut, via Deadline. 
The reason this difference matters more in 2022 is that the box office is still attempting to make a full comeback after the shutdowns that stemmed from the COVID-19 pandemic. The U.S. box office has relied more than ever on massive blockbusters like "Avatar: The Way of Water" more than ever as a steady stream of films are released to streaming, some even day-and-date with their theatrical openings, like "Halloween Ends." Even mid-budget, well-reviewed films like "Violent Night" are heading to Premium Video on Demand within weeks, cutting their theatrical lifespan drastically. 
Must-see theatrical experiences that promise to push visual bounds are still managing to find a place at the box office, with Marvel releases like "Black Panther: Wakanda Forever" pulling in respectable business and "Top Gun: Maverick" standing as the year's biggest runaway success, pulling in nearly $1.5 billion worldwide. As far as numbers stand, 2022 proved that audiences are ready to return to cinemas. However, 2022's domestic financial receipts are nearly 34% lower than 2019's earnings (via Box Office Mojo), revealing that the box office has a long way to go. 
For box office purists and theatre exhibitors, there was one major film that was set to change everything. "Avatar: The Way of Water" was expected to be the latest big-screen mega-hit, a juggernaut that would pump new life into the movie industry. But even the massive opening of James Cameron's latest blockbuster couldn't solve an industry's continuing struggles, and the stock market proves just that. 
AMC and Cinemark stocks dropped
"Avatar: The Way of Water" opened to approximately $134 million domestically and $441 worldwide, per Box Office Mojo. One sign that this was a disappointing start was the fact that AMC Entertainment and Cinemark stocks both dropped on the following Monday. Also dropping were "Avatar" studio Disney and IMAX, which logically could have seen a boost thanks to the spectacular release of James Cameron's sequel. 
AMC stock dropped 8.26 % Cinemark fell 10.3 %, Disney dropped 4.77 % and IMAX tumbled by 5.76 %, according to a report from IndieWire. This doesn't necessarily spell all bad news for "Avatar: The Way of Water" as 2009's "Avatar" only opened to about $77 million domestically on its way to more than $700 million. It does mean, however, that the movie was not the last-minute savior the 2022 box office needed, no matter how well the space fares in 2023.
"Avatar: The Way of Water" is going to need strong legs like no other film. According to Cameron, the sequel has to break into the all-time box office top five to even be profitable, meaning it potentially needs a cool $2 billion worldwide to get into the black. "You have to be the third or fourth highest-grossing film in history. That's your threshold. That's your break even," Cameron told GQ.
Do movie theatres and Disney need to worry?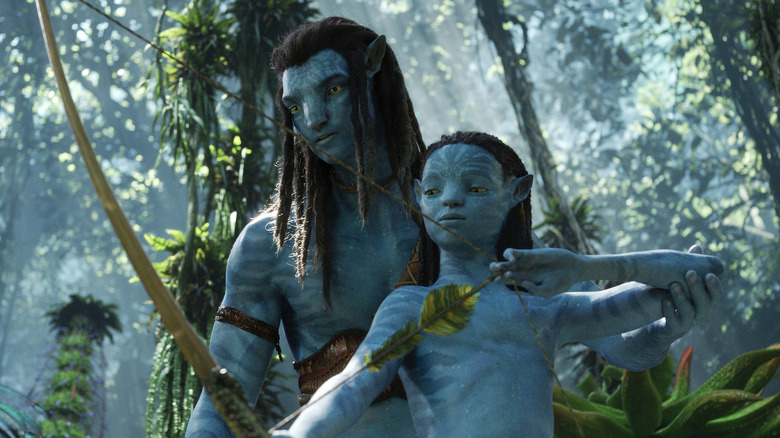 20th Century Studios
Does a drop in share value after a less-than-groundbreaking "Avatar: The Way of Water" opening mean that movie theatres and Disney need to worry? Only if they want to breed a larger sense of doom. James Cameron's sequel may not have brought in over half a billion dollars during its opening weekend, but it did cross that mark effortlessly on Tuesday thanks to international markets like China, India, and Germany (via Deadline). Just like the first "Avatar," the sequel's success relies on its ability to have phenonemal legs. Cameron himself has candidly shared that the opening weekend shouldn't dictate his film's success. "We'll know by the third weekend," the director told The Hollywood Reporter. "You're not going to know by the first weekend. 'Titanic' didn't work that way. 'Avatar' didn't work that way."
What Cameron says, however, is different than what the industry expected. It would be foolish to speculate how much "The Way of Water" will rake in as of this writing, but it's worth noting that movie theatres have an exciting 2023 ahead, which should quell anxieties of shareholders. The first three months of 2023 are filled with blockbuster material, including the upcoming "Ant-Man" threequel, "Creed III," and "John Wick: Chapter 4," all of which's predecessors raked in over $100 million domestically. "The Way of Water" may have not made the biggest splash but its large debut is still a promising sign of what's to come.