Tom Cruise Rode A Motorcycle Off A Cliff Multiple Times For Mission: Impossible - Dead Reckoning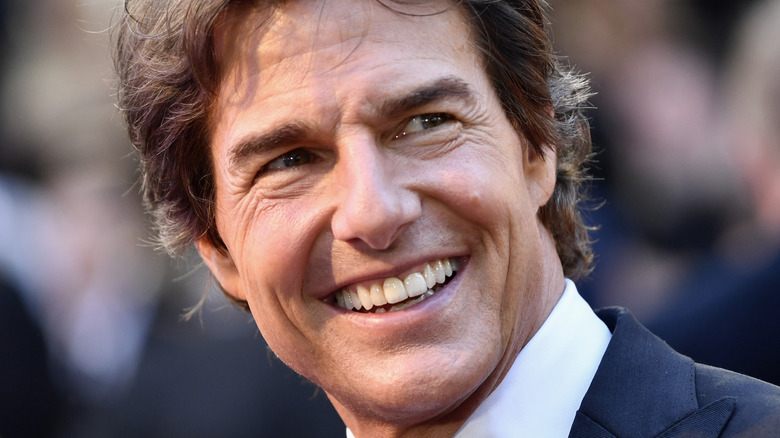 Gareth Cattermole/Getty Images
The "Mission: Impossible" franchise is known for many things, including its exhilarating fight scenes and abundance of slick spy villains, but while those are always expected, what people get extremely excited to see are the insane stunts performed by its star, Tom Cruise. From the skyscraper Spider-Man-style climb in "Mission: Impossible – Ghost Protocol" to hanging off the side of an aircraft taking off in "Mission: Impossible – Rogue Nation," there is no shortage of pulse-pounding thrills jam-packed into each entry of the franchise. 
Of all the people involved in bringing those game-changing antics to life on screen, the one that deserves the most credit is, without a doubt, Cruise. His commitment to giving fans a bigger and better spectacle in each entry has a lot to do with why the franchise has generated over $3 billion at the box office (via The Numbers). And it appears Cruise is going to keep that tradition going for "Mission: Impossible – Dead Reckoning Part One," having undergone a death-defying stunt a surprising amount of times and lived to talk about it.
Tom Cruise cheated death half a dozen times to pull off the epic stunt
The trailer for "Mission: Impossible – Dead Reckoning Part One" revealed that Tom Cruise's character Ethan Hunt would be driving a motorcycle off of a cliff in the film. In order to prepare for such a life-threatening ordeal, the actor had to go through a rigorous preparation process involving excessive amounts of skydiving and motorcycle jumps. In a behind-the-scenes featurette (via YouTube) showcasing how it all went down, base jumping coach John Devore called the epic endeavor "pretty much the biggest stunt in cinema history. Tom Cruise just rode a motorcycle off a cliff six times today." Doing such a dangerous maneuver would be the kind of thing many would likely presume is a one-and-done affair, but when Cruise is at the helm, it's best to expect the unexpected.
While he may make the entire thing look simple, the actor himself would tell you it's anything but, and he had a lot of concerns while doing the daring sequence. Cruise mentioned the wind, the helicopter, and the execution of the jump all being a problem, as well as his parachute, saying, "I had about six seconds once I departed the ramp to pull the chute and I don't want to get tangled in the bike. If I do, that's not going to end well." Luckily, all the planning and training that went into it paid off, as the actor was able to successfully and safely perform the amazing stunt six times in order to get the perfect shot.
The "Mission: Impossible – Dead Reckoning Part One" stunt looks like it could very well be one of the franchise's best and help secure the seventh chapter a coveted spot on the list of best "Mission: Impossible" movies.