Avatar 2's Box Office Is A Test Of Endurance
Much like its 2009 predecessor, "Avatar: The Way of Water" had much to prove. Not only did it have to match the immense scope and technical innovation of the first "Avatar," but it also had to match or surpass that film's groundbreaking box office success. "Avatar," despite initially being predicted as a box office flop before its release (via Cinemablend), proved its naysayers wrong by breaking numerous box office records. This included becoming the first film to reach the $2 billion mark (via Bloomberg). It remains the highest-grossing film of all time, unadjusted for inflation (via Box Office Mojo), topping the previous record holder, James Cameron's "Titanic," another box office juggernaut that many thought would fail financially (via The Guardian).
Now James Cameron seeks to be king of the world once again with the long-awaited sequel to 2009's "Avatar,' "Avatar: The Way of Water." The franchise collectively had a budget of $1 billion (via Forbes), so it's crucial that they would need to succeed at the box office for the mighty investment to be justified. Fans may be wondering, then, how successful Cameron's latest directorial outing has been thus far.
The Way of Water still has some waves to leap before hitting its projections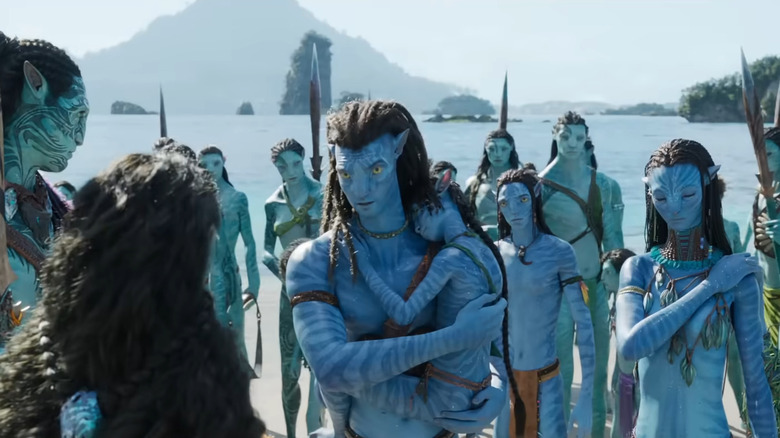 20th Century Studios
The production budget of "Avatar: The Way of Water" alone has been estimated between $350 and $400 million (via The Hollywood Reporter). And when you add on its additional theater rental and advertising fees, the amount needed simply to break even becomes a Tulkun-sized monstrosity, with director James Cameron estimating that the film would need to gross $2 billion to hit this mark (via GQ).
The film's eventual opening weekend on December 16, 2022, came with a mixed viewpoint from analysts. According to Deadline, while "Way of Water" has surpassed its predecessor's $77 million opening weekend (via ComingSoon), the film itself was not able to meet its own set goals of a $150-$175 million domestic opening weekend, instead earning $134 million domestically and $435 million worldwide. While the numbers didn't quite hit the intended mark, there isn't much worry from Disney, who believe that the holiday season and 3D ticket sales will help the film reach its goal. "We got the word of mouth, we've got a great movie, we have the screens and a clear run ahead throughout the holidays," says Tony Chambers, Disney's EVP of Theatrical Distribution, to Deadline.
James Cameron himself isn't too worried about the outcome. As he tells Variety, "If I like my movie, I know other people are gonna like my movie. It's very simplistic, really, ultimately."