Hypno-Hustler's Creator Is Also Responsible For A Beloved Guardians Of The Galaxy Member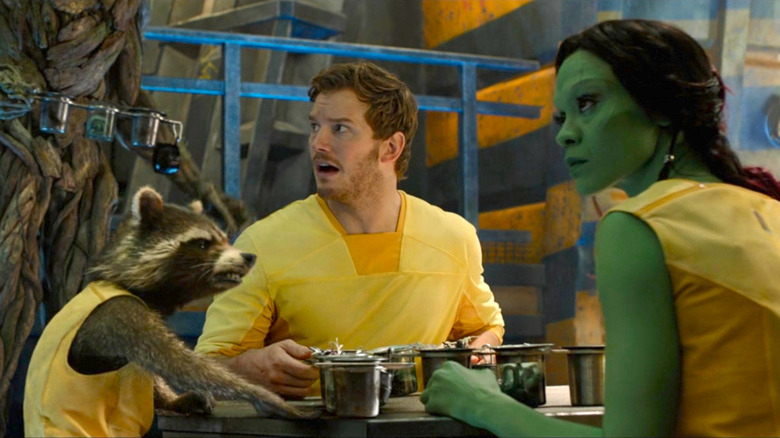 Marvel Studios/Disney+
The big-screen version of the Spider-Verse is reportedly expanding. The Hollywood Reporter said it has learned from sources that actor and musician Donald Glover is stepping into the Hypno-Hustler suit in a new film with Sony Pictures. According to Marvel, the Hypno-Hustler is known in the comics for using hypnotic music and some groovy technology to cause chaos as a member of the band Mercy Killers. THR notes that the villain made his Marvel Comics debut back in 1978 in "Peter Parker, the Spectacular Spider-Man" No. 24. The issue, written by Bill Mantlo and penciled by Frank Springer, found Spider-Man fighting crime inside a disco as he tried to pull the plug on the Hypno-Hustler's scheme (via Marvel).
Mantlo is no stranger to Marvel, having worked on comics for several big Marvel characters, including Doctor Doom, Captain America, Luke Cage, and The Incredible Hulk (via Marvel). He even worked on some of the early "Transformers" comics for Marvel (via The Hollywood Reporter). Fans of the Marvel Cinematic Universe are already very familiar with his work, which comes in the form of one very feisty Guardians of the Galaxy member he's partly responsible for creating.
Mantlo's Rocket has brought plenty of laughs and heart to the MCU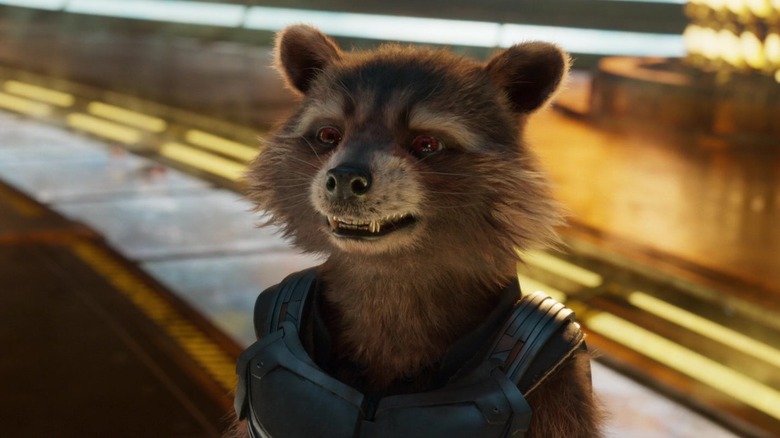 Marvel Studios/Disney
The Guardians of the Galaxy have been bringing humor, action, and appreciation for classic rock to the Marvel Cinematic Universe since 2014. The films follow Peter Quill (Chris Pratt), Gamora (Zoe Saldana), Drax (Dave Bautista), Groot (Vin Diesel), Rocket (Bradley Cooper), and more, as they work to save the galaxy. And while each character brings something special to the team, it's Rocket, the talking raccoon, that has become one of the most beloved characters on the Guardians team. And it's a character that partially belongs to comic book writer Bill Mantlo. 
According to Collider, Mantlo and Keith Giffen created the character back in 1976, two years before Hypno-Hustler entered the comics. Per Marvel, Rocket once lived on the planet Hailailae before protecting the inhabitants of Halfworld. He would then use his experience as a loyal protector to help others as a member of the Guardians. His drive to protect others is a central part of who he is in the Marvel Cinematic Universe, doing everything he can to help the friends who have become his family.