The Deadliest Catch Cast Stocks The Boat With Up To $15,000 Worth Of Food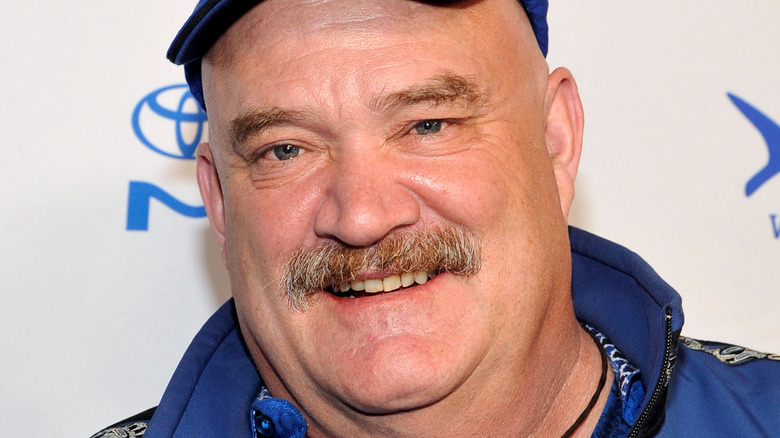 John Sciulli/Getty Images
When going away on any type of trip, whether it be for business or pleasure, stocking up on essentials to make sure you are fully prepared prior to departure is a no-brainer. For the brave crew of the vessels featured on Discovery's "Deadliest Catch," making sure that the boat is set up for success holds a little bit more importance than the typical journey from home. Obviously, with these boats heading out to work in the middle of the Bering Sea, there are no stores or same-day deliveries available to restock during trips that could last between three to five weeks at a time.
Over the decade-plus in which fans have been following these crab-catching boats, the specific essential items needed are mostly universal. Captains must make sure they're stocked with things like bait, equipment, back-up mechanical parts, and the countless other items that contribute to a productive time at sea. Of course, the crew members, themselves, have their own requirements. Most importantly are the meals needed to fuel them for the many sleepless hours on deck.
It's understandable if some new viewers may wonder why these crab fisherman don't simply eat the delicious bounty that they are reeling in throughout the day. Well, as Sig Hansen told the Miami New Times, when it comes to devouring those elusive crustaceans, the crew remains on the same playing field as the customers. "We only get to fish it once a year," Hansen said, "so, it's a treat to bring it home." And although the very product they are catching is off the menu, that doesn't mean there isn't an ample amount of other options available within the galleys.
Despite the selection, most of food gets microwaved
Before the boats go out to stuff their tanks with valuable crab, the captains must make sure the freezers, refrigerators, and cabinets are stocked with enough food to keep their crew filled up. When Edgar Hansen of the Northwestern gave Fox Seattle a tour of The Northwestern, he revealed how much of a chunk these provisions can take out of the budget. "We spend up to $10,000 to $15,000 in food to take with us," Hansen revealed. But, despite the ample variety of food options, the one important ingredient that's missing for the crew is time.
When Captain Keith Colburn gave Seattle Insider a personal tour of The Wizard, he touched upon the fact that plenty of food is available, but there is rarely enough time to put together a nicely cooked meal. "We've got anything you can think of to eat," Colburn said, "but more times than not, the guys are eating out of those two microwaves right there. Because, a five-minute break isn't enough time to eat a full meal."
When working a job that is as intense as this one, it isn't so much about how well the meals are prepared during the trip, but more about how the food effects their bodies. High-calorie options are ideal to enhance and prolong the deckhands' required energy, helping them keep the pace without slowing down. "For the most part, these guys live real quickly, real fast," Colburn explained. "They come in and throw a burrito in the oven and then they're back to work." And with the shopping bill as large as it is, that's a heck of a lot of burritos.