What Meals Are Really Like On Deadliest Catch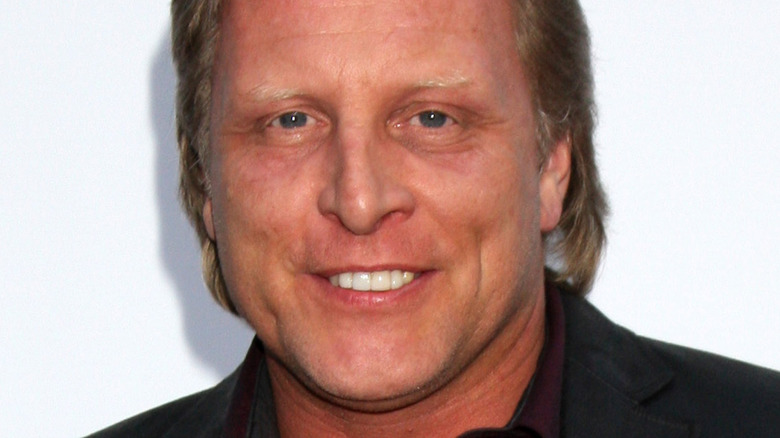 Kathy Hutchins/Shutterstock
"Deadliest Catch" isn't just a name that stops channel surfers in their tracks. According to the National Institute for Occupational Safety and Health, the fatality rate among commercial fishermen is 29 times higher than the national average. Over the course of its 18 seasons on the air, the Discovery series has shed light on these seafarers and their perilous lives on the open water, capturing the triumphant, record-breaking hauls and tragic losses of "Deadliest Catch."
While viewers may tune in for the taxing crabbing sequences and the high-octane brushes with stormy weather, the humdrum scenes of day-to-day life are just as important in painting a vivid picture of what it's really like on a fishing vessel, whether it is keeping up with crab pot maintenance or capturing downtime in close quarters. The fishermen of "Deadliest Catch" risk life and limb to feed America's eager gourmands, but what do they themselves eat when in pursuit of Dungeness crabs? 
Here's what the meals are like on "Deadliest Catch."
High-calorie meals go a long way at sea
On "Deadliest Catch," every decision is dictated by the sea and that is no different when it comes to meals. In a Reddit AMA, James Gallagher, a rookie engineer on the Lady Alaska, talked about eating while on the job. He explained that, typically, one member of the crew will cook so that the rest of the guys can get to work. "Usually some one will run inside when we're setting a string off to go cook breakfast or dinner," Gallagher said.
Captain Sig Hansen confirmed that when it comes to dining at sea, the fishing schedule is king. "Fishing is what dictates your meals and what you can eat, so your diet is horrifying," he told Miami New Times. "You're not eating at regular times, it's hell." Still, it sounds like the crews do manage to scrape together some impressive meals in their tiny galley kitchen. "Junior loves my fish tacos," Gallagher boasted during his AMA.
Such a demanding schedule requires that the crew take a utilitarian approach to eating. High calorie meals are key to keeping the crew energized for their labor-intensive work. As Gallagher put it, "We eat a pretty crazy amount of food." Indeed, on one episode of "Deadliest Catch," Jake Harris whips up a carb-heavy 5,000 calorie breakfast for the crew in 15 minutes, all while struggling with broken dishes and eggs tumbling off of the counter. It didn't help that his crew members turned off the power to frazzle the young cook. The fishermen's meal schedules may be beholden to the whims of the ocean, but they still manage to squeeze in some light hazing.