Guillermo Del Toro Doesn't Mince His Words When It Comes To Avatar 2's Achievements As A Film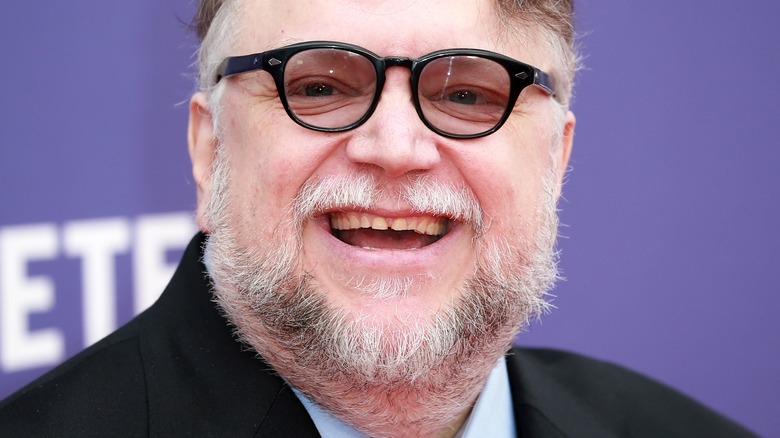 Fred Duval/Shutterstock
Guillermo del Toro is nothing short of a master filmmaker. From his Academy Award-winning "The Shape of Water" to the hauntingly elegant and unsettling "Crimson Peak" and, of course, "Pan's Labyrinth," del Toro is no stranger to bringing magical and fantastical worlds to life. His reputation for filmmaking that branches between fantasy and horror has earned him notable recognition worldwide. Most would consider him one of the greats of his generation.
Del Toro is no stranger to creating riveting series, though. Bringing FX's "The Strain" to life, he gave fans a whole new look at what it meant to be a vampire. His more recent works, like Netflix's "Guillermo del Toro's Cabinet of Curiosities," have received the Rotten Tomatoes Certified Fresh seal of approval.
Considering what a master del Toro is in world-building and making the unbelievable, well, believable, it's not really a surprise that he's also a fan of the genres he works in so often. It shouldn't come as a surprise either that "Avatar" is right up his alley. We're talking about the same person who gave the world "Pacific Rim," after all. Science fiction and fantasy go hand-in-hand; none know that better than del Toro.
The legendary filmmaker seems to have nothing but praises for James Cameron's highly anticipated "Avatar: The Way of Water."
Del Toro calls The Way of Water outstanding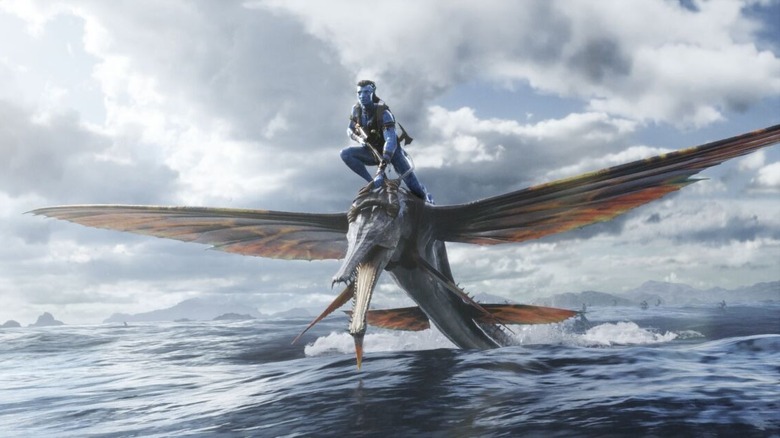 20th Century Studios
Guillermo del Toro sat down to do an interview with AP Entertainment for his new film "Guillermo del Toro's Pinocchio." During the interview, he got sidetracked by a question about James Cameron's new film, and his reaction to "Avatar: The Way of Water" was moving to watch. Almost at a loss for words, del Toro explained that he'd seen the film in advance and that it was simply outstanding.
"What happened to me was when I was watching it, I realized how long it's been since I saw a movie," del Toro explained. "Like a giant, proper, powerful movie that entertains, moves me, and shows me visuals that I couldn't even dream of." The way he emphasized the word "movie" stood out. It's such a common word in modern culture, but the way he said it made it feel like something grand. In just one short description that gave nothing about the film away, he made it sound and feel larger than life, the way a movie ought to be.
Del Toro seemed to be trying to figure out a way to describe how intense the experience was without spoiling the film before its release. Leaving such a vivid storyteller rendered nearly speechless attests to how moving this film is. Del Toro's reaction helps dissuade the idea that "The Way of Water" was a sequel too long overdue.
The Way of Water is artistically complex, according to del Toro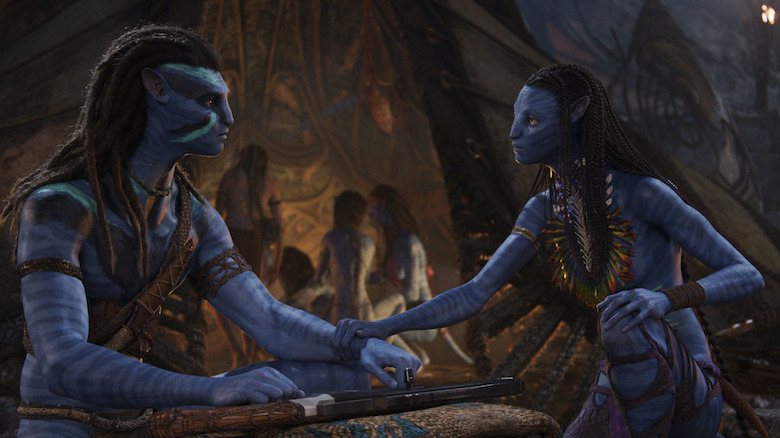 Legendary Pictures
During the same AP Entertainment interview, del Toro said, "It's technically and artistically so complicated and complex and beautiful. If you told me I had to shoot one of the final sequences in the movie or lose my life, I would start to arrange for a coffin because it's incredibly flabbergasting."
It's hard to imagine that the creative mind that brought the world "The Shape of Water," "Pacific Rim," and "Guillermo del Toro's Cabinet of Curiosities" could be so gobsmacked by a movie this way. After all, del Toro is known for technically challenging and complicated visuals that bring his larger-than-life worlds to fruition. "Pacific Rim" alone juggled multiple skyscraper-sized buildings and sea monsters battling on such an epic scale, it was and still is mesmerizing to watch.
Such high praise does shine a bright light onto the highly anticipated but also controversial sequel. "Avatar," after all, came out in 2009. For many years, fans believed it would be a standalone film. When "The Way of Water" was announced, many said that it was too late for a sequel. Others claimed that while "Avatar" was great for the time it came out, it didn't have any lasting cultural impact. Del Toro clearly disagrees with these sentiments.
Fans were surprised about his reaction. Twitter user @PedroValada1 even responded to the video by saying, "Bro was flabbergasted."