Who Played Hope Jacquinot On Chicago Fire?
When NBC's first-responder drama "Chicago Fire" premiered in the Fall of 2012, few might've expected we'd still be talking about it more than a decade later. Even fewer might've known the series would serve as the flagship in a hit small-screen franchise. Yet, more than 200 episodes after "Chicago Fire" debuted, the show remains the undisputed anchor of the "One Chicago" verse, and arguably even the "One Chicago" franchise's best show, according to fans.
It also remains one of the few shows on the airwaves that has managed to keep the bulk of its original cast in place during its run. That cast has, of course, been bolstered by franchise crossovers, with cast members from "Chicago P.D." and "Chicago Med" turning up on the regular. The show has also welcomed a few memorable guest stars that are not otherwise connected to the franchise. And of that crew, one could argue Hope Jacquinot was the most intriguing.
The character turned up as an old pal of series mainstay Sylvie Brett (Kara Kilmer) in Season 6. She quickly became a lightning rod for drama in Firehouse 51, even embarking on a short-lived romance with Rescue Squad heavy Kelly Severide (Taylor Kinney) before leaving Chicago after a rash of troublesome actions. Still, the character was far from a straight-up villain, with the actor playing Hope imbuing her with a tragic, humanizing sort of pathos, as well as a deeply flawed sense of right and wrong. Here's who played Hope Jacquinot on "Chicago Fire."  
Eloise Mumford portrayed the cagey Hope Jacquinot on Chicago Fire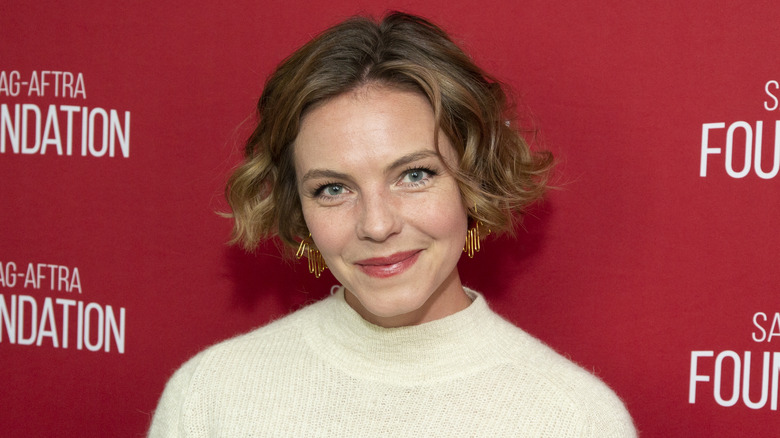 Vincent Sandoval/Getty Images
As "Chicago Fire" fans know, the rougher edges of Hope Jacquinot were softened considerably when she made a brief series return in Season 8. And it's a testament to the talent of Eloise Mumford that the delicate humanity viewers so fleetingly glimpsed in the character's first stint came through glowingly in her return. 
Depicting that sort of duality has become a bit of a calling card for Mumford throughout her career. If you've been following that career, you know she's appeared in some pretty impressive projects. Per IMDb, Mumford played Kate Kavanagh in "Fifty Shades of Grey" franchise, the best friend of Anastasia Steele (Dakota Johnson), and the future wife of Elliot Grey (Luke Grimes). Mumford also appeared on "Law & Order: Special Victims Unit," and had a stand-out turn as Trudy Cooper in the lauded Disney+ streamer, "The Right Stuff."
If you missed Mumford in those projects, it's entirely possible you've seen her at work on the Hallmark Channel. She has, after all, been a regular fixture in the slate of in-house productions for the cable network. In the last decade, she's appeared in no fewer than four holiday-themed movies for Hallmark, and two other non-holiday flicks. Mumford's most recent Hallmark holiday offering — 2021's "One December Night" — even found her sharing scenes with Bruce Campbell, Peter Gallagher, and Brett Dalton.