Larry David Only Had One SNL Sketch Go To Air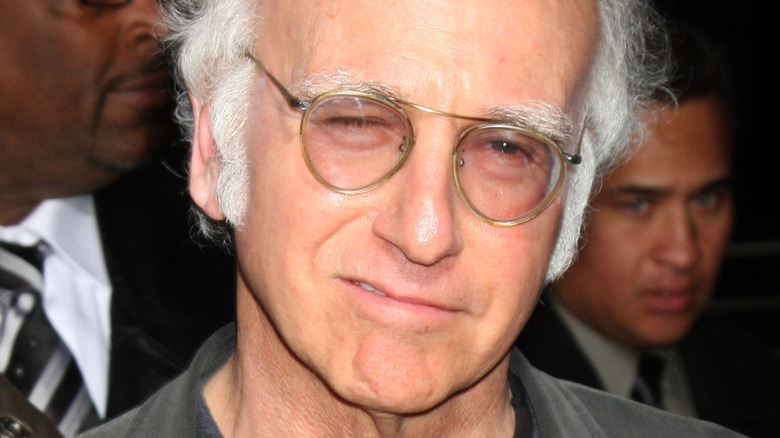 Kathy Hutchins/Shutterstock
Larry David has mined so much of his personal life for material that it would be a surprise if his fans didn't know his most minute biographical details. As students of Larry Lore know well, the Brooklyn-born David got his start as a standup comedian in the 1970's and 80's, while also working as a limousine driver and living across the hall from Kenny Kramer, inspiration for "Seinfeld's" Cosmo Kramer (Michael Richards).
David's first writing jobs were in the sketch comedy world. He was a staff writer on the short-lived ABC series "Fridays" from 1980 to 1982, but his subsequent stint on "Saturday Night Live" didn't go nearly as well. David lasted for only one season, from 1984 to 1985. He famously quit one Friday, then returned to work on Monday as if nothing had happened, which later became the inspiration for an episode of "Seinfeld."
One reason for David's frustration on "SNL" was that his material wasn't getting on the air. As David has said many times in interviews, he only had one sketch produced during his time on the show. What was that sketch? Let's delve back into the doldrums of mid-80's "SNL" to find out.
He had Harry Shearer, Billy Crystal, Ed Begley Jr., and Christoper Guest, and it still didn't work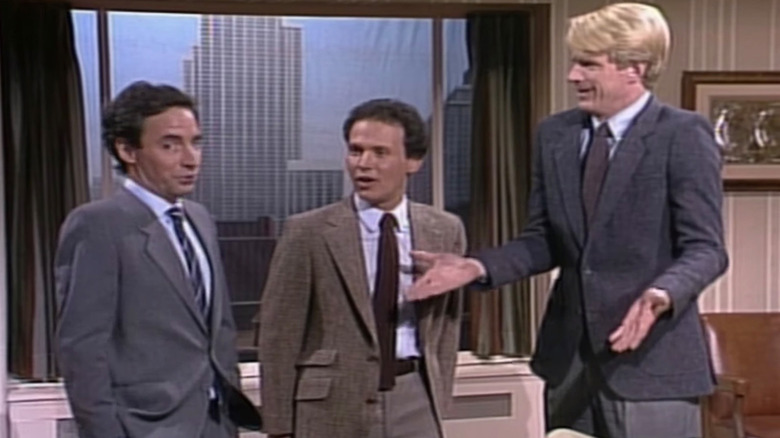 NBC/YouTube
The sketch is titled "Going Up" and features Billy Crystal, Harry Shearer and host Ed Begley Jr. as three architects who are trying to design a New York City skyscraper, but get caught on a sticking point: whether or not to include built-in stools inside the elevators so that the elevator operators can sit down. This devolves into a very Larry David-esque argument about whether elevator operators should be allowed to sit down on the job, or whether that would encourage laziness. The scene first gets some tepid laughs about three minutes in when the argument devolves into a wrestling match. Christopher Guest also makes an appearance as a confused elevator operator asked to give his opinion on the matter. It ends at just under the five minute mark. 
The sketch aired in December 1984, nine months after Shearer and fellow "SNL" cast members Guest and Michael McKean starred in "This Is Spinal Tap," one of the all-time great comedies (Begley Jr. also had a supporting role, while Crystal had a cameo as an angry mime). "Going Up" probably doesn't rank as one of their top memories of that year.
Of course, more recently Larry David has redeemed himself in sketch comedy. Since 2016 he's made many appearances on "SNL" as Bernie Sanders, and he's hosted twice (per IMDb). Pretty, pretty good.