Where Is Seinfeld's Real-Life Cosmo Kramer Today?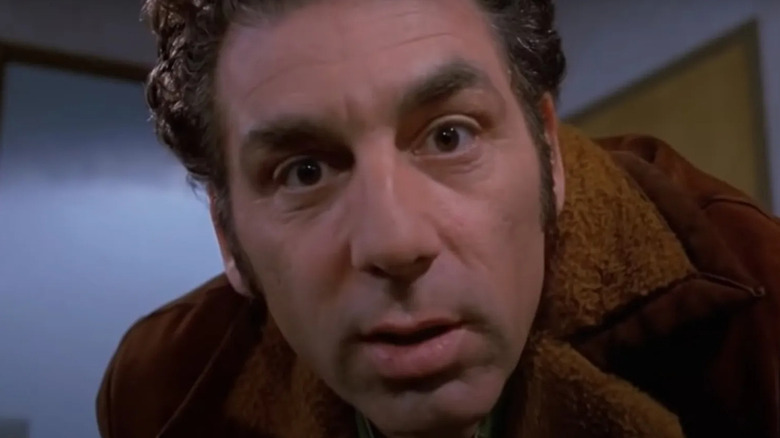 CBS
"Seinfeld" wasn't known only for its brilliantly relatable storylines, but also the show's highly unique characters — with the most eccentric out of the bunch being Cosmo Kramer (Michael Richards). Co-creator Larry David has always said that the character George (Jason Alexander) is primarily based on himself. In contrast, Kramer, Jerry's (Jerry Seinfeld) larger-than-life neighbor, is loosely based on a person from David's past.
First airing in 1989, "Seinfeld" gifted multi-camera sitcom fans 173 hilarious episodes over nine years. The series focused on friends Jerry, George, Kramer, and Elaine (Julia Louis-Dreyfus), who bounce around New York doing... nothing. Although each character had their own set of hilarious quirks, Kramer often stole the show — popping in and out of his apartment from across the hall, always with something wild to say or do. Considering Richards' depiction of the character is borderline cartoonish, it's hard to imagine Kramer is based on a real person. 
Cosmo Kramer was based on real-life Kenny Kramer, and he lived through an experience with Larry David, not unlike the one often shown between Jerry and Kramer in "Seinfeld." According to the bio on his website, Kenny Kramer reveals that he lived across the hall from David for six years, and during that time, David and Seinfeld collaborated to create the hit series. This unique connection to the show has given Kenny some exciting opportunities, and some fans surely wonder what he is up to today.
The real-life Kramer give tours and marry fans
Of all the "Seinfeld" characters, Michael Richards' Cosmo Kramer is undoubtedly a fan favorite. Kenny Kramer, the former neighbor to Larry David, has a unique connection to the character, as Cosmo is based on him. Kenny saw the show's success as an opportunity for himself, as his bio reveals that for the past seventeen years, he has been hosting "Kramers Reality Tour." The tour bus visits sites that have been made famous on the show. Stops include the coffee shop and the Soup Kitchen — home to another infamous "Seinfeld" character, the Soup Nazi.
Kenny, for sure, continues to grab any opportunity that comes his way. In 2013, he told the NY Daily News how he had recently bought boxes of a book titled "The Seinfeld Universe" — paying 10 cents each. "I was the only guy bidding," he laughed. "I signed them and resold them!" Kenny even offers a paid service where he will marry any couple who wants to boast that the real-life Kramer hitched them.
Today, his website still indicates that his touring business closed down temporarily in 2020 due to pandemic restrictions, and he was waiting for the "world to come back to normal" to start up again. However, there has not yet been an update on when it will return. Maybe he is too busy living one of the cartooniest moments in the series: hosting a prime-time talk show in his living room.