Where You've Seen The Cast Of 1923 Before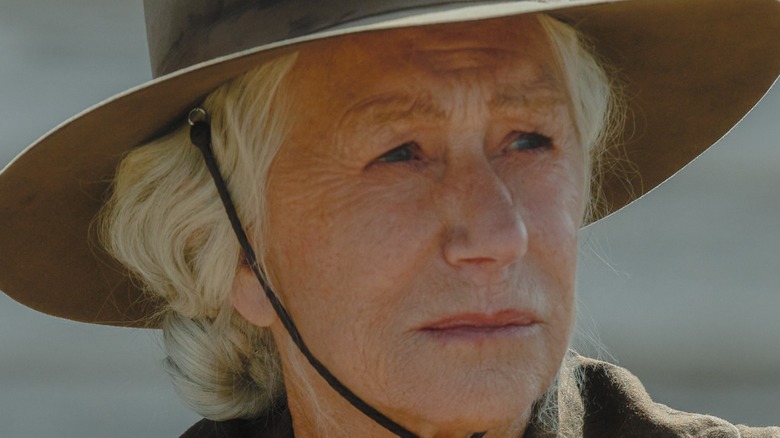 Emerson Miller/Paramount+
The world of Taylor Sheridan's neo-Western "Yellowstone" revolves around the family legacy of the Duttons and the drama surrounding their Montana ranch. Handed down through six generations, after its founding Duttons faced the dangers of the American frontier to travel in search of a new home, the present-day Yellowstone is the nation's largest contiguous ranch in a drama that finds the Dutton descendants embroiled in politics, conflicts with the neighboring Broken Rock Indian Reservation, and challenges to their land rights in the face of progress. 
Envisioned as a tale told across several productions, the "Yellowstone" origin story is recounted in the limited series "1883," a Western detailing the Dutton family's journey from Tennessee, their life on the Oregon Trail, and the devastating family loss that leads them to settle in Montana.
"1923" picks up the Dutton family tale a few decades later, starring Harrison Ford and Helen Mirren as the Depression-era stewards of Yellowstone Ranch. In the precarious era lodged between Western expansion and the hyper-connected 21st century, the Duttons find themselves beset with a fresh set of challenges that foreshadow those of their "Yellowstone" protagonist descendant John Dutton III (played by Kevin Costner). To get ready for the next installment in the Yellowstone saga, take off them boots, sit down a spell, and let's get into where you've seen the cast of "1923" before.
Harrison Ford as Jacob Dutton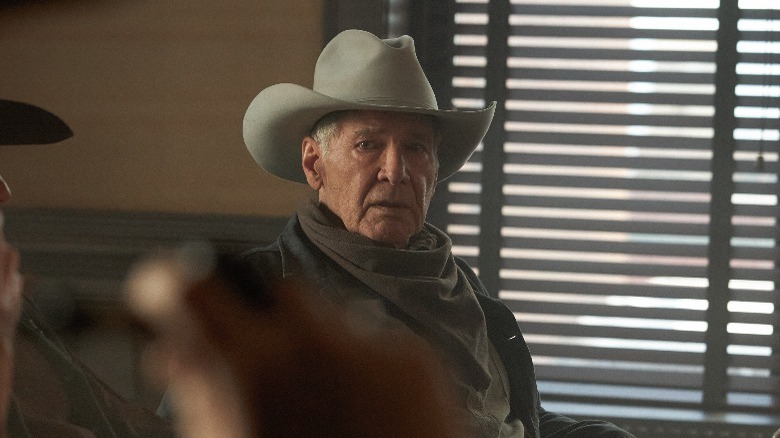 Emerson Miller/Paramount+
As portrayed in "Yellowstone," "1883" Dutton family patriarch James dies a decade later after losing his daughter and founding Yellowstone Ranch, with the ranch then falling into the care of his brother Jacob, portrayed by Harrison Ford in "1923." 
According to Far Out Magazine, Ford initially pursued college acting classes seeking an antidote to his natural shyness and found he enjoyed it, but when he ran afoul of a few Hollywood types and found himself struggling to get gigs, he got into carpentry work to help keep his family afloat. After appearing in a handful of uncredited or smaller roles including the James Caan-starring Western "Journey to Shiloh," he landed the 1973 role of drag racer Bob Falfa in "American Graffiti," where he made connections that would eventually lead to a turning point in his career while building portico doors for Francis Ford Coppola.
Ford would go on to land his iconic role as Han Solo in the "Star Wars" Skywalker saga while helping "American Graffiti" director audition various Luke Skywalkers, according to George Lucas in "The Skywalker Legacy." In 1981, he appeared for the first time as Indiana Jones in Steven Spielberg's "Raiders of the Lost Ark," a role he would reprise four more times including the 2023 film "Indiana Jones and the Dial of Destiny." He went on to play Philip K. Dick character Rick Deckard in the 1982 film "Blade Runner," returning decades later for its sequel "Blade Runner 2049" in 2017. Just a few of Ford's many other notable roles include Jack Ryan in "Clear and Present Danger," Henry Turner in "Regarding Henry," President James Marshall in "Air Force One," and Dr. Richard David Kimble in "The Fugitive."
Helen Mirren as Cara Dutton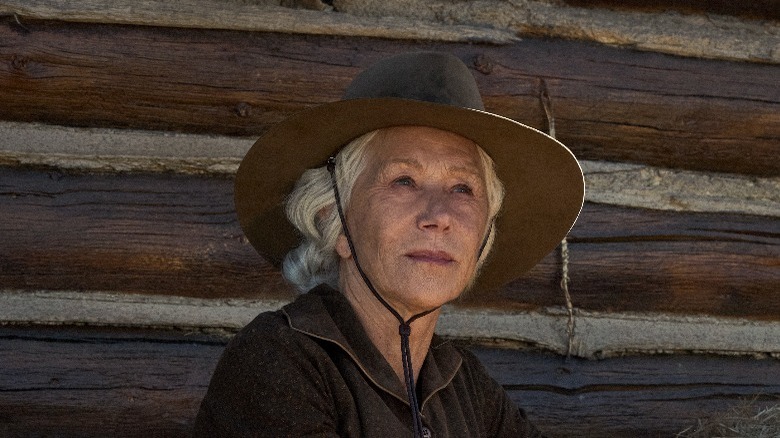 Emerson Miller/Paramount+
In the American entertainment industry, only a handful of select actors have managed to earn the coveted Triple Crown of Acting, taking home a Tony Award, Emmy, and Academy Award. The British equivalent is taking home a film BAFTA, television BAFTA, and Laurence Olivier Award. The only actor to ever win both the British and American Triple Crown is Helen Mirren, who appears alongside Harrison Ford as Cara Dutton in "1923." Mirren got her start in theater in primary school and went on to play in the Royal Shakespeare Company.
Mirren's acclaimed film career includes portraying both Queen Elizabeths on screen, appearing in the 2005 "Elizabeth I" as the Virgin Queen and the following year as Queen Elizabeth II in "The Queen." A few more of the notable historical figures she has portrayed include her appearance as Roman Empress Milonia Caesonia alongside Malcolm McDowell in the 1979 film "Caligula," as Queen Charlotte in "The Madness of King George" (1994), and as Catherine the Great in the 2019 mini-series. She also appeared as the occult-obsessed Sarah Winchester in the 2018 film "Winchester."
But Mirren's many iconic performances go far beyond Shakespeare and historical figures. She voiced the ancient supercomputer Deep Thought in the 2005 adaptation of "The HItchhiker's Guide to the Galaxy," appeared as the bibliophilic aunt Elinor in "Inkheart" (2008), and played Emily Appleton in "National Treasure: Book of Secrets." Some of Mirren's other memorable performances can be seen in "Gosford Park," "Teaching Mrs. Tingle," "The Nutcracker and the Four Realms," and "The Good Liar," just to name a few. Always up for a career shift, she has appeared in multiple "Fast & Furious" films.
Sebastian Roché as Father Renaud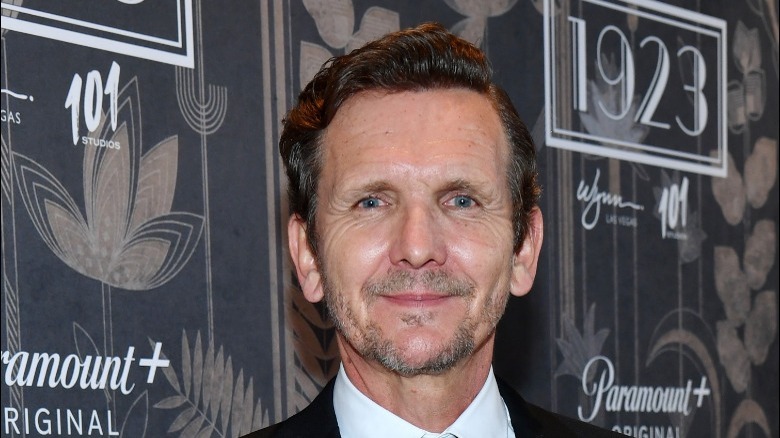 Denise Truscello/Getty
Paris-born Sebastian Roché is well-known to American audiences for his many appearances in both film and television. After a privileged childhood that included spending six of his formative years traveling the world while living aboard a sailboat (per Soap Opera Digest), Roché went to study acting in Paris, appearing uncredited in the Edgar Allan Poe adaptation "The Murders in the Rue Morgue" alongside George C. Scott, Val Kilmer, Rebecca De Mornay, and Ian McShane. Around that time, Roché appeared in a handful of French films and TV shows. After graduating in 1989 from the French National Academy of Dramatic Arts, Roché traveled to the United States, where he would remain as he built his career over the coming decades.
One of Roché's earlier performances can be seen in the horror series "The Hitchhiker" where he appeared as Glenn Birch in the episode "The Offspring." A beloved character actor, Roché has racked up plenty of recognizable performances through the years, particularly in fan-favorite sci-fi, fantasy, and procedural series. Some of his more noteworthy performances include the "The Man Who Fell to Earth"-inspired shapeshifter Thomas Jerome Newton in "Fringe," Original Vampire Mikael Mikaelson in "The Vampire Diaries" and "The Originals," Interpol agent Clyde Easter in "Criminal Minds," hedonistic fallen angel Balthazar in "Supernatural," Inspector Rousseau in "Bones," and Nazi Reichsminister Martin Heusmann in "The Man in the High Castle."
Darren Mann as Jack Dutton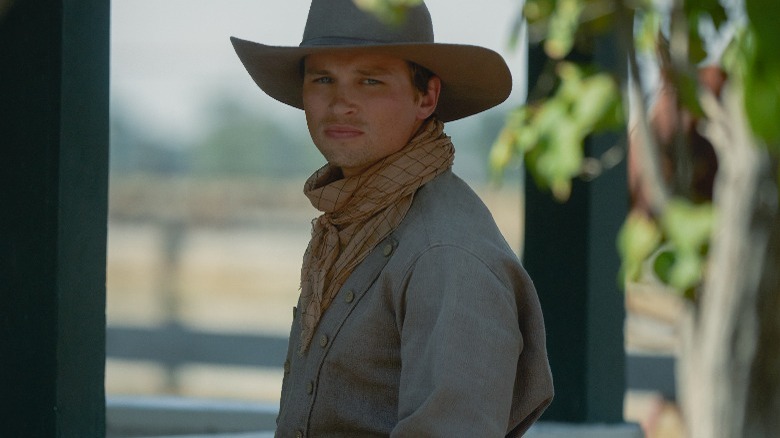 Emerson Miller/Paramount+
Although Canadian actor Darren Mann has been acting since he was a small child, he spent much of his young life pursuing a future in hockey. After spending five years playing professional junior hockey and one year of single A professional hockey thanks in large part to support from his mom (per Photobook Magazine), he shifted his focus back to acting. Eagle-eyed viewers can catch him appearing three times as an extra in Seasons 1 and 2 of "The 100" ("His Sister's Keeper," "I am Become Death," "Blood Must Have Blood: Part 2"). Around the same time, Mann appeared in a 2015 episode of "iZombie" and popped up in "Supernatural" as J.J. McKinley, whose Nebraska town would be plagued by a pair of hangry vampires ("Brother's Keeper"). 2015 would also see him land the role of Travis in the Canadian-French horror film "Even Lambs Have Teeth."
Over the next few years, Mann appeared in a number of smaller roles. He played Ryan in two episodes of "Van Helsing," appeared in the horror film "House of the Witch," and played Billy in an episode of the History sci-fi series "Project Blue Book," among others. In 2018, he was cast as doomed warlock Lucas Chalfant on "The Chilling Adventures of Sabrina." 2020 saw Mann star as MMA fighter Jett Boykins in the sports drama "Embattled," and in 2022, he began appearing in flashbacks as the young Barry "Baz" Blackwell in TNT's mob drama "Animal Kingdom."
Marley Shelton as Emma Dutton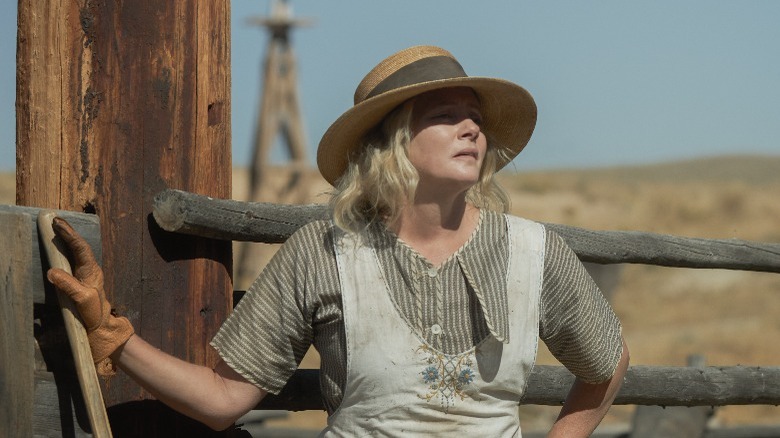 Emerson Miller/Paramount+
The child of director and producer Christopher Shelton, Marley Shelton started acting at a young age during the early 1990s. Her first appearance was as Amanda in the 1991 film "Grand Canyon." 
In 1993, Shelton played Squints Palledorous' object of love, the unapproachable Wendy Peffercorn in "The Sandlot," and the following year, she appeared in one of the "Hercules: The Legendary Journeys" films as Iole. Shelton has appeared in a number of high-profile films through the years, with varied roles including Richard Nixon's daughter Tricia in the 1995 historical drama "Nixon," Margaret Henderson in "Pleasantville," the red-dressed Customer in "Sin City," and Fran in the 2008 Oliver Stone historical comedy biopic "W." 
Shelton also appeared in the 1993 Tim Daly-starring film "In the Line of Duty: Ambush in Waco." In 2018, she appeared as scientist Kerry Atkins in the sci-fi action thriller "Rampage." Although Shelton is best known for her film appearances, she has acted in a number of TV shows through the years including "Mad Men," "The Lottery," and "Dirty John." In 2020, Shelton played Hannah Gray in the Netflix crime anthology series "Manhunt: Unabomber."
Brian Geraghty as Zane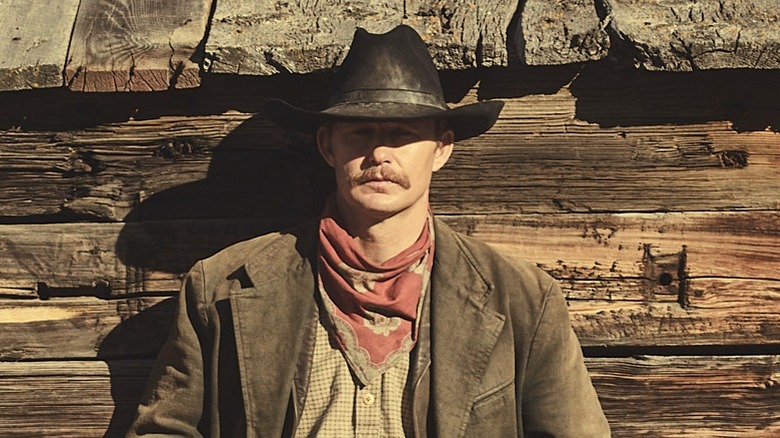 Paramount+
Brian Geraghty, who plays Yellowstone ranch foreman Zane in "1923," has been appearing regularly in television and film since he first showed up on an episode of "Law and Order" in 1999, appearing in a minor role in an episode of "The Sopranos" that same year. 
He has played recognizable characters in many shows since. In 2012, he played Iraqi war vet Brian Eller in three episodes of the HBO horror series "True Blood." Beginning in 2013, Geraghty was a series regular on "Boardwalk Empire," and he would go on to play cop Jim Halloran on "Ray Donovan" the following year. In 2018, Geraghty began appearing as Theodore Roosevelt in the TNT period drama "The Alienist." He would later play problematic cop Sean Roman on "Chicago PD," "Chicago Fire," and "Chicago Med," appearing in 59 episodes across the three series. 2020 would see Geraghty play Colin Murphy in the Quibi series "The Fugitive" and trucker-turned-criminal Ronald Pergman in "Big Sky." The actor also appeared in the Starz political thriller "Gaslit."
Robert Patrick as Sheriff William McDowell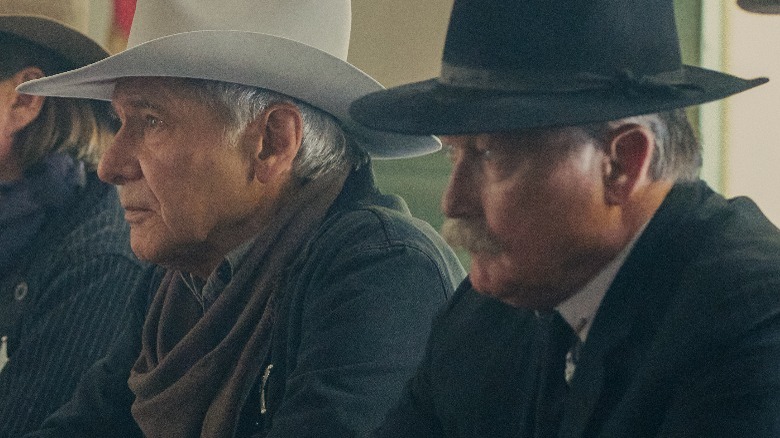 Christopher T. Saunders/Paramount+
Robert Patrick is one of the most well-known faces in sci-fi and action cinema, thanks in large part to a career-defining villain role in "Terminator 2: Judgment Day." His role as the T-1000 proving so iconic that it would pop up in cameos in both "Wayne's World" and "Last Action Hero." 
But that role by no means represents the only noteworthy moment in Patrick's extensive film career. The actor's many notable film roles include that of alien abductee victim brother-in-law Mike Rogers in "Fire in the Sky," FBI agent Jeff Douglas in the Titus Welliver and Mick Fleetwood-co-starring direct-to-video film "Zero Tolerance," and Ray Cash in "Walk the Line," as well as appearances in films like "Die Hard 2."
In addition to his film work, Patrick has also had dozens of memorable television roles. Some of the more memorable include the unlikely Scully ally John Doggett in "The X-Files," David Scatino in "The Sopranos," Cabe Gallo in "Scorpion," Jackson Herveaux in "True Blood," and Colonel Tom Ryan in David Mamet's 2006 military series "The Unit." A well-known character actor, Patrick has also had numerous guest appearances through the years in shows like "Sons of Anarchy," "Chuck," "Burn Notice," "Psych," "Community," "The Walking Dead," and "Stargate Atlantis." Patrick has also lent his voice to a number of video games including LocoCycle and Madden NFL 21 and animated shows including "Ultimate Spider-Man," "American Dad!," "Avatar: The Last Airbender," and "Ben 10," just to name a few.
Jennifer Ehle as Sister Mary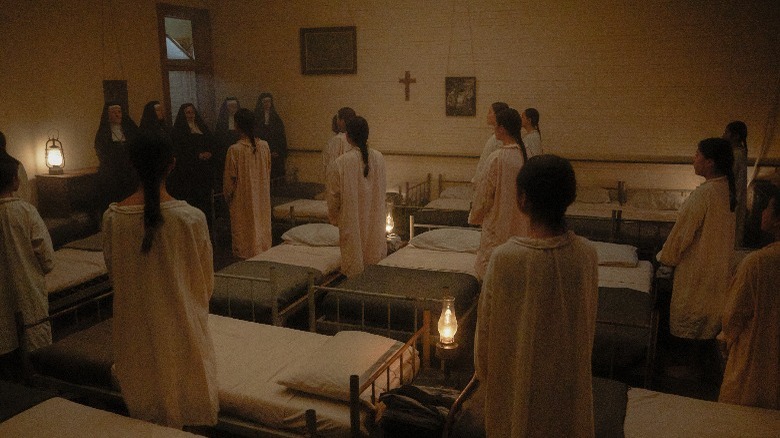 Emerson Miller/Paramount+
The daughter of Emmy-winning British actor Rosemary Harris, Jennifer Ehle has been acting since she was a small child, appearing on stage next to her mother in the 1973 Broadway performance of "A Streetcar Named Desire." 
In 1992, Ehle played Empress Zita of Austria in "The Young Indiana Jones Chronicles," and she appeared alongside Colin Firth as Elizabeth Bennet in the 1995 British production of "Pride and Prejudice." In 2010, Ehle played speech therapist Lionel Logue's wife Myrtle in "The King's Speech."  
2011 would prove a big year for the actor, who appeared in "The Ides of March," "Contagion," and the Philip K. Dick-inspired romance "The Adjustment Bureau" that year. Ehle's big screen performances also include roles in "Zero Dark Thirty," the 2014 remake of "RoboCop," and a recurring role in the "Fifty Shades" trilogy as protagonist Anastasia Steele's mother Carla Wilks. Ehle's TV appearances include "The Blacklist," "The Looming Tower," the British series "Suspicion," and "The Good Fight," among others.
James Badge Dale as John Dutton Sr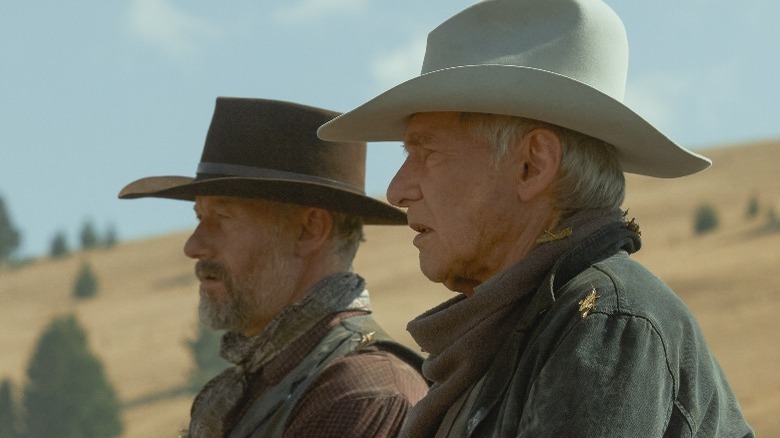 Emerson Miller/Paramount+
James Badge Dale plays John Dutton Sr., now long-since grown up after his terrifying childhood adventures on the Oregon trail in "1883." 
Dale would have his own childhood adventures when he was cast in his first acting role as Simon in the 1990's "Lord of the Flies" remake, all the way back in fifth grade. After finishing school, Dale got back into professional acting with his 2002 appearance on "Law and Order: Special Victims Unit." The following year, he was cast as series regular Chase Edmunds in "24," also appearing in the 2006 video game "24: The Game."
From there, Dale landed a number of primetime drama roles, including appearances on "Rescue Me," "CSI: Crime Scene Investigation," "CSI: Miami," and "CSI: NY." In 2007, Dale played Samson Dawlish in the short-lived Irish mob-themed NBC drama "The Black Donnellys." He later appeared in HBO's 2010 "Band of Brothers" companion piece "The Pacific" as U.S. Marine Robert "Lucky" Leckie. Showing off some impressive range, Dale played Massachusetts cop Ray Abruzzo in the Starz series "Hightown" beginning in 2020, then played Sheikh Abu Bakar Miller in "Ramy" in 2022. Badge's acting credits also include several recognizable film appearances including his supporting role as Trooper Barrigan in "The Departed," Captain Speke in "World War Z," and Eric Savin in "Iron Man 3."
Timothy Dalton as Donald Whitfield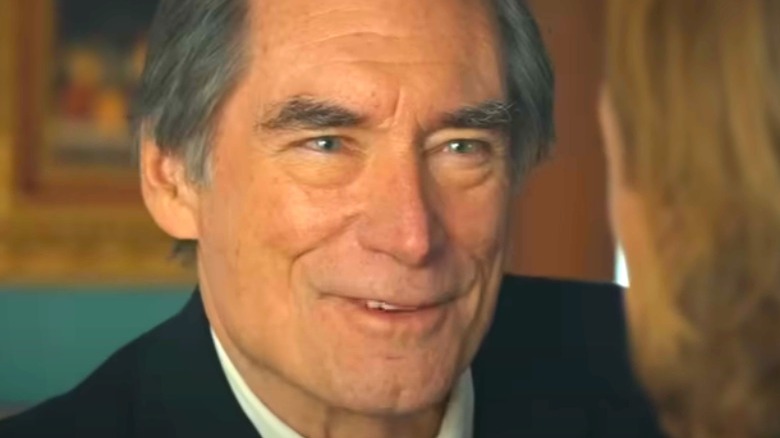 Paramount+
British actor Timothy Dalton has been acting since the 1960s, when he first began acting on stage with the National Youth Theatre. Dalton's many stage performances has since included roles in more than a dozen of Shakespeare's plays. 
The actor has performed in quite a few historical dramas on both the big and small screen including "The Lion in Winter," "Cromwell," "Mary, Queen of Scots," the Hallmark mini-series "Cleopatra," and the Netflix series "The Crown." Dalton's most high-profile work, however, may have come when he took over the role of James Bond for two 007 films beginning in 1987, appearing in "The Living Daylights" and "Licence to Kill."  A few of the actor's other noteworthy performances include the role of Neville Sinclair in "The Rocketeer," Simon Skinner in "Hot Fuzz," Alexei Volkoff in "Chuck," and Sir Malcolm in "Penny Dreadful."
From 2009 – 2010, Dalton played the Gallifreyan Time Lord Rassilon in David Tennant's final two-part "Doctor Who" entry "The End of Time." In recent years, Dalton has helped anchor "Doom Patrol," cast as the nefarious, 100-plus-year old Niles Caulder (aka, "The Chief"), the would-be leader of superhero misfits. Dalton's voice acting credits include the "Tales from Earthsea" English dub, Lord Demanitus in "Tangled: The Series," and Mr. Pricklepants in the "Toy Story" franchise.
Jerome Flynn as Banner Creighton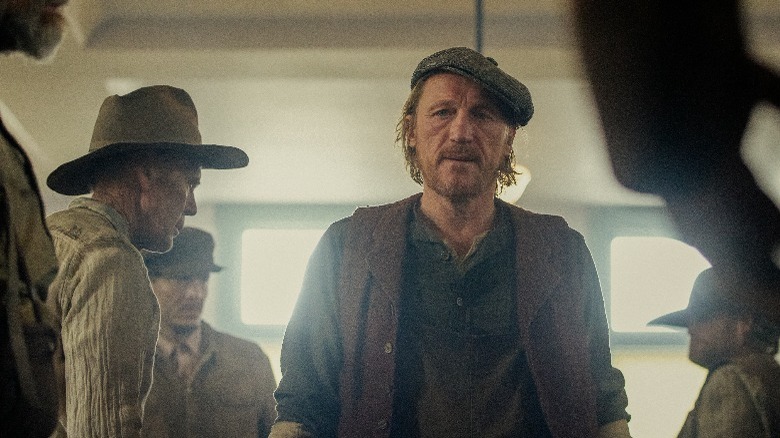 Christopher T. Saunders/Paramount+
Perhaps most recognizable these days for his work as Bronn on "Game of Thrones," believe it or not Jerome Flynn is also a chart-topping musician in the UK thanks to his covers of songs like "Unchained Melody" and "What Becomes of the Broken Hearted," serving as half of the pop duo Robson & Jerome in the mid-1990s. 
UK audiences may be more likely to recognize Flynn for his appearances in "London's Burning," "Casualty," "Soldier Soldier," "Between the Lines," or "Bergerac." However, Flynn has also appeared in several British productions with wide international viewership, including the "Black Mirror" episode "Shut Up and Dance" as blackmail victim Hector and Detective Sergeant Bennet Drake in the Jack the Ripper-themed period drama "Ripper Street." 
Flynn also appeared in the neo-noir sequel "John Wick: Chapter 3 – Parabellum" as assassin coin minter Berrada. In 2011, he began playing the mercenary Bronn in "Game of Thrones," continuing the role throughout the show's eight-season run. Flynn will play the Scotsman Banner Creighton in "1923."
Brandon Sklenar as Spencer Dutton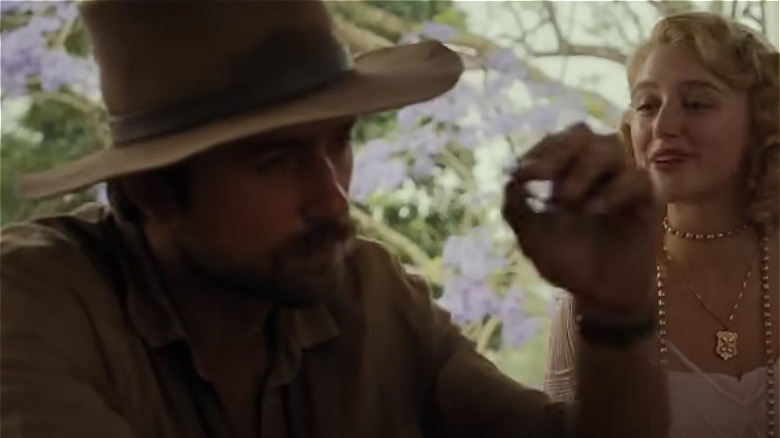 Paramount+
Brandon Sklenar appears as Spencer Dutton, brother of the late Elsa Dutton and John, who traveled with his parents to Montana as a boy. 
After a few smaller roles in "Cornered," "Dating Rules From My Future Self," and the short-lived sitcom "Truth Be Told," Sklenar's career started to take off in 2017, appearing in an episode of "New Girl" and the horror film "Temple," in which the actor played an American researching haunted Japanese temples. 
In 2018, the actor was cast in Eliza Dushku's biopic "Mapplethorpe," which starred Matt Smith as the eponymous, controversial photographer Robert Mapplethorpe. That same year, Sklenar appeared in the black comedy satire "Vice," which detailed VP Dick Cheney's rise to power with an all-star cast including Christian Bale, Sam Rockwell, Steve Carell, Amy Adams, and Jesse Plemons. In 2019, Sklenar appeared as George "Tex" Gay in the Pacific Theater WWII film "Midway," and in 2020, he played oil baron offspring Junior Lawdord in "The Big Ugly," starring Ron Perlman, Lenora Crichlow, and Malcolm McDowell. In addition to his film work, Sklenar has appeared in episodes of "Westworld" and the Western drama "Walker: Independence."