What Rotten Tomatoes Reviews Are Saying About Babylon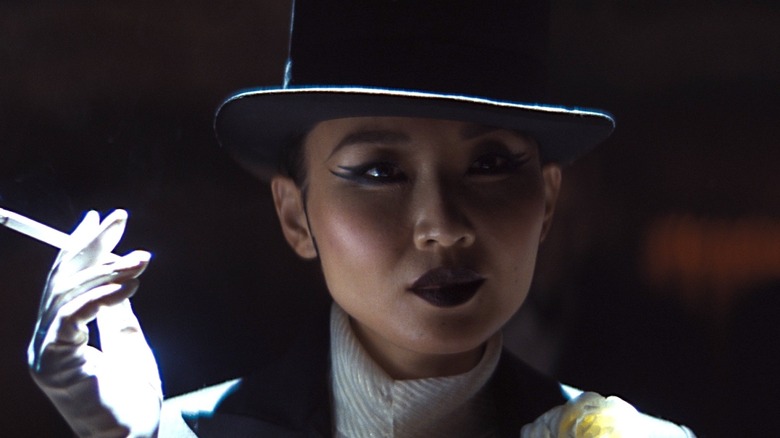 Paramount Pictures
Some may argue that we are living in an age of the "critic-proof" blockbuster, but with an auteur-driven project like Damien Chazelle's upcoming old Hollywood epic "Babylon," prospective viewers might be particularly attuned to what the film critic crowd has to say about the film.
"Babylon" has an expansive ensemble cast, led by Brad Pitt and Margot Robbie, and bolstered by such ringers as Jean Smart, Jovan Adepo, Li Jun Li, Lukas Haas, Tobey Maguire, Olivia Wilde, Red Hot Chili Peppers bassist and occasional actor Flea, Jeff Garlin, Eric Roberts, and many more. It has an expansive runtime to go with it, clocking in at three hours and eight minutes – another factor that might have indecisive viewers seeking critical guidance.
So, is "Babylon" another great Hollywood myth about itself in the tradition of "Sunset Blvd," "Singin' in the Rain," or "The Bad and the Beautiful"? Or is it more of a throwback to bloated, out-of-control epics like "Cleopatra" or "Doctor Dolittle"? Here's what film critics who have already filed their takes on the movie, set to open wide on the upcoming holiday weekend, had to say.
The film currently has a respectable Tomatometer score
If you've been looking forward to catching "Babylon" in theaters (three-hour runtime and all), you'll be pleased to know that with 49 reviews and counting on Rotten Tomatoes, critical response to the film is much more positive than negative, with a Tomatometer score of 71 percent as of this writing.
Beth Webb of Empire Online describes the film as "[a] daring, formally audacious yet messy ode to cinema from one of the most enterprising filmmakers working today. Bravura and baffling in equal measure" in her review, which awards the film three out of five stars.
That kind of mixed praise seems to be something of a motif, at least in the reviews of "Babylon" that have made it online so far. Moira MacDonald of the Seattle Times is even more ambivalent, admitting "I can't say I truly enjoyed watching 'Babylon,' or that I'd ever want to see it again, but I definitely haven't stopped thinking about it since screening it," an assessment that will either encourage or discourage you from giving the movie a try, depending on what type of moviegoer you are.
But Edward Douglas of The Weekend Warrior is unreservedly enthusiastic in his review. "Damien Chazelle's tribute to Old Hollywood is absolutely nuts in the best possible way," Douglas says.
But of course, when even a movie's positive reviews seem a little exasperated by a movie, you can expect a few pans as well.
Not all critics have been enthusiastic
Interestingly, some of the more negative reviews of "Babylon" seen on Rotten Tomatoes seem to paint a similar picture of the movie. Kristy Puchko of Mashable calls it "a ghastly, sticky, indulgent mess of a movie, slinging shock value in lieu of anything interesting to say," while Richard Lawson of Vanity Fair says "[i]t begins to feel, as 'Babylon' stretches out across three hours and eight minutes, that Chazelle has no clear idea where all of this is going."
At Cup of Soul, Kathia Woods compares "Babylon" to other Hollywood auto-epics, and finds it lacking by comparison: "Many films have been made about the beginnings of the film industry, and the majority of them have been informative and entertaining, but 'Babylon' is not one of them."
It appears that the one word everyone can agree on to describe "Babylon" would likely be "polarizing," and it will be interesting to see how its Tomatometer score holds up as more and more reviews come in. And its audience score, which will probably start racking up votes in the near future, will be interesting to watch as well.
You'll be able to make your own decision about the film's artistic value when "Babylon" opens wide in the US on December 23, 2022.