Ellen Pompeo Is 'Super Happy' With Her Decision To Leave Grey's Anatomy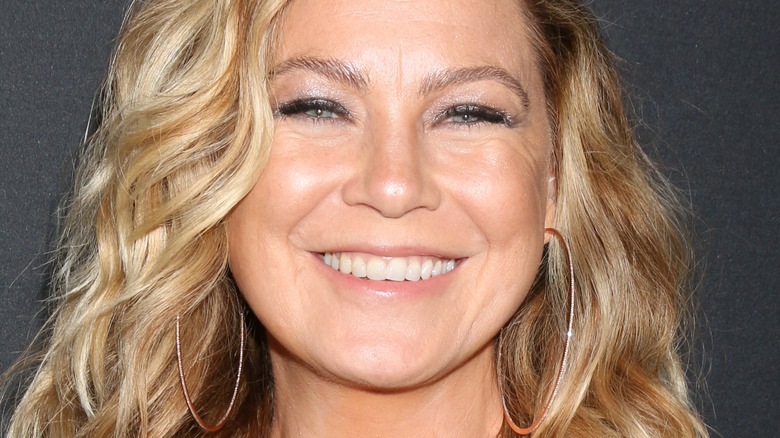 Kathy Hutchins/Shutterstock
Over the course of its 19-season run on ABC, "Grey's Anatomy" has been rocked on the regular by shocking narrative twists and heartbreaking turns of fate. The series has just as often been rocked by the departure of high-profile cast members, including the likes of Sandra Oh, Patrick Dempsey, and Katherine Heigl. But it's safe to say no "Grey's Anatomy" departure has come as more of a shock than that of Ellen Pompeo.
The actor, of course, made her series debut during the pilot episode of "Grey's Anatomy," doing so as the show's central figure Dr. Meredith Grey. Pompeo went on to portray the character in more than 400 episodes of the beloved medical drama. She's also served as an executive producer on the Shonda Rhimes-created series for most of that tenure. While Pompeo will maintain her exec producer status on "Grey's Anatomy" presumably until the series finally ends (via Deadline), it would seem her days portraying Dr. Grey have essentially come to an end.  
As it is, Pompeo's final episode of "Grey's Anatomy" has yet to air, with ABC marking the show's mid-season return on February 23, 2023 for that momentous event (via Us Weekly). While tears will surely be flowing as Meredith exits Seattle Grace for the last time, it seems Pompeo herself is pretty happy with her decision to leave. 
Ellen Pompeo says leaving Grey's Anatomy is like leaving home for college
Ellen Pompeo made that admission during a recent appearance on "The Drew Barrymore Show." And when the topic of Pompeo's feelings about her "Grey's Anatomy" exit came up, the actor glowingly stated, "I'm super happy." That joy is surely a touch bittersweet for Pompeo as she's given nearly two decades of her life and career to the show. And the actor made clear she's still got a lot of love for her "Grey's Anatomy" family. "The show has been incredible to me, and I love a lot of the experience," Pompeo said. She quickly added, however, that a change needed to be made. "I gotta mix it up a little bit," she said, noting, "I'm 53. My brain is like scrambled eggs. I gotta do something new."
Pompeo candidly went on to equate moving on from the show to moving out of your parents' house for college. "I mean, 19 years is longer than people keep their kids in their house," the actor joked, continuing, "People keep their kids in their house until they're 18, and then they send them to college. So this is like me going away to college." Given that Pompeo will continue to produce "Grey's Anatomy," she'll obviously still keep in close contact with her pals from the show. Likewise, she's maintained that she'll likely return for a cameo at some point in the future (per LA Times). For the time being, at least, it seems the actor is happily looking forward to the next chapter of her life on and off the screen.