Sonic Fans Are Buzzing Over Pirate Jack's Voice On Sonic Prime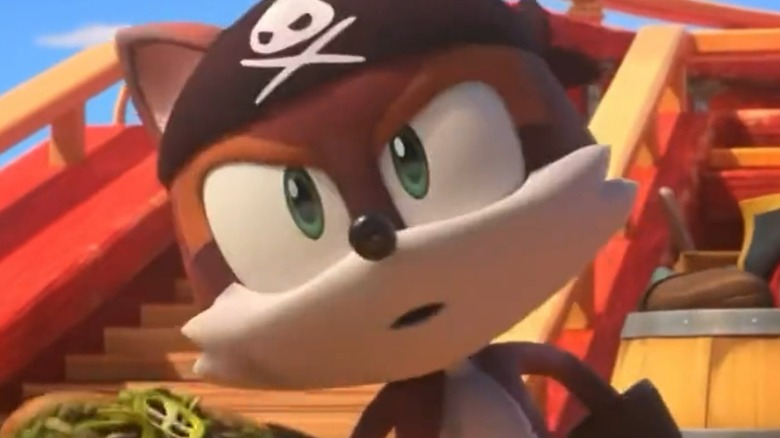 Netflix
Outside of his home medium of video games, Sonic the Hedgehog has done rather well for himself. Most recently, he's thrived at the cinema in two full-length live-action films all his own, featuring the voice talent of comic book historian Ben Schwartz as the "Blue Blur" himself. Of course, Sonic has also maintained a prominent place in the world of television at the same time, which he's occupied for decades now. Following in the footsteps of such titles as "Sonic X" and "Sonic Boom," among several others, came Netflix and Man of Action's "Sonic Prime" on December 15, 2022, to keep the trend going.
On this animated program, Sonic (voiced by a newcomer to the role, Deven Mack) accidentally sends the multiverse into disarray. The destruction of a powerful object known as the Paradox Prism causes this to happen, so he makes it his goal to restore order and rescue his friends from an unknown, timeline-colliding fate. As one could imagine, "Sonic Prime" is full of twists and turns and goes a mile a minute, all within a fresh, colorful animation style. Additionally, as some attentive viewers have noticed, it includes a surprise guest voice they surely weren't expecting to hear.
"Sonic Prime" Season 1 (which is far from the only batch of episodes on the way) introduces audiences to a character named Jack: a pirate whose voice actor has the internet buzzing.
YouTuber Jacksepticeye voices Jack the pirate
Not long after "Sonic Prime" premiered on Netflix, fans were quick to point out how familiar Jack the pirate's voice sounds. @spediceynews on Twitter seemed to find his voice familiar as well, so they made their way to the episode's credits. Jack is voiced by Sean McLoughlin, better known to those who frequent YouTube as Jacksepticeye. "If I was a child watching this show and heard Jacksepticeye coming out of a Sonic character I would've damn near blown up," wrote @The_Pickle578 in a tweet, with @Jaryaplier giving McLoughlin props for his voice acting performance as Jack the pirate.
Of course, McLoughlin turning out a good performance on "Sonic Prime" shouldn't catch anyone by surprise. For one, he's no stranger to sitting in front of the microphone, seeing as he's done it for years on his Jacksepticeye YouTube channel — one that has nearly 30 million subscribers. Then there's the fact that he's participated in numerous media productions over the years, with two of the most notable being the video games "Bendy and the Ink Machine" and its sequel, "Bendy and the Dark Revival." He even made a cameo in the Ryan Reynolds-led film "Free Guy" from 2021 (via IMDb).
Sean "Jacksepticeye" McLoughlin has more than made his mark on the internet via his highly successful YouTube channel. Although, if his appearance on "Sonic Prime" is any indication, he could very well be primed to make the switch to other entertainment avenues in due time.