Jason Momoa Reaches New Heights In HBO Max's Rock Climbing Series The Climb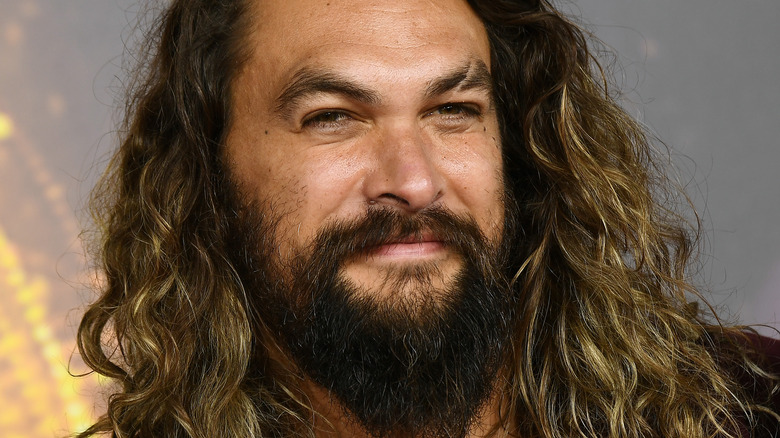 Jeff Spicer/Getty Images
For a man who never planned on being an actor, Jason Momoa has a pretty packed resume. He has four film performances as Aquaman under his belt, plus an episode of "Peacemaker." Furthermore, he'll be reprising the role in "The Flash" and "Aquaman and the Last Kingdom," which are both in the works. And those are just his more aquatic pursuits; the actor recently had memorable turns in "Dune" and "Slumberland" (via IMDb). Additionally, it's rumored that Momoa will play Lobo in the DC Comics Extended Universe.
With all of that on his plate and more, it makes sense that Momoa would want to unwind. But this is Aquaman we're talking about, and relaxing on the couch would hardly suffice for the action star. In 2017, Momoa showed off his rock climbing skills for Insider, calling the challenging activity his sport of choice, and later uploaded a video to YouTube where he toured a Canadian rock climbing facility.
Now, Momoa is hoping to share his love of rock climbing with a wider audience with his new show, "The Climb."
The Climb is an outdoor competition series with a $100,000 prize
In 2021, HBO Max confirmed that they would be collaborating with Jason Momoa and professional climber Chris Sharma on "The Climb," an eight-episode competition series centered around the death-defying world of rock climbing. "It's a dream come true to create a show with one of my idols, my good friend, and legendary climber Chris Sharma," Momoa said in a statement.
Momoa's dream has come to life in the new trailer for "The Climb." "Climbing, it's so rooted in my soul," Momoa says in a voiceover. "It just opens your mind." Momoa serves as producer and host on the upcoming series, which assembles 10 rock climbers to compete for a $100,000 prize, as well as a prAna sponsorship. The trailer showcases just some of the intense physical ability we'll see over the eight episodes, with sweeping panoramic views of rocky cliffsides serving as a backdrop.
"It's like Superman and Wonder Woman," Momoa says of watching Sharma and his fellow professional climber, Meagan Martin, who will also be on the show. That's no small compliment, coming from Aquaman himself. "The Climb" premieres on HBO Max on January 12.