Harrison Ford Says That Technology Doesn't Necessarily Make Things Easier For The People Of 1923
Since the "Yellowstone" prequel "1923" was announced, it's been one of the most anticipated new shows of 2022. Premiering in 2018, the original "Yellowstone" follows the modern-day Dutton family who owns a massive Montana ranch and fights any enemy who threatens to take it away from them with every weapon in their arsenal. The addictive show, full of plot twists, violence, romance, and sweeping landscapes, has managed to find a massive audience, and its Season 5 premiere recently broke records (via Entertainment Weekly).
The success of the show allowed creator Taylor Sheridan the freedom to create his own "Yellowstone" universe, starting with "1883," which starred Tim McGraw as James Dutton and Faith Hill as his wife Margaret — an older generation of Duttons. Now comes "1923," which promises to add more layers to the family's history. The new series stars Harrison Ford as Jacob Dutton (James' brother) and Helen Mirren as his Irish wife, Cara. According to a Vanity Fair profile of the show, "1923" opens with Jacob and Cara as the new patriarch and matriarch of the Dutton family as they begin to create their empire, raising James' children.
In a recent interview, Ford discussed the kinds of hardships faced by Jacob and Cara, and why building the ranch in this particular era was far from easy.
The changing technology of the 1920s didn't help ranchers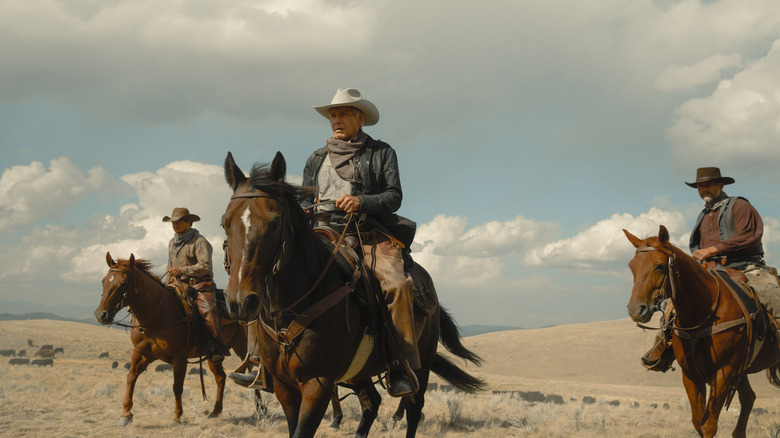 Emerson Miller/Paramount+
In an interview with TV Guide about the show, Harrison Ford discussed his character, the time period, and the kinds of challenges faced by ranchers in the 1920s. As a downtrodden economy and prohibition threaten the rise of the Dutton's ranch, evolving technology might also be helping others in ways that ranchers can't compete with. "Electricity is coming," Ford explained. "The streets are crowded with horseless carriages, automobiles ... The way of life is becoming easier for some people, but not for ranchers, not for cattlemen, not for cowboys and their families. It still isn't, and I think a lot of the personal impulse that drives Taylor is the preservation of that way of life."
According to Ford, the pressure is real, and Jacob Dutton is struggling to preserve his family's way of life. Much like Kevin Costner's character John Dutton in "Yellowstone," the changing world and shifting cultural landscapes threaten to take away what is most dear to him.
Ford went on to convey his appreciation for the character work he was able to do in the series. "It is Taylor Sheridan and it is the story that he's telling, but he offered me the opportunity to portray a character of some degree of complication," he said. He also noted how he enjoyed working with Helen Mirren again, having reunited since they last worked on "The Mosquito Coast." He told the outlet, "I'm always looking to have an opportunity to work with her ... It's been great fun to work with her again."