Greg Daniels Says Working On The Office Limited His Directing Experience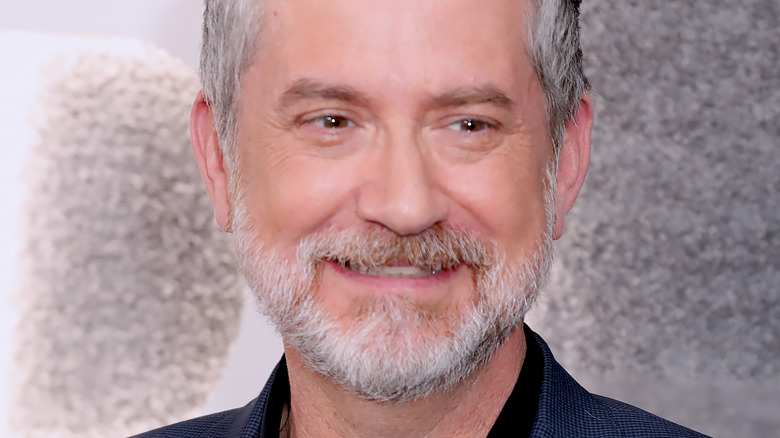 Leon Bennett/Getty Images
It's not an understatement to say that Greg Daniels is one of the most successful and influential sitcom writers, producers and directors of his generation. Daniels got his start by writing for the comedy news program "Not Necessarily the News," then wrote on "Saturday Night Live," "Seinfeld," and "The Simpsons." In 1999, he co-created the iconic animated sitcom "King of the Hill" alongside Mike Judge. Following that, he helped develop "The Office" for American television, and he co-created its spiritual spinoff, "Parks and Recreation." Right now, Daniels has three shows on television: the Amazon sci-fi comedy series "Upload;" the Netflix sci-fi series "Space Force;" and he's even executive producing an HBO Max reality series called "My Mom, Your Dad," which he co-created along with his daughter Haley.
As if all that writing and producing weren't enough, Daniels also has a busy directing career. He started by directing 13 episodes of "The Office," including classics like "The Dundies," "Valentine's Day," and "Drug Testing." He's also directed episodes of "Parks and Rec," "Hello Ladies," "The Mindy Project," and "People of Earth." Most recently, he's directed two episodes of "Upload," including the pilot (per IMDb). 
Despite all of that previous directing experience, directing "Upload" was still a challenge for Daniels. Here's what Daniels had to learn to make "Upload" happen.
Upload required Daniels to direct scenarios he'd never done before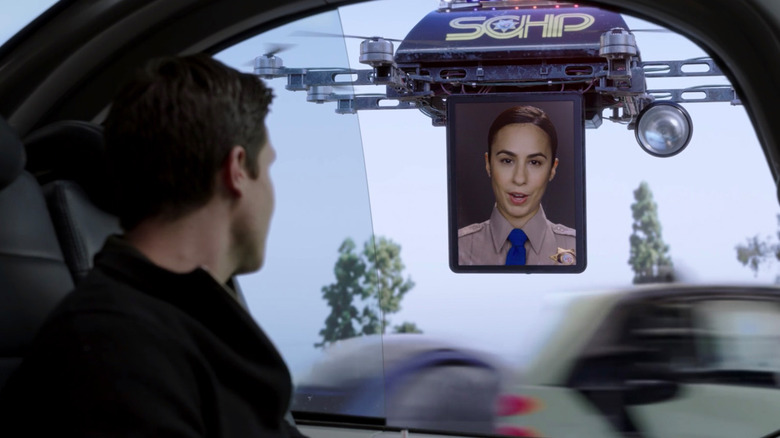 Amazon
As Daniels explained in an interview with Collider, "Upload" is a much different show than the ones Daniels has worked on before. While Daniels has obviously written and directed science fiction comedy previously, "Upload" specifically required Daniels to use extensive video effects, as well as sex scenes and nudity. He calls the experience "pretty hard and embarrassing."
For Daniels, working with video effects was particularly challenging. There's so much competition to hire top talent, and sometimes Daniels had to give several rounds of notes to make a shot come together. "So you say like, 'Here's what I want to happen. I want this guy's head to explode and it has to look kind of realistic and sci-fi in a horror way, but it also has to be funny,'" Daniels explained. "And the rules of funny are different than the rules of realism a lot of times." 
One advantage Daniels did have with "Upload" was that he and his team were able to shoot the pilot first, then evaluate their work and establish their tone and process for the remainder of the season. Daniels contrasted that with his experience on "Space Force," which required him to film all ten of its Season 1 episodes at once.
Daniels felt the video effects on Upload needed to be top-notch, even though it's a comedy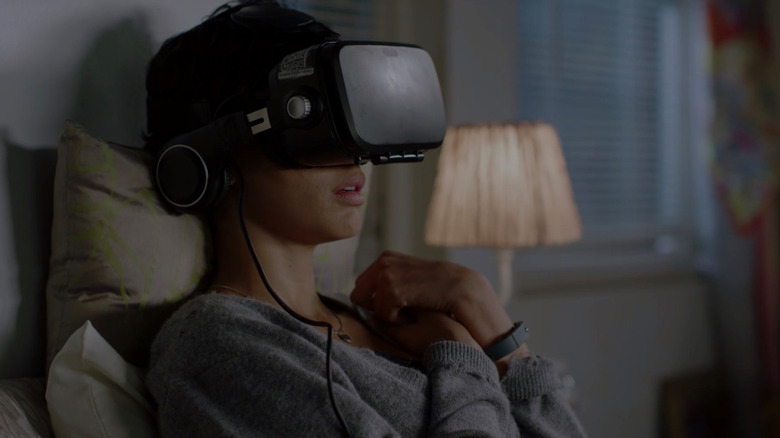 Amazon
Daniels first came up with the idea about a show where people can upload their consciousness to a digital afterlife when he was a writer for "Saturday Night Live" more than 30 years ago. In that time, special effects have progressed exponentially, making them cheaper and easier to do them than ever before. That also comes with a downside: it makes the audience's expectations even higher. As Daniels explained to "The New York Times," he had already shot the pilot for "Upload" when Steven Spielberg's sci-fi film "Ready Player One" came out.
"Spielberg is master of special effects, and he had, like, a 20-minute opening shot with no cuts in it, zooming through this world, going in and out of VR and the real world," Daniels said. "I was like, 'Oh God. His one shot is like 20 times the budget of my entire pilot.'"
To counter this, Daniels hired the best directors possible to work on "Upload," including Daina Reid, who received an Emmy nomination for her work on "The Handmaid's Tale," and Jeffrey Blitz, who directed 11 episodes of "The Office" and the documentary "Spellbound," among many other projects.
"I am probably the worst director of the bunch that I have hired," Daniels said with a laugh.