Upload Creator Signals A Bright Future For The Series
Amazon Studios
The sci-fi comedy drama series, "Upload" premiered on Prime Video on May 1, 2020. Created by Greg Daniels (who is also known for creating the American version of "The Office"), "Upload" is set in 2033 in a society where technology now allows for humans to be "uploaded" into the virtual afterlife of their choosing once they die. When Nathan Brown (Robbie Amell) dies unexpectedly at the age of 27, his girlfriend Ingrid (Allegra Edwards) uploads him to the expensive afterlife Lakeview, where he is at first content, but then finds himself under many restrictions. Nathan manages to cope when he meets his living "handler," Nora (Andy Allo), who soon finds herself both falling for Nathan and suspecting that his death may not have been an accident.
"Upload" got off to a great start with viewers — it was renewed for Season 2 a mere seven days after Season 1 premiered (via Deadline). The second season is now finally nearing its release date, as it is slated to premiere on March 11, 2022.
With the Season 2 release date now less than a month away, fans are probably wondering what they can expect from the sophomore season — and about the future of the series beyond that. In a recent interview, creator Daniels opens up about all things "Upload," and he's definitely signaling a bright future for the series.
Daniels is already writing Season 3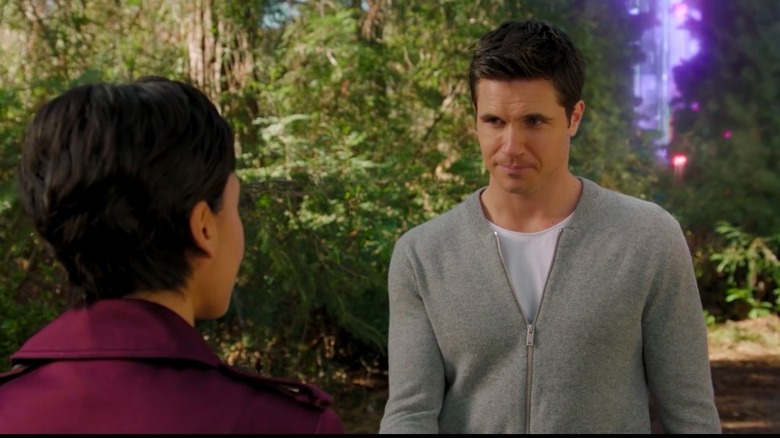 Amazon Studios
While speaking with Collider, creator Greg Daniels revealed that the writers room is already hard at work writing the third season. As Daniels told Collider, "We're halfway through [writing Season 3]. So, I have strong hopes that that one is just going to keep rolling forwards."
A key reason they're ahead of the game in working on Season 3 before the second season premiere is because of Amazon's enthusiasm for the show. Daniels said, "I mean [Amazon is] very excited about the second season episodes, and that's one of the reasons why we're deep in the writing of it." Daniels then noted that because the show has so many visual effects, the process of making the episodes is longer. He continued, "So they really want [us] to get on it so season three can happen as quickly as we can make it happen."
As reported by Deadline, the Season 2 premise sees Nathan conflicted between his girlfriend, Ingrid, who has arrived in Lakeview for them to be together, and Nora, who has recently admitted her feelings for him. Further, the official logline claims that the season is "packed with new near-future concepts, including Lakeview's newest in-app digital baby program called, 'prototykes,' and other satirical glimpses of the technological advances and headaches to come."
Fans will get to see how Season 2 plays out when it premieres on Prime Video on March 11.