Laurie Metcalf Advised Zoe Perry To Trust The Script's Humor When Entering Her Young Sheldon Audition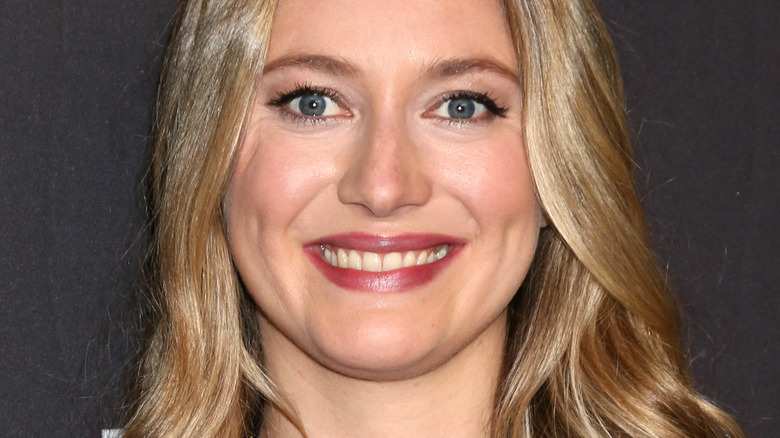 Kathy Hutchins/Shutterstock
On "Young Sheldon," Zoe Perry plays Sheldon's mother, Mary, a younger version of the role Perry's real-life mother, Laurie Metcalf, played on "The Big Bang Theory." In an interview with The Hollywood Reporter, Perry explained that she leans into the fact that the character was first played by her mother rather than trying to avoid any similarities in the performances. "We have lots of similarities when it comes to our voices and mannerisms, and I'm lucky that I have that at my disposal — not only for this part, but in general. When I act, if I stumble upon something that reminds me, unintentionally or unconsciously, of either of my parents, I'm grateful for it because I respect them so much for what they've done."
According to an interview with ET, Metcalf and Perry's father decided that they didn't want their daughter involved in acting at a young age. "We just felt that it might be too stressful for a kid that age that was pretty shy and quiet. We didn't want to put her in a position where she had a role and had all this responsibility all of a sudden. She was fine with that, and funnily enough." Perry was given one small role as a younger version of her mother's character Jackie, but was otherwise discouraged from pursuing acting as a child.
Yet still, it was Metcalf's idea for her daughter to audition for the role of Mary, and she gave her some sound advice going into the audition.
Laurie Metcalf told Zoe Perry to trust the writing
In the aforementioned interview in THR, Zoe Perry was asked if her mother gave her any advice going into her audition for "Young Sheldon," and Perry insisted that her mother was "too good and empathetic an actor to give another actor any notes!" It turns out that wasn't entirely true, because in an interview with HeyUGuys, she was asked the same question and this time she did remember a note that her mother gave her going into the audition. "She gave me a wonderful tip. Before I went in to audition she said 'Trust that the humor will be on the page,'" Perry said. Those writers are genius and it's basically foolproof. She was like 'All you really need to do is just ground the rest in reality.'" Perry went on to explain that grounding the character in reality helps her connect better with her young co-stars.
Metcalf would be a pretty good person to take acting advice from, as Jim Parsons listed her and Christine Baranski, who plays Leonard's mother as his two favorite guest stars on the show in an interview with USA Today, saying that her dedication to the craft is inspiring to watch. "I see them as actor's actors. All the years that I watched them (before 'Big Bang'), I would identify with them as performers, as a fellow craftsman in the field. To meet them and realize that was true was overjoying. Working with them was as rewarding and interesting as I always thought it would be." According to the Emmys website, Metcalf was even nominated for an Emmy for her guest appearances on "The Big Bang Theory," so maybe she knows what she's talking about.