Tomb Raider Reboot: What The Critics Are Saying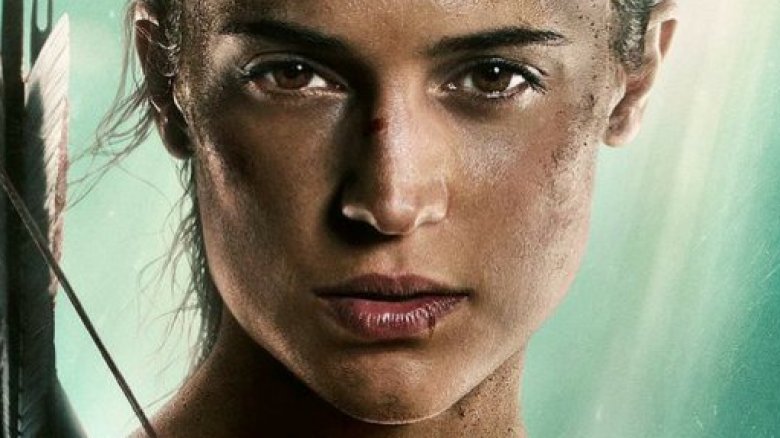 The Tomb Raider reboot starring Alicia Vikander is just days away from release, and the reviews for the action-adventure refresh are already rolling out. Does the film live up to expectations, or does it fail to find the treasure tucked away in its titular tombs? Is Alicia Vikander's iteration of the hallowed protagonist Lara Croft something to cheer about, or is it a runner-up to Angelina Jolie's performance from 15 years ago? It seems the critics are split across the board. 
Sitting at a 48 percent approval rating on Rotten Tomatoes (as of Wednesday, March 14), Tomb Raider has pulled in both solid praise and some less-than-stellar criticism. The consensus notes the film as rebooting the video game franchise "with a more grounded approach and a star who's clearly more than up to the task," but sadly, neither are "well served by an uninspired origin story." 
It seems that a little more than half of critics think Tomb Raider's origin-story framework, which sees Vikander's Lara Croft venturing to Skull Island to learn the truth about her missing father, is somewhat of a snooze-fest. On the flip side, others find the movie's shift away from past installments in the Tomb Raider series — specifically in lifting Lara Croft into new heights as an even more powerful and skilled heroine — exciting and invigorating. 
Todd McCarthy of The Hollywood Reporter found the Tomb Raider reboot entirely too derivative of the Jolie-led movies Lara Croft: Tomb Raider (2001) and Lara Croft: Tomb Raider – The Cradle of Life, calling it "a grimly determined by-the-numbers rehash of the same sort of plots and action moves that animated the first two Lara Croft films back in the early 2000s." However, he did commend Vikander as a shining star, noting that she "fully embodies physical tenacity and grit, along with absolute determination not to give in or up," and that she "makes Tomb Raider sort of watchable."
Peter Bradshaw of The Guardian felt something similar, noting that the movie's approach plucked a lot of elements from past Tomb Raider movies as well as films like the Indiana Jones series. Unfortunately, Bradshaw wasn't as captivated by Vikander's performance. "Throughout [the film] Vikander maintains a kind of serene evenness of manner," he wrote. "Blandness is Lara's theme."
Vanity Fair critic Jordan Hoffman zeroed in on the reboot's pacing, finding fault in the fact that it takes 76 minutes (in a 116-minute movie) for Lara Croft to actually raid any tombs. He argued that director Roar Uthaug's "take on this material is almost aggressively boring" and felt that the film's action sequences were too ill-lit to actually follow what goes on. "Even once the promise of the title finally kicks in, there's another problem: nobody brought any d*** lights," Hoffman wrote. "Uthaug ... shoots a lot of the action in settings so dim we can't actually see anything." He concluded, "Having Lara Croft leap around and avoid traps should be an easy formula — but for this crew, it remains an unsolvable puzzle."
Entertainment Weekly's Leah Greenblatt called Tomb Raider "actually pretty good fun" and "anchored by an Oscar-winning actress far more gifted than the story requires." She did, however, write that the dialogue isn't completely top-notch; for her, it's "a mix of clunky action-movie exposition and winking Indiana Jones-style humor." Like most other critics, Greenblatt enjoyed Vikander's nuanced take on Lara Croft: "Alicia Vikander, who has clearly been put through the brutal pullups-and-jump-squats gauntlet of action-movie bootcamp, is tiny but powerful, an ab-rippling sprite to Jolie's hourglass Amazonian. As Lara, she's also vulnerable and a little lost."
Perhaps the most positive review of the Tomb Raider reboot came from Justin Chang of The Los Angeles Times. Largely focusing on Vikander's starring performance, Chang wrote, "This new-and-somewhat-improved Tomb Raider has been conceived as both a back-to-basics origin story and a smart, forward-thinking spin on a character with a tricky representational history ... This Tomb Raider arrives at a moment when female protagonists are far better represented in mainstream American action cinema than they were when the Jolie movies were released." He argued that the best aspect of the whole film is Vikander's Lara, whom he calls "one tough fighter but also vulnerable and untested, an action heroine with little to lose and everything to prove."
Tomb Raider also stars Dominic West, Walton Goggins, Daniel Wu, Kristin Scott Thomas, Hannah John-Kamen, Antonio Aakeel, Derek Jacobi, and Nick Frost. 
Fans can decide for themselves how they feel about the film when Tomb Raider is released this Friday, March 16.