SEAL Team's Max Thieriot Says Authentically Reflecting The Military Is A Huge Priority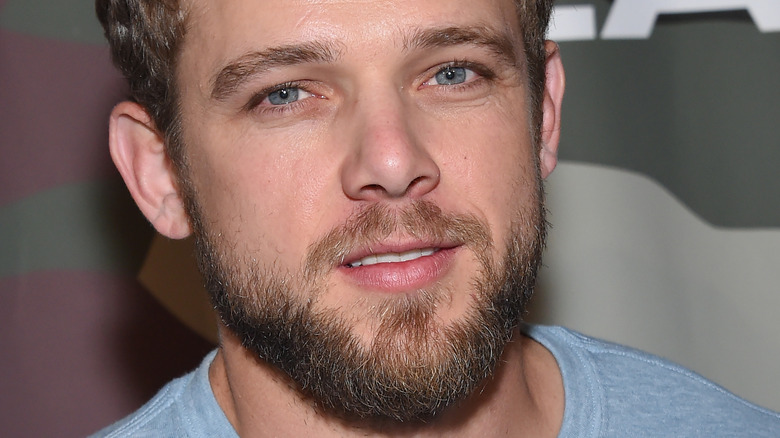 DFree/Shutterstock
Over the course of its run, "SEAL Team" has become a fan-favorite action series — first for CBS, and now for the streaming service Paramount+. As the show has progressed, it has shown different facets of Navy life, often providing a fascinating look into everything from the tactics and equipment to the personal lives of the soldiers depicted in the David Boreanaz-led show.
One critical element to the success of "SEAL Team" is its emphasis on authenticity and realism. In fact, some of the key characters, such as Full Metal, are actually portrayed by real-life Navy SEALs. That focus is no accident. It turns out that the cast and crew behind the long-running series go to immense lengths to ensure that it feels real in how it portrays the daily life of a Navy SEAL. This is what "SEAL Team" actor Max Thieriot had to say when asked about the show's veracity.
Max Thieriot's background helped him prepare for his role
Speaking to The Daily Caller, Max Thieriot — who will look familiar to viewers as Bode on "Fire Country" — explained that making sure "SEAL Team" feels authentic is a major priority for everyone involved in the production of the Paramount+ series. This not only means taking a faithful approach to the technical aspects of the show but also to the personal lives of the show's core ensemble when they find themselves stateside and away from the action. Addressing this, the actor said, "I think the thing is, to be honest, that's the most important thing to us. Whether the technical aspect [of] the military tactics or the stuff that now goes on in this community or if it's the personal life stories or the sacrifices that these men and women make ... to make sure we are as authentic as we can possibly be is, by far, the most important thing."
This isn't necessarily about glamorizing the authenticity, either. As Thieriot noted elsewhere in the interview, sometimes the realities depicted in "SEAL Team" are harsh and unflinching. For example, he pointed to the Season 2 death of the character Adam Seaver (Michael Irby). "And sometimes, like Adam's death, those things aren't necessarily what we want to see, but they're realities," Thieriot said. "They're realities of the job and what these people go through."
Much of the tactical aspects of SEAL Team came easily to Thieriot
Of course, when it comes to putting across such authenticity, it helps that several cast members have some experience that gave them a jumpstart on training. Max Thieriot benefited greatly from his upbringing when he joined the cast of "SEAL Team." This is because he had spent ample time around guns during his childhood, which lent itself to stepping into the role of an elite Navy operator.
Addressing his comfort with firearms, the actor told The Daily Caller,  "I'm a country boy, so I came from a small town, Northern California, where everybody owned guns. We grew up, you know, hunting and fishing. It's obviously not the same gun movement, but I spend a lot of time around guns and have been around them since I was eight or nine years old. For me, it was kind of more learning some of the technical stuff." Granted, Thieriot acknowledges that he did not grow up around high-powered military equipment, but his experience gave him a base knowledge. From there, he could become more comfortable with the "technical stuff," which aided in the show's fidelity.
Theriot, for a time, acted on both "SEAL Team" and "Fire Country," but is now fully devoted to "Fire Country," which he stars in and co-created. Sadly, his "SEAL Team" character, Clay Spenser, tragically died (via TV Insider), leaving the remaining team members to mourn his loss through the remainder of Season 6.