Indiana Jones And The Dial Of Destiny May Be Getting A New Ending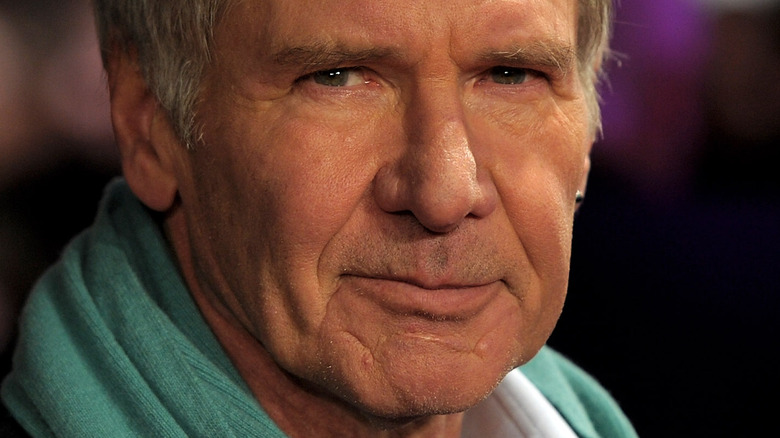 Ian Gavan/Getty Images
With the next "John Wick" film on the way, a couple of major DC projects hitting theaters, a full slate of MCU offerings set for release, and a new Christopher Nolan flick on the docket, it's safe to say 2023 is shaping up to be a major year for blockbuster cinema. As hotly-anticipated as all of those coming attractions no doubt are for movie lovers, one might easily argue the next chapter of the "Indiana Jones" franchise bests them all. 
Titled "Indiana Jones and the Dial of Destiny," the fifth film in the beloved franchise finds director James Mangold ("Logan") taking over from originator Steven Spielberg. It also finds Harrison Ford reprising one of his most iconic roles in what's almost certain to be the swashbuckling character's cinematic swan song. With any luck, "Dial of Destiny" might even cleanse the not-entirely pleasant taste of the franchise's previous outing (2008's divisive "Indiana Jones and the Kingdom of the Crystal Skull") from the collective mouths of fans. 
If the film's first official trailer is any indication, Mangold and the "Dial of Destiny" team are pulling out all the stops for Indy's final adventure, doing so with a heaping dose of nostalgia. It seems, however, they've hit a potential snag in the film's final act, as it is being reported their "Dial of Destiny" may need a new ending.
Composer John Williams says a reshoot may be in the works for Indiana Jones 5
While neither James Mangold nor anyone from Paramount Pictures has confirmed that potentially troubling news, it came from somebody very close to the "Indiana Jones and the Dial of Destiny" production. That source is legendary composer John Williams, whose franchise return for "Dial of Destiny" will likely serve as his final film project (per Variety).
During a recent concert event in Italy, the five-time Academy Award Winner led an orchestra through some of his most iconic big screen compositions. And as covered by BadTaste.it, when it came time to talk "Indiana Jones," the composer almost casually revealed that James Mangold and company may indeed be eyeing a new ending for the film. "So we have just about completed the film," Williams said, noting, "We have maybe another ending to shoot and to record, maybe in a couple weeks."
Williams understandably did not go into detail about the ongoing production, or why a new ending might be in the making for "Dial of Destiny." There have, of course, been numerous rumors floating about town about the ending of the film, and even a few about a disastrous test screening. But those rumors have since been debunked by James Mangold himself (via Twitter). The more likely case is that Mangold, and everyone backing "Dial of Destiny" at Lucasfilm are acutely aware of how big a deal the final chapter of the "Indiana Jones" saga is to multiple generations of movie lovers. And given the stakes, they undoubtedly also know how important it is to stick the landing.