1923's James Badge Dale And Marley Shelton On The Gritty Women In The Yellowstone Universe - Exclusive Interview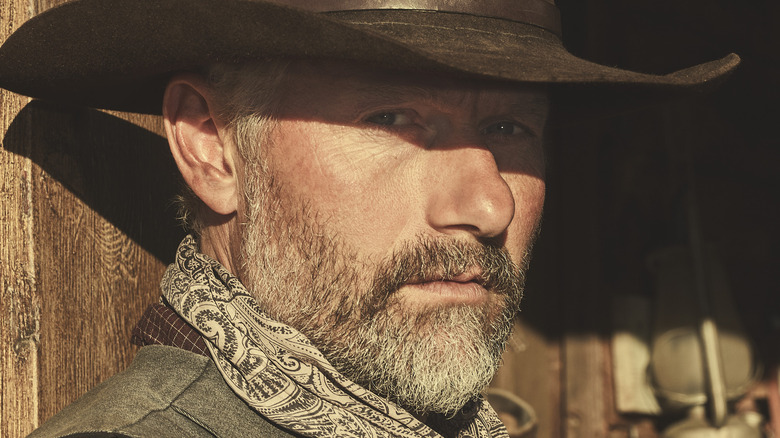 David Becker/Getty Images
James Badge Dale and Marley Shelton have both been acting since the early 1990s — he got his start in the film "Lord of the Flies" and has appeared on "24" and in "Iron Man 3" while she has been in "Sin City" and the "Scream" franchise. Now, they're teaming up as husband and wife on the "Yellowstone" origin story "1923," which will premiere on December 18 on Paramount+.
Dale plays John Dutton Senior, the oldest nephew of Jacob Dutton (Harrison Ford) and Cara Dutton (Helen Mirren), and Shelton plays his loyal wife, Emma Dutton. Together, they are part of the Dutton legacy that extends from "1883" to the modern-day "Yellowstone" storyline, with "1923" following the family as they deal with a serious drought during the early years of Prohibition leading into the Great Depression.
During an exclusive interview with Looper, Dale and Shelton discussed working on "1923" with Mirren and how feisty women rule the "Yellowstone" universe.
Women in the Yellowstone universe have 'serious backbone'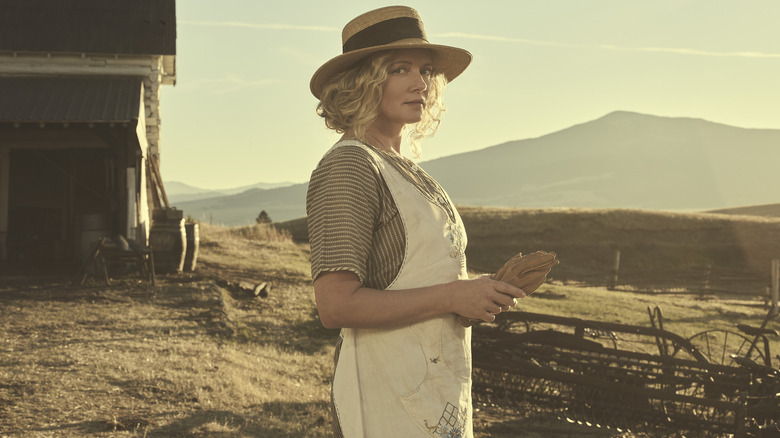 James Minchin III/Paramount+
James, you play John Dutton Senior, who was a character on "1883." What's it like continuing that legacy and knowing that you are the connective tissue to "Yellowstone" too?
James Badge Dale: Wow, you say it like that, and that's a lot of pressure. I'm going to tell you the truth. I purposely did not watch "1883" and then halfway through started watching it, and I was watching myself as a younger man. The actor, Audie Rick, did such a beautiful job playing John, and I started to realize I was starting to pick up his facial manners. So I messed up; I should have watched it from the beginning. But it's cool to be a part of the whole thing.
Marley, "Yellowstone" and "1883" are both known for feisty women — like Beth and Margaret and Elsa, respectively. Where does Emma Dutton fall in that respect? And which of those three women do you see Emma having the most similarities with?
Marley Shelton: I think they all have serious backbone. There's a strength, a grit. Emma's much more of a traditionalist than Beth. Emma's completely committed to preserving the Dutton way of life and the world of ranching and the ranch's legacy. She's a family woman. She's solid and committed, and her stoicism is a necessity because they all could be killed at any moment. It's so perilous living out on the ranch in the Wild West. The only thing that would probably link those characters would be that strength and grit.
Helen Mirren is always up for anything on the 1923 set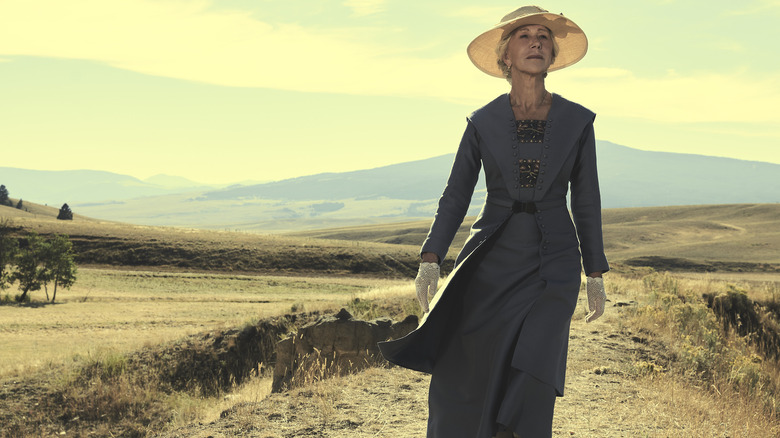 James Minchin III/Paramount+
Sticking with the strong women depicted in the "Yellowstone" universe, what's it like working with a living legend like Helen Mirren? Any good stories about her that you can share?
Shelton: Helen is extraordinary. She's so brilliant. I have always been a massive fan of her acting, but now I'm a massive fan of her as a human being. She's really cool, and she puts everybody at ease and she's so game. She's up for any and all of it and has this incredible work ethic. I was honored to be able to spend time with her, let alone get to act with her.
Dale: We're the luckiest people in the world. Harrison and Helen are legends, and they're legends for a good reason. The amazing thing in this business is when you sit down and work with these people that you idolize, you realize they are legendary human beings, and that kindness and openness and humility is what carries them at the end of the day.
"1923" premieres on December 18 on Paramount+.