The Witcher's Anya Chalotra Had Zero Expectations Of Landing A Role In The Netflix Series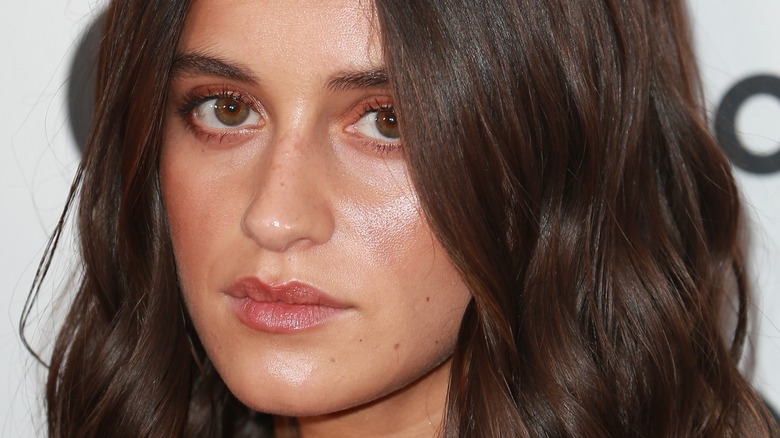 Fred Duval/Shutterstock
Actors do so much to prepare for roles, even before winning their life-changing parts. Besides practicing their craft and building skills, they must manage their nerves and expectations when auditioning. This was certainly true for Anya Chalotra, a breakout star of the 2019 Netflix hit, "The Witcher."
The series is based on the novels and short stories by Polish author Andrzej Sapkowski, though the franchise has become even more widespread through the eponymous CD Projekt games. Adapted by Lauren Schmidt Hissrich, former producer of "Daredevil" and writer on "The West Wing," the series expands the stories, providing additional backstory while staying loyal to the source material. It's adored by critics and fans alike, and "The Witcher" Season 3 is likely around the corner in 2023 — as well as a prequel series, "The Witcher: Blood Origin," and additional forthcoming content.
Henry Cavill stars (for now) as Geralt of Rivia. This titular witcher uses his swords and his limited magic abilities to protect his land (known as The Continent) from the threatening monsters who live there (per TV Guide). Though somewhat a mercenary, Geralt is hired by townspeople to kill monsters, but he's discerning in the work he takes, checking his strong moral compass before accepting a job. Geralt forms a sort of ersatz family with princess Ciri (Freya Allan) and the powerful sorceress Yennefer of Vengerberg (Chalotra), with whom he has a tumultuous on-off relationship. Chalotra became famous overnight with this role, and it's one she never expected to win.
It seems Anya Chalotra didn't think she was pretty enough for the role
Confidence is a hugely important trait in life, especially if you're an actor. Yet it's intriguing when confidence, or a lack thereof, influences an actor's decisions. This seems to have happened with Anya Chalotra, Yennefer of Vengerberg in Netflix's "The Witcher." In an interview with Collider, Chalotra admitted that she didn't expect to win the role of the beautiful mage.
"I spoke to my agent and said I'm not the person they want," she said, explaining that the character description was, "'men want her, women want to be her, she's gorgeous,' and I was like, [I'm] absolutely not, not going to get this part." But that lack of expectation also seemed to help her. "Because I had no expectations of myself, I did a good audition." She added, "I'd say that's kind of what I've taken with me from this witcher onto other auditions."
Not only did Chalotra have no expectations, but she also didn't know much about the character yet — and it, too, seemed beneficial. "I walked into this blindly," she told Vogue. "And I think that helped me, because had I known of Yennefer being such an iconic character and having a huge fan base, I would've overthought every choice I made in that audition room." She also admitted, "Every time I auditioned [three times], I became hungrier for the role." Now Chalotra realizes how much she has in common with Yennefer and told Diana Méndez that "her fearlessness" is the Yennefer character trait Chalotra relates to the most.