American Pickers' Mike Wolfe Is More Intrigued By The Sellers' Backstories Than The Antiques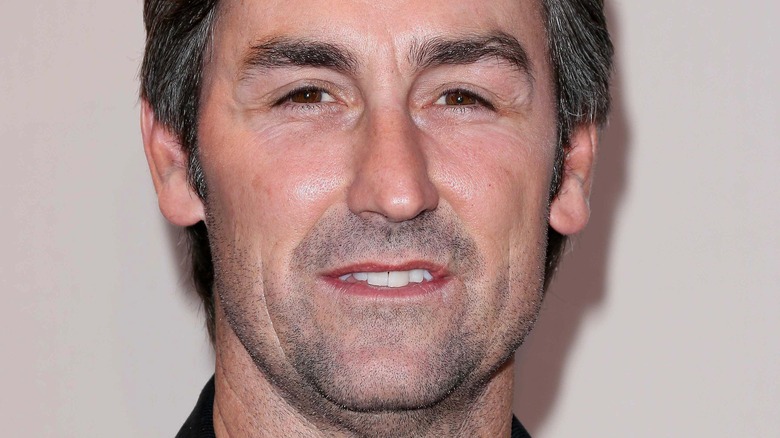 s_bukley/Shutterstock
Over the years we've watched Mike Wolfe of "American Pickers" uncover a wide variety of rare, unusual, and valuable antiques during his journeys across the United States – with many of these treasures coming from the most unusual places you can imagine.
Some of the most intriguing discoveries that Wolfe and company have made during their astounding 23 seasons on air include a set of authentic sideshow banners from the early 1900s, a series of prototype Yoda sculptures from "The Empire Strikes Back," and (in one of the most expensive picks of the entire series) a van that belonged to the iconic rock band Aerosmith. This vehicle ended up costing the Pickers a whopping $25,000 (via History).
For many "American Pickers" fans, there's no question that these incredible antiques and historic artifacts are by far the most engrossing aspect of the entire series -– especially once Wolfe and his team determine how much these mysterious items are actually worth. That said, not everyone is so enamored by this aspect of the show, with Wolfe himself even claiming that he's more interested in the antique sellers than the antiques themselves.
Wolfe loves to learn about the attachment these collectors feel to their items
History/YouTube
During a 2011 interview with Southeastern Antiquing and Collecting Magazine, Mike Wolfe asserted that he finds himself more intrigued by the sellers and collectors he meets than the antiques that they are selling, particularly because of the unique and interesting connections they have to their collections.
Wolfe recalled one particularly dazzling collection of petrobilia (vintage items relating to gas stations, gas pumps, or old gas station signs) that he discovered while picking in Florida. "For me, I want to know why people go down this path, why they buy all this high-quality stuff," he explained. "For this guy, it was because he worked in a gas station when he was 13. Just that one experience changed his path. That's what interests me. I go in, and people have one hundred or one thousand of one thing, and it's the back story that is intriguing to me."
Considering the fact that Wolfe himself is a prominent collector of motorcycles, it should come as no surprise that he is intrigued by the interests and backstories of his fellow collectors. Indeed, Wolfe has never been shy about singing praises for the collections of others, and in nearly every episode, he makes a point to ask about where these items came from and what they mean to the collector. 
In any case, Wolfe's comments make it clear that his intrigue in these eccentric sellers is anything but fake, as he finds their stories even more interesting than the items they collect.