Whatever Happened To The Cast Of The Terminator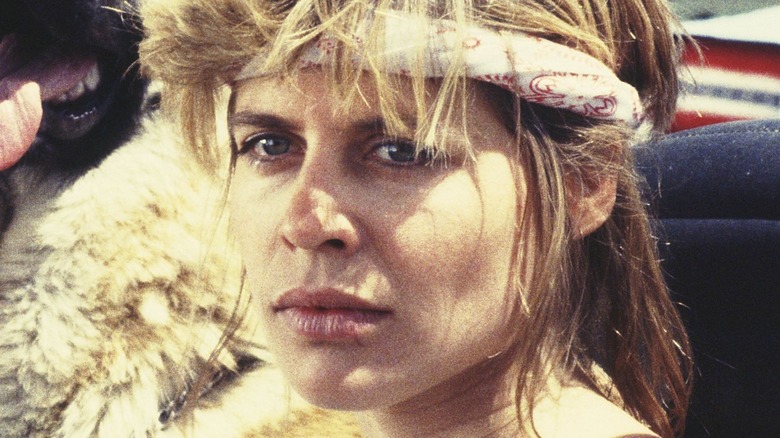 Orion Pictures
In 1984, "The Terminator" shook up the movie world: It was a blockbuster success and an instant classic that kick-started a major sci-fi-action franchise. It left audiences everywhere saying, "I'll be back," in a gravelly Austrian monotone — the American Film Institute even ranks that line as one of its top 100 movie quotes. The movie also makes AFI's list of top 10 science fiction films, and the Terminator himself is enshrined on the list of best villains. It's safe to say this film is a major part of pop culture.
A lot of work goes into making a movie an immortal classic, and it should go without saying that one of the biggest keys to a film's success is its cast. Unsurprisingly, "The Terminator" has a great one: Not only does it have charismatic leads, but it also fills out even its most minor roles with performers who just have that elusive spark that makes their characters and performances memorable. When you follow these actors' careers, you go to some interesting places — both on and off the screen. So if you've been wondering what happened to the cast of "The Terminator," the short answer is: "A lot." It's our distinct pleasure to bring you the long answer.
Arnold Schwarzenegger as the Terminator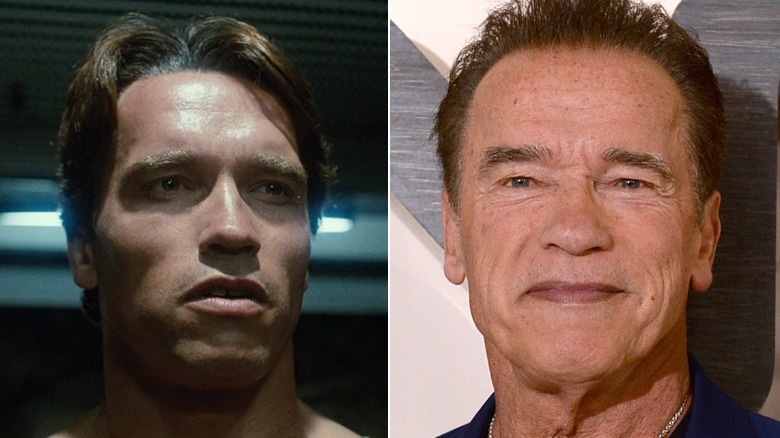 Orion Pictures/Dave J Hogan/Getty Images
Arnold Schwarzenegger was already on the rise when he portrayed the deadly cybernetic T-800 in "The Terminator," but the movie lifted him into superstardom and helped make him a household name.
After "The Terminator," Schwarzenegger had a streak of major successes that belong in any action fan's movie collection: "Commando," "Predator," "True Lies," and "Terminator 2: Judgment Day" all stand out as highlights. (The latter two reunited him with James Cameron, resulting in particularly good work.) Hollywood also gradually embraced Schwarzenegger's gift for deadpan humor, and he would pepper his filmography with comedies like "Kindergarten Cop" and "Jingle All the Way." Even late in his career, he's had highlights like "The Expendables 2," and he remains as recognizable as ever — and he's always a welcome presence.
Of course, there was a bit of a gap in Schwarzenegger's movie career for most of the '00s: That's what happens when you're a little busy being the governor of California. As The New York Times recounts, Schwarzenegger had a checkered two terms, but by 2021, he had again become a popular political figure. He stays active as what he calls an "elderly statesman" — a role he proudly holds, no matter what sphere he's operating in.
Michael Biehn as Kyle Reese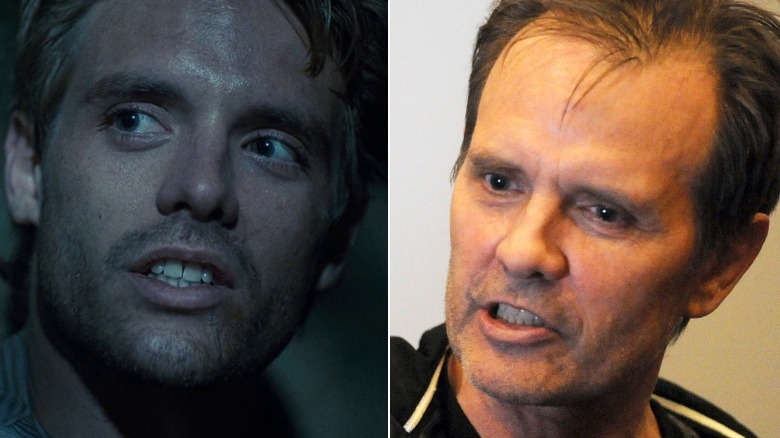 Orion Pictures/Albert L. Ortega/Getty Images
While the doomed human resistance fighter Kyle Reese will always be one of Michael Biehn's signature roles, the actor has stayed busy — and he's stacked up more iconic performances since then, too. If you watch "Aliens" on the heels of "The Terminator," you'll not only have an incredible, action-packed double-feature on your hands, you'll have some of the best of Biehn and James Cameron — a director who knows how to hang onto a good actor once he's found one.
When you're ready to branch out from Biehn's collaborations with Cameron — and make sure to take in "The Abyss" before you go — you still have a lot of solid entertainment. He's among the top-billed actors in "Tombstone," "The Rock," and "Planet Terror," for example, and he was the tragic, taciturn lead gunslinger on the "Magnificent Seven" TV series. He's a genre stalwart who adds both craft and charisma to any project. Showrunners and directors continue to recognize that by casting him in fan-favorite series like "The Mandalorian" and "The Walking Dead."
Linda Hamilton as Sarah Connor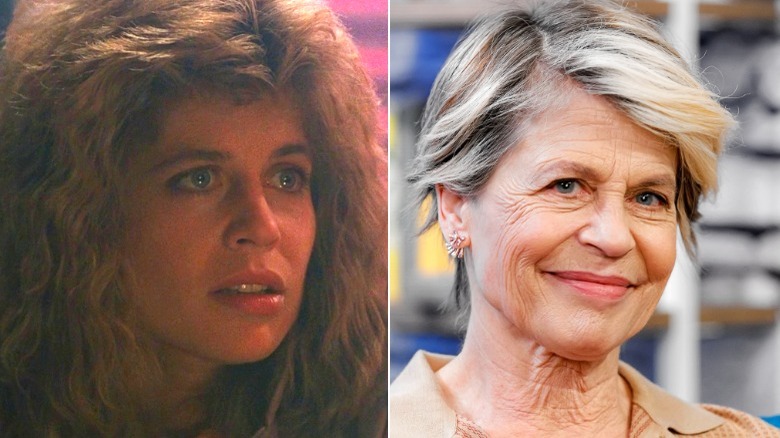 Orion Pictures/Rich Polk/Getty Images
Linda Hamilton was near the start of her career — with just a handful of credits to her name, mostly in the primetime soaps of the day — when she played Sarah Connor in 1984's "The Terminator." It was a career-defining move for Hamilton, who would go on to revisit the character in several sequels: Her multi-film portrayal of Sarah Connor's evolution from sweet, shy waitress to cynical, hardened fighter is as epic as the series itself.
With one major pop culture figure under her belt, Hamilton would have been completely entitled to rest on her laurels. Instead, she gave genre audiences yet another reason to love her, starring alongside Ron Perlman in the fan-favorite romantic fantasy TV series "Beauty and the Beast" (a performance that garnered her an Emmy nomination). We're also very fond of her guest-starring run on NBC's spy comedy "Chuck."
While fans and critics couldn't give 2019's "Terminator: Dark Fate" the same acclaim as the original, one of its most spectacular selling points was Linda Hamilton's long-awaited return to the franchise: She left us with no doubt that even 35 years after her debut, Sarah Connor could still leave a trail of dead Terminators behind her.
Lance Henriksen as Vokovich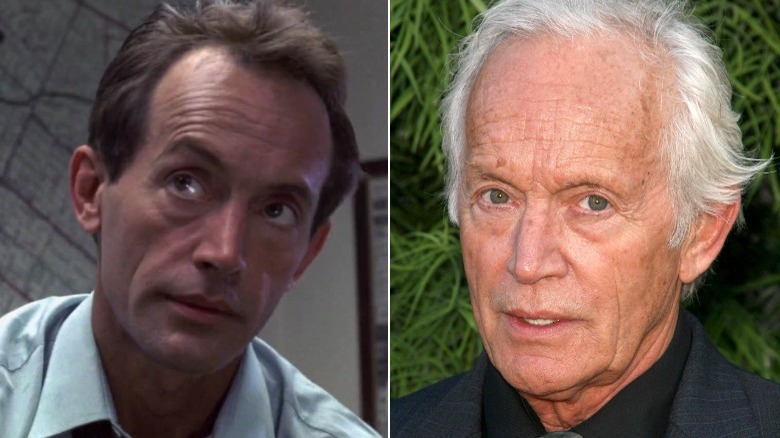 Orion Pictures/s_bukley/Shutterstock
Lance Henriksen appears in "The Terminator" as Vukovich, a cop partnered with Detective Traxler.
Henriksen has an impressive, sprawling filmography. Like several of his castmates, he returned to work with James Cameron on "Aliens," where he plays Bishop, an ultimately heroic android who turns out to be one of the movie's best characters. He continued to rack up genre successes with major roles in cult horror films like "Pumpkinhead" and Kathryn Bigelow's vampiric Western "Near Dark," and his career has never lagged. He's done especially strong work in the horror field, but he's worked in pretty much every corner of the genre map at this point.
Henriksen's signature role is arguably Frank Black, the lead of "X-Files" creator Chris Carter's classic TV series "Millennium." The show is a grim, intense, strange, and smart combination of science fiction, horror, and police procedural, with IGN describing it as having "the style of 'X-Files' and the violent paranoia of 'Se7en.'" Henriksen lends it all the gravitas it needs, completely selling Frank Black as a man who uses both his FBI training and his special powers to peer into the darkest and most mysterious of places.
Bess Motta as Ginger
As Sarah Connor's roommate, Ginger, Bess Motta meets a nasty fate at the hands of the Terminator. It's a small role, but it's one that's borne fruit for Motta over the years: She happily discussed behind-the-scenes details with The Terminator Fans and has made fan circuit appearances at various ComicCons.
Motta had the occasional on-screen role after "The Terminator" — most notably, she co-starred in the short-lived 1987 TV series "New Monkees," about the wealthy and wild (fictionalized) lives of the titular pop group — but she actually spent more time in the limelight before the biggest movie of her career. In the early 1980s, the spirited, cheerful Motta was, as The Los Angeles Times notes, "perhaps the best-known personality in aerobics behind Jane Fonda and Richard Simmons." On her popular show "20 Minute Workout," she pioneered "a style [of teaching] that no doubt influenced countless hundreds of instructors."
Her on-screen appearances have been more sporadic over the years, but in 2017, she guest-starred in an episode of the Disney show "K.C. Undercover," appearing alongside the show's star, Zendaya. Not bad at all.
Rick Rossovich as Matt
Rick Rossovich plays Ginger's boyfriend, Matt, who makes the mistake of deciding that a ringing phone shouldn't interrupt them while they're getting hot and heavy — and therefore misses a warning that might have saved their lives. Whoops.
Thankfully, Rossovich had better luck — and better decision-making skills — than his "Terminator" character. After "The Terminator," he moved on to movies like "Top Gun" (where he played fighter pilot Slider), "Roxanne," and "Navy SEALS." He saw even more success on television, with a multi-episode stint on the first season of the classic hospital drama "ER" and a major role in the first three seasons of the beach cop drama "Pacific Blue." His career gave him the chance to act with some of the best in the business, including Tom Cruise and Bill Paxton (another "Terminator" alum).
Rossovich eventually turned away from acting in order to move to Sweden with his wife, only returning to the field periodically for low-key movies he felt a special connection to. As he told We Got This Covered: "I found that being on the set wasn't where I wanted to be. I found it was just a lot of waiting around. Sometimes you feel your life is on hold. You wonder what it's all about, is it just the end result?"
Earl Boen as Dr. Silberman
Earl Boen, who plays criminal psychologist Dr. Silberman, has a special honor among "Terminator" actors: He and Arnold Schwarzenegger were the only two actors to appear in every movie until "Terminator Salvation." He's an important part of the series — but given how busy his long career has been, "Terminator" fans aren't the only ones likely to recognize him.
Boen was all over TV for decades, making appearances on hit shows like "The Jeffersons," "M*A*S*H," "Three's Company," "Seinfeld," "The Golden Girls," and "The West Wing." He did a lot of work in comedy, but — unsurprisingly for a "Terminator" franchise stalwart — also popped up on shows like "Alien Nation" and "Star Trek: The Next Generation."
Despite all that, his on-screen appearances are a drop in a bucket compared to his voice work. That's where Boen really shines, and from the late '80s to the early '00s, he shone a lot. If you were watching cartoons during that time, you've heard Boen's voice over and over again on shows as varied as "Animaniacs," "Batman: The Animated Series," "Dexter's Laboratory," and "Clifford the Big Red Dog."
Shawn Schepps as Nancy
Shawn Schepps plays Nancy, another waitress at Big Jeff's and a friend of Sarah Connor's.
Schepps made several film and TV appearances, especially in the 1980s: She appeared in the Charles Bronson thriller "10 to Midnight" as well as television comedies like "Family Ties" and "The Golden Girls." She also appeared in five episodes of the Showtime dramedy "Weeds."
But while it's possible that you'd recognize Schepps from her work in front of the camera, we'd argue that the most significant part of her career happened behind it. Schepps is a writer as well as an actress — "Weeds" benefits from her scripting expertise as well as her performance, and she also pitched in on shows like "Drop Dead Diva" — and if you look at where she's gotten story credits over the years, her track record is even better. She came up with the stories of beloved cult classics like "Drumline" and "Encino Man," which means we definitely owe her our thanks.
Brian Thompson as Punk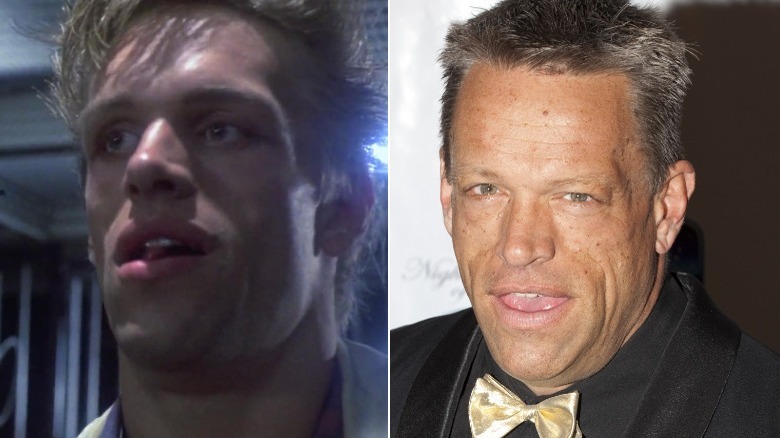 Orion Pictures/Charles Edwards/Shutterstock
The prolific Brian Thompson appears in "The Terminator" as a nameless punk — which was actually his feature-length film debut. That was a piece of good luck right out of the gate as far as Thompson's career was concerned, and he certainly stayed busy afterward. His filmography shows an unbroken streak of decades' worth of entertaining work.
We remember him best from his recurring guest star work on "Buffy the Vampire Slayer" and "The X-Files," but eagle-eyed fans will notice Thompson just about everywhere. He played the villain opposite Sylvester Stallone in "Cobra," for example, and has made multiple "Star Trek" appearances over the years. He also brought a project of his own to the screen with the 2014 action parody "The Extendables," which he wrote, directed, and starred in.
Brian Thompson's nameless punk might have immediately gotten his heart ripped out by the Terminator, but Thompson himself is clearly doing just fine — which is a great boon to fans who are always happy to see him turn up.
Marianne Muellerleile as Wrong Sarah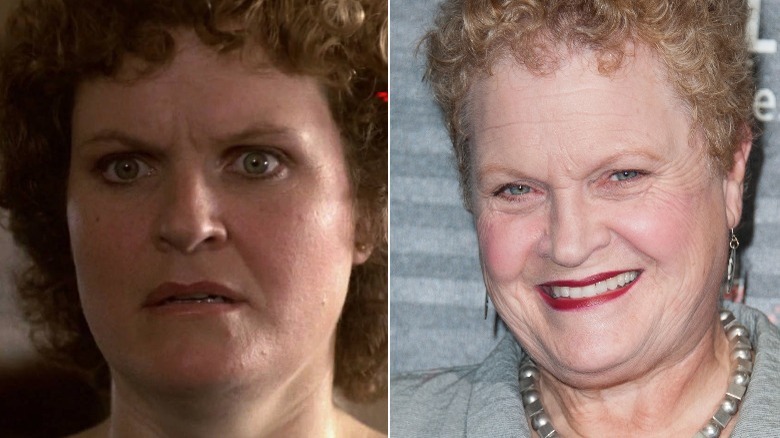 Orion Pictures/Jennifer Lourie/Getty Images
In "The Terminator," Marianne Muellerleile plays a Sarah Connor but not the Sarah Connor: Despite her name, she's not who the Terminator is actually looking for. She's just collateral damage.
Muellerleile, on the other hand, has often been exactly who people were looking for. Since her 1972 debut in "The Heartbreak Kid," she's piled up an incredible amount of work on both screen and stage. Her small-but-memorable "Terminator" part is ultimately just a drop in the bucket: She's worked steadily for decades since the film's release. Universitas, the alumni magazine of Saint Louis University, offers a rundown of her career that also points fans towards projects of hers they might have missed, like her voice work and an astonishing number of commercials. With a 50-year career, there's a lot to be proud of, including appearances in "Memento," "Thank You for Smoking," "Big Love," "Elementary," and "The Kominsky Method." Trust us, we could go on.
In 2021, Muellerleile told Universitas that her professional life has never been better: "At this point in my career, almost 50 years in, what I'm most excited about is that I don't have to work. I can accept a job simply because I want to. It's the best feeling."
Franco Columbu as Future Terminator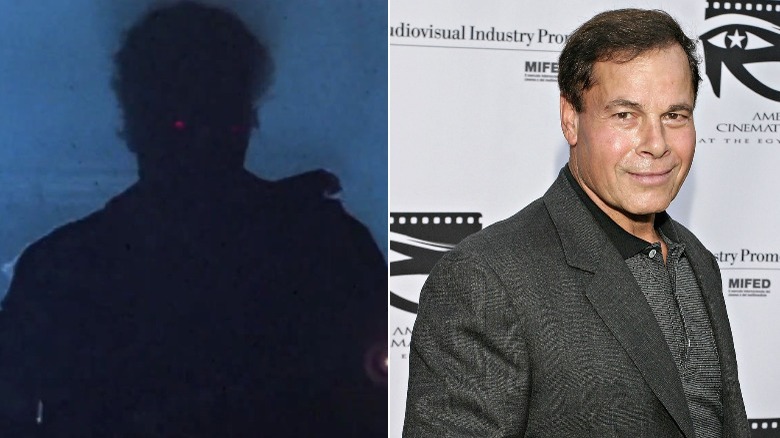 Orion Pictures/Giulio Marcocchi/Getty Images
Franco Columbu — who appears as an unnamed Terminator in Kyle Reese's nightmare — was a famous bodybuilder and a close friend of Arnold Schwarzenegger. In 2016, the two of them even made a special video to celebrate the 51st anniversary of their first meeting, and the decades of friendship that followed it.
Unlike Schwarzenegger, Columbu didn't make a full leap from bodybuilding and powerlifting to on-screen stardom. He generally took only small roles, and his filmography is relatively modest in comparison to his friend's — but that doesn't mean it's anything to sneeze at. After all, "The Terminator" isn't the only action-packed thriller on his résumé: He also appeared alongside Schwarzenegger in "Predator" and "The Running Man."
While Columbu clearly wasn't averse to working in the movies, his second-act career went in a very different direction: In 1977, even as he was still working as a championship bodybuilder, he became a chiropractor (per Planet Chiropractic). Schwarzenegger would later appoint him to the California Board of Chiropractic Examiners.
Columbu died in 2019, at the age of 78, and he received a heartfelt eulogy from Schwarzenegger: "I will always remember the joy you brought to my life, the [advice] you gave me, and the twinkle in your eye that never disappeared."
Paul Winfield as Traxler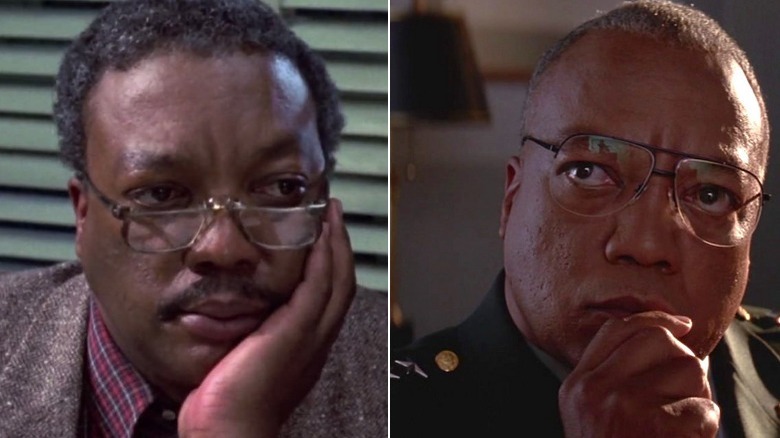 Orion Pictures/Warner Bros.
Paul Winfield, who plays LAPD Detective Traxler, made his name in show business before he ever set foot on the set of "Terminator": In 1973, he received an Academy Award nomination for best actor for his work in the heartfelt period drama "Sounder," and he'd already caught sci-fi fans' attention with an appearance in "Star Trek II: The Wrath of Khan."
His career continued to flourish post-"Terminator," with critically acclaimed movies like "Presumed Innocent" and groundbreaking TV shows like "Wiseguy," where he had a recurring guest role. He had a wide range and a gift for well-calibrated, striking performances in both comedies and dramas. On top of that, true crime devotees might know him best as the long-time narrator of A&E's noteworthy "City Confidential," which he worked on right up until his death in 2004.
Winfield's career came with a lot of highlights, including a 1995 Emmy Award, and his New York Times obituary cites his off-screen civil rights advocacy as another reason to remember him and mourn his absence.
Dick Miller as Pawn Shop Clerk
In any other movie, and in the hands of just about any other actor, the pawn shop clerk who arms the antagonist and dies in the process would probably be a pretty forgettable character. In "The Terminator," however, he's played by the veteran — and much-missed — character actor Dick Miller. That changes everything.
Miller had a gift for making his characters memorable, no matter how slight their parts seemed on the page. He was particularly beloved by genre directors — and fans — and his long association with producer Roger Corman led to him working with famous directors like Martin Scorsese, Joe Dante, and obviously James Cameron (per The New York Times). If you were watching horror in the 1980s, you knew Dick Miller's face by heart: He was in everything from "Gremlins," where he played Murray Futterman, to the deliciously trashy robot slasher "Chopping Mall." As Crooked Marquee documents, casting him as characters named Walter Paisley even became a kind of running joke for filmmakers ... and in fact, his last role was as Rabbi Walter Paisley in the 2019 chiller "Hanukkah."
Miller died in 2019, at the age of 90, leaving behind an ample body of work.
Bill Paxton as Punk Leader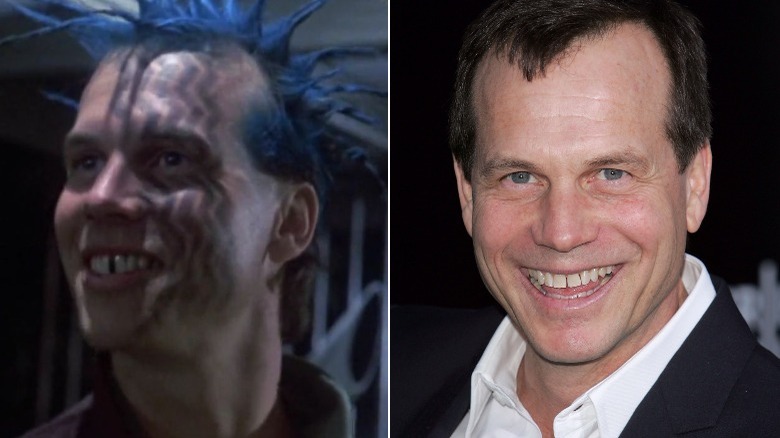 Orion Pictures/Peter Kramer/Getty Images
Bill Paxton only makes a brief appearance in "The Terminator" — he's the blue-haired punk who makes the mistake of trying to hassle the newly arrived T-800 — but that was clearly enough to win over James Cameron, who would go on to cast Paxton in increasingly more prominent roles in films like "Aliens," "True Lies," and "Titanic."
Paxton's successes were never confined solely to Cameron's films, either. His Guardian obituary aptly described him as "a lively and endearing character actor ... with a knack for conveying bareknuckle vitality as well as a more considered intelligence and tenderness," and that's something a great many directors recognized. He had a particular gift for leaning into those strengths and simultaneously subverting them, crafting characters whose salt-of-the-earth Everyman vibes exist alongside impulses that are darker and stranger. This complexity shines in films like "One False Move" and "A Simple Plan," as well as on his hit HBO show "Big Love." His directorial work on the thoughtful, disturbing horror film "Frailty" — the source of another of those fantastically nuanced Paxton performances — also stands out.
In 2017, Paxton died of complications following heart surgery. Chloë Sevigny, who co-starred with him on "Big Love," spoke to Entertainment Weekly about the profound influence of his kindness and optimism: "He believed in entertainment being transportive and transformative. He believed in the magic of what we can bring to people." We'll always be sorry to have lost him.