Whatever Happened To The Actress Who Played Sarah Connor In The Terminator?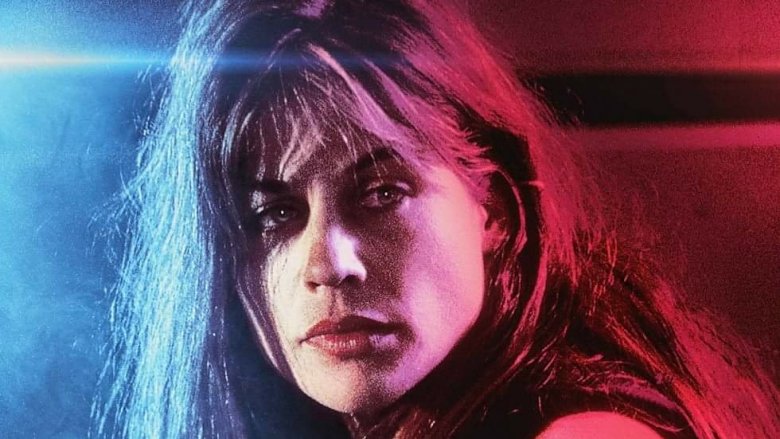 Breaking into the spotlight as Sarah Connor in James Cameron's classic film The Terminator, Linda Hamilton clinched herself as a pop culture icon. Since reprising her role in 1991's Terminator 2, she's been less visible—but she's never really stepped away from the spotlight, either. Where's she been all these years? Let's take a look at what Linda Hamilton's been up to since joining the battle to take down Skynet.
Beauty to the Beast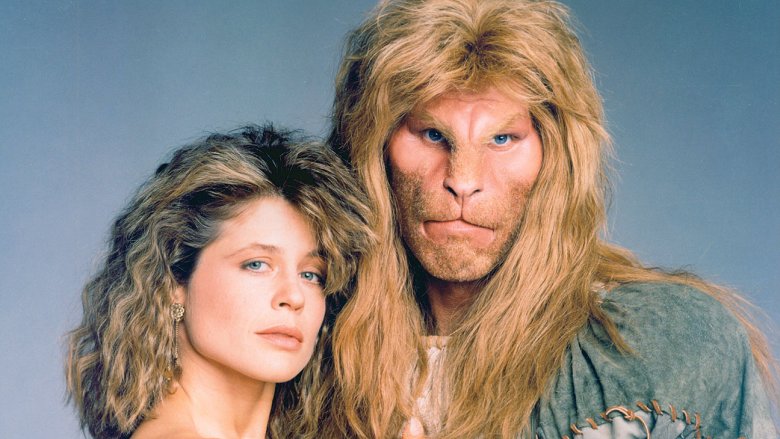 After solidifying her sci-fi status in The Terminator, Hamilton turned her attention back to television. She was no stranger to the small screen, appearing in shows like Hill Street Blues and Murder, She Wrote, and in 1987 she stepped into the role of Assistant District Attorney Catherine Chandler on CBS's Beauty and the Beast. The series earned multiple accolades during its three-year run, including a Best Actor Golden Globe for Hamilton's co-star Ron Perlman—who'd go on to star in the original Hellboy movies and Sons of Anarchy.
She was married to James Cameron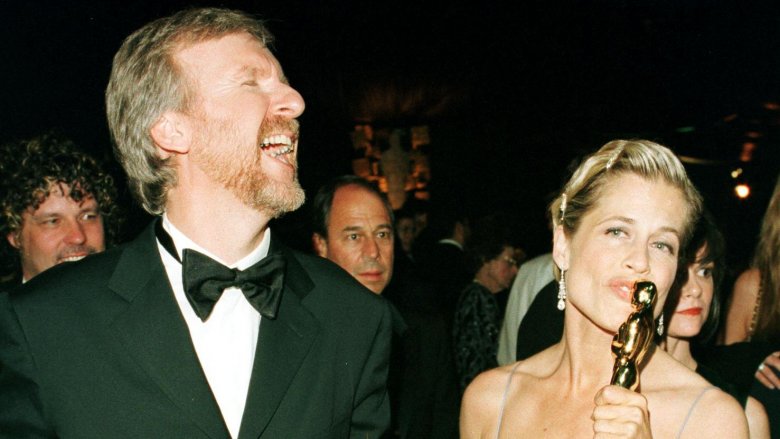 Getty Images
For a brief period, Hamilton was married to the man that helped turn her into Sarah Connor: Terminator director James Cameron. After Cameron split with his third wife, director Kathryn Bigelow, he and Hamilton connected; in 1993, she gave birth to their daughter, Josephine, and from 1997 to 1999, the two were officially husband and wife.
As Hamilton explained to The Daily Mail, James Cameron wasn't someone who could easily settle down. "The woman he can't get is always his dream girl," Hamilton explained. "Work and women go hand in hand for Jimbo, and I should know." Cameron and Hamilton split when he fell in love with actress and model-turned-environmental advocate Suzi Amis, who he met on the set of Titanic, resulting in a $50 million divorce settlement.
Busy on the TV dial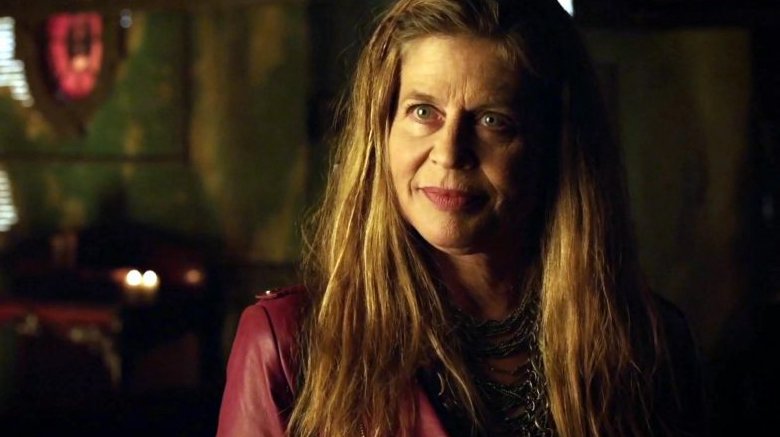 Before she became known as Sarah Connor in the Terminator movies, Linda Hamilton worked steadily in television—and after hitting her stride with big-screen success in post-Terminator films like Mr. Destiny and Dante's Peak, she dove back into the world of TV. Starting in the late '90s, Hamilton compiled a new list of series credits, regularly stepping outside the genre realm to take guest-starring roles in shows like Frasier, According to Jim, and Weeds, as well as a three-episode arc on the Syfy series Lost Girl. Needless to say, an actor's work is never done.
She's battled bipolar disorder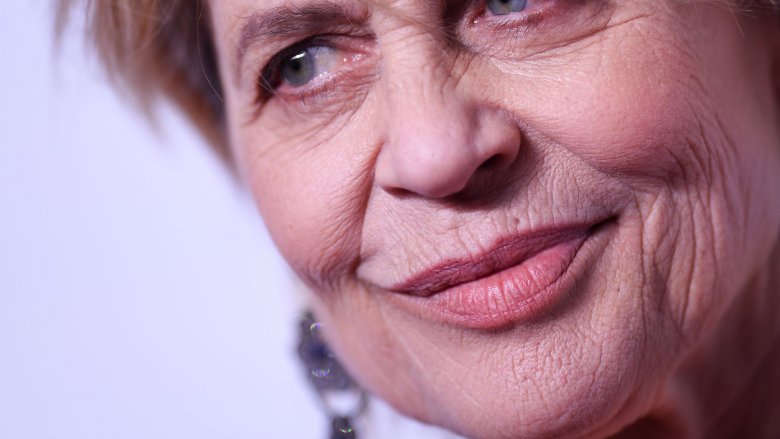 Valerie Macon/Getty Images
In a 2005 interview with Larry King, Hamilton spoke openly about her ongoing struggles with bipolar disorder, saying that after multiple mistreatments, she'd finally been able to get the appropriate care to manage the illness. According to Hamilton, the emotional swings associated with the condition are one of the main reasons her first two marriages came to an end.
"I really want to stress that there is no magic pill for everyone," Hamilton explained. "For me it was a combination of 20 years of hard work and looking ... for me it's just necessary to exercise. I've got this huge busy brain. I need to go and sweat for an hour and do my weights for half an hour or an hour, not every day. It's no longer the compulsion, but I just know that that helps me feel better."
Chuck's mom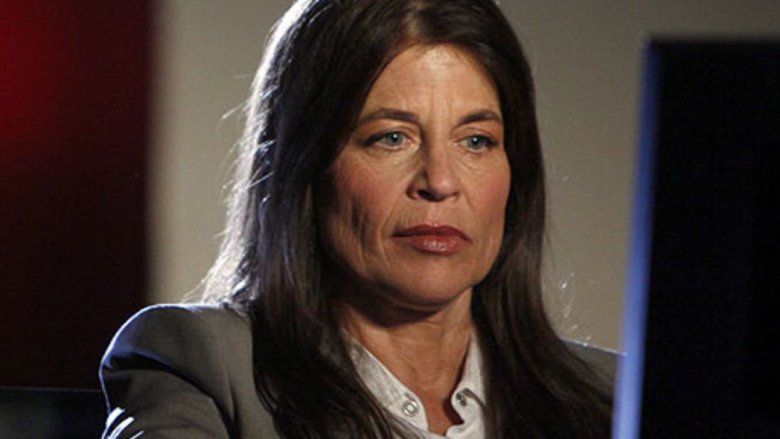 Chuck, a nerdy NBC action procedural that helped catapult the careers of stars Zachary Levi and Yvonne Strahovski, got some added star power during two of its five seasons from Linda Hamilton, who joined the cast to play former CIA agent—and Chuck's sinister spy mother—Mary Bartowski. The story goes that, when Chuck and his sister Ellie (Sarah Lancaster) were young, Mary abandoned them to go deep undercover inside Volkoff Industries.
Adding Chuck's mother to the mix gave the series a few extra layers to work with, as the story started to explore its spy world on some deeper levels. Not only was her addition a delightful surprise for diehard genre fans, her performance helped the pop culture-aware series introduce Hamilton to a new generation of viewers.
She was the host of a true crime documentary series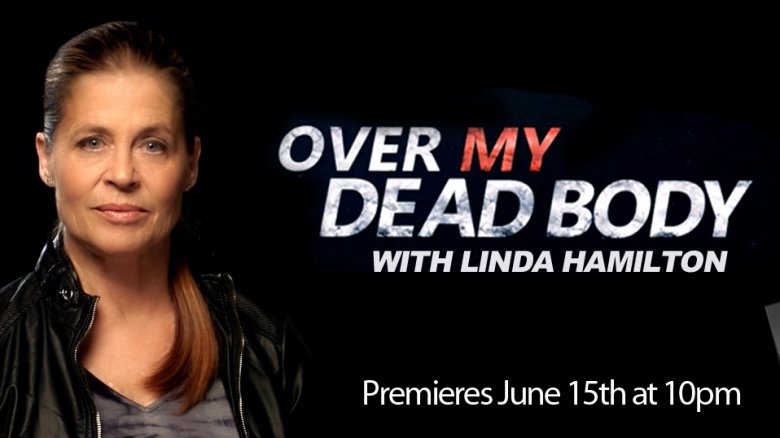 In 2015, Linda Hamilton added "TV show host" to her varied résumé as she starred in Investigation Discovery's documentary series Over My Dead Body. 
The program was reminiscent of well-known classics in the genre like Unsolved Mysteries and America's Most Wanted. In each episode, Hamilton introduced the audience to reenactments of a variety of true, action-packed stories. It highlighted harrowing tales of survival—and gave the women whose stories it told the Sarah Connor treatment, exploring their fortitude as they turned the tables on their attackers to live another day. 
A personally meaningful sci-fi role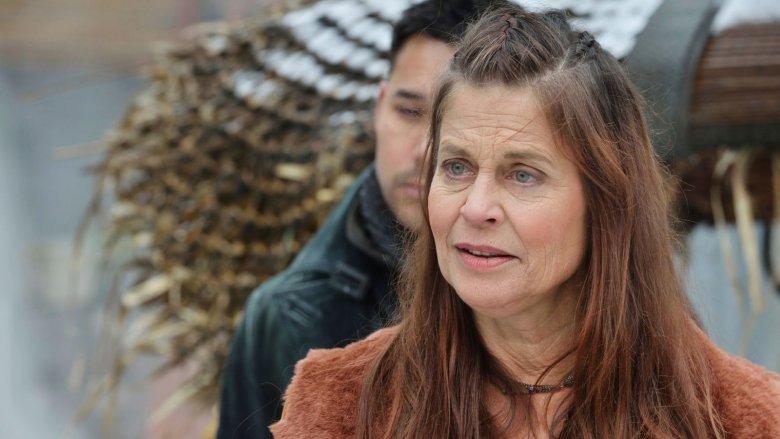 In 2014, the Syfy network debuted Defiance, a high-concept series released in tandem with a video game of the same name. Hamilton joined the cast for a six-episode arc as Pilar McCawley, the long-missing wife of Rafe McCawley (Graham Green), who suffered from mental illness and lost access to necessary medication after the arrival of aliens, causing violent outbursts against her family.
The series lasted only three seasons, but it gave Hamilton an outlet to help educate audiences about mental illness, an important personal issue for her. "Pilar is a fantastic character—manic, mad and full of secrets," she told TV Guide. "This is why I love doing sci-fi. You can go to so many more interesting places than you can in some forensic cop drama."
Heard, but not seen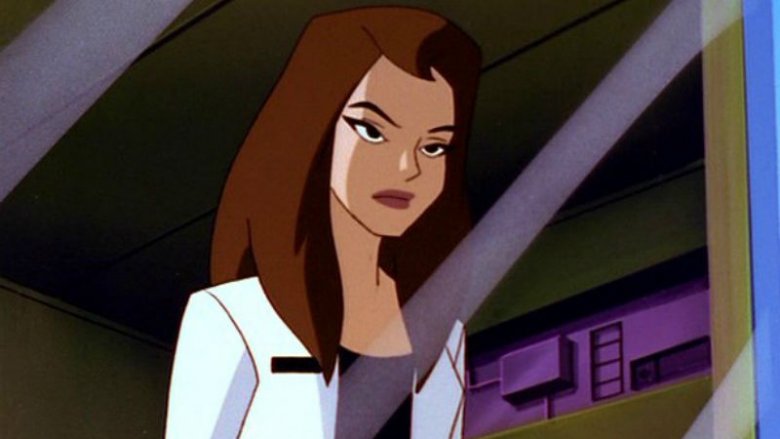 While Hamilton has worked regularly, a lot of the roles she's performed haven't actually been in front of the camera—instead, her distinctive voice has helped bring life to a variety of offscreen and animated characters.
Aside from playing Nemesis in Hercules, she's become a mainstay in the DC animated universe, where she's played Susan Maguire in The New Batman Adventures, Dr. Stephanie Lake in Batman Beyond—both the movie and the TV series—and Madame Lorraine in the video shorts DC Showcase: Jonah Hex, Superman/Shazam!: The Return of Black Adam and DC Showcase Original Shorts Collection.
"This form of creating a character is backwards from what I'm used to, in that they start with the script and your voice, and then create around that," Hamilton said of doing voice work. "So it's very different for me, and yet it's a very powerful way to start something, to feel as though you are the total origin of it. I don't mean that as an ego thing, but that it's wonderful the way they match a character to your voice. It's a very different way of acting."
A regular on the Comic Con circuit
From Beauty and the Beast to the Terminator movies to Chuck to Defiance, Linda Hamilton has shown time and again she's most at home when kicking ass in the sci-fi realm. And with the rise of comic-book culture and fan conventions, she's never hesitated in giving back to her fans.
Over the years, Hamilton has made regular appearances at conventions throughout the country, appearing on panels and offering photo ops for her dedicated fan base. Being a role model takes work, and Hamilton has proven she's always up to the task. Something tells us that her return to the Terminator franchise will find her leading a panel in Hall H at San Diego Comic-Con sooner rather than later.
Of course, she's an action movie icon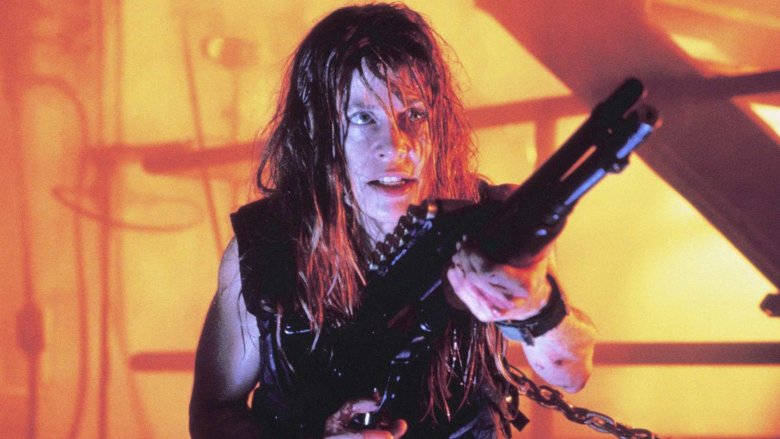 The Artemis Women in Action Film Festival kicked off its first ever event in April of 2015, and presented their first-ever Action ICON Award to Linda Hamilton.
The official website points to Hamilton's game-changing performance as Sarah Connor in Terminator 2, which "created an amazingly powerful female image of passion and commitment that has continued to be vital and inspirational to this day." When you think of women in action movies, it's impossible to not recognize Hamilton's work. This award is proof of that, and very well deserved.
The family that stunts together stays together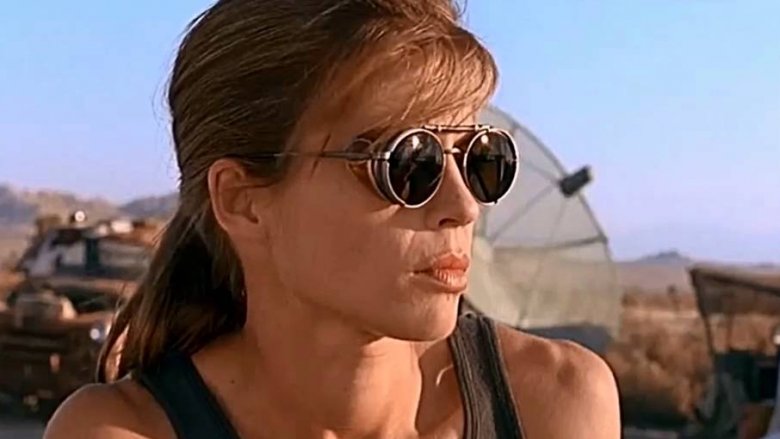 Linda Hamilton's fitness regimen for 1991's Terminator sequel is the stuff of legend. Her workout routine consisted of three-hour training sessions, six days a week. It's just one of the steps she took, though, in bringing Sarah Connor into her apocalypse warrior phase. Another smaller step included the addition of her identical twin sister, Leslie Hamilton Gaerren, into the mix. In a 2010 interview with The Wright Stuff, Hamilton explained that her sister, an ER nurse, stepped in front of the cameras for a few integral scenes—most notably, the final battle between Sarah Connor and Robert Patrick's sinister T-1000.
She'll be back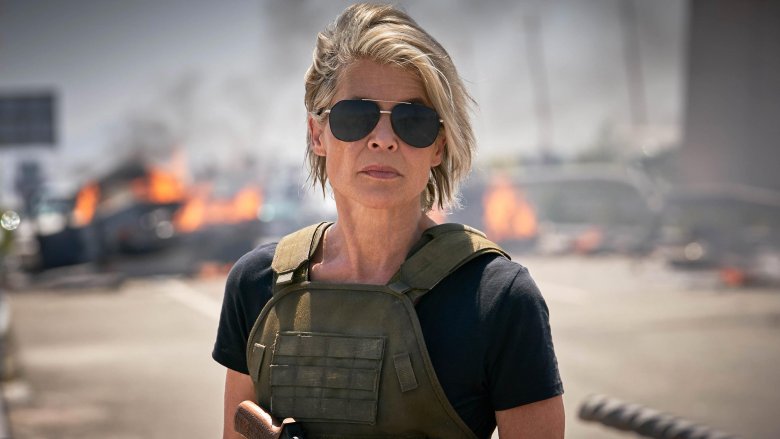 It's been more than 25 years since Hamilton last appeared onscreen as Sarah Connor in Terminator 2, and since James Cameron's 1991 game-changing sequel, there have been a number of installments in the Terminator franchise—2003's Rise of the Machines, 2008's short-lived TV series Terminator: The Sarah Connor Chronicles, 2009's Terminator Salvation, and 2015's Terminator Genisys. Now, according to Deadline, Cameron is getting the band back together for a new trilogy.
Rather than trying to unify the franchise's increasingly tangled threads, the next installment will reportedly ignore the timeline explored in the sequels that came after T2. Schwarzenegger will reprise his role as the T-800, with Hamilton by his side. "As meaningful as she was to gender and action stars everywhere back then, it's going to make a huge statement to have that seasoned warrior that she's become return," said Cameron. "There are 50-year-old, 60-year-old guys out there killing bad guys, but there isn't an example of that for women." 
Linda Hamilton is definitely back—and it sounds like she's badder than ever.