The Daredevil Prop That Charlie Cox Never Brought Back
Slaven Vlasic/Getty
Talk about a feat: with a single theatrical feature film appearance to his name in the Marvel franchise's 14 years, Charlie Cox has been able to slowly and steadily rise to become one of the most beloved actors in the entire Marvel Cinematic Universe. His performance as Matt Murdock, a.k.a. Daredevil, has been roundly acclaimed from the get-go — beginning with his work on the Netflix MCU shows (remember those?), out of which his own "Daredevil" series was handily the most popular.
By 2021, Marvel's deal with Netflix was a relic of the past, but fan enthusiasm for Cox's portrayal of the Devil of Hell's Kitchen was still intense enough to inspire a much-touted cameo in "Spider-Man: No Way Home." And, in 2022, the actor has continued to leave his mark on the MCU's Phase Four with a warmly-received supporting turn on Disney+'s "She-Hulk: Attorney at Law." It's no wonder at all that Daredevil will be getting his own Disney+ reboot series, with Cox again donning the horned helmet.
In short, playing Matt Murdock has been a wild, deeply special ride for Charlie Cox. The actor has spoken at length throughout the years about how important the role is to him and how many great experiences the shoot of "Daredevil" provided. And, in a recent interview with Total Film, he has even gone so far as to confess that he may have kept a souvenir from the set.
Charlie Cox didn't return a fighting baton once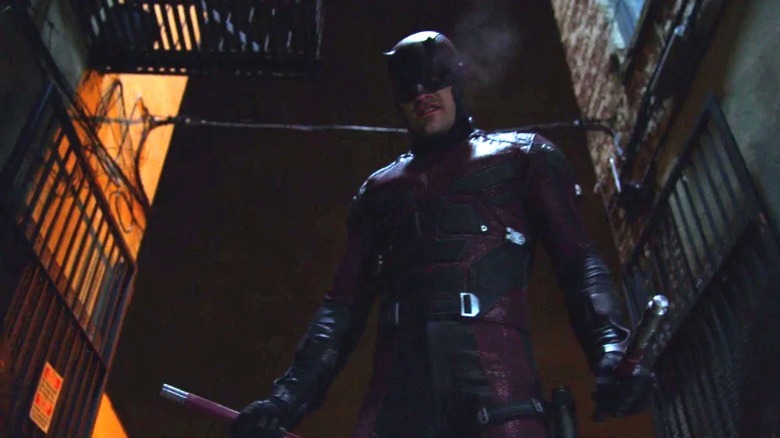 Netflix
The latest print issue of Total Film magazine includes an interview with Charlie Cox, and one of the questions asked was if he had ever stolen anything from a film set. In his typically convivial manner, Cox confessed to ... well ... not exactly up and stealing something, but having once neglected to return an item.
Fans of "Daredevil" know that the show had multiple instances of Matt getting a new and improved version of his signature weapon, the billy club, from craftsman Melvin Potter (Matt Gerald). In one of those instances — Cox didn't specify which one — the actor's fascination with the gear got the better of him.
"The scene was shooting on Monday. Friday night, we were doing a stunt, and a new stunt guy was spinning the baton in a way I'd not seen before. I thought, 'That is so cool,' so I asked him to show me how to do it," Cox said.
After practicing with the new baton all weekend, Cox was able to execute the movement perfectly when the time came to shoot the scene in question — which will come as no surprise to "Daredevil" fans who remember the high degree of sophistication of the series' action choreography. But Cox also confessed to Total Film that he ultimately did not return the baton. 
Really, given how many cool props the show featured throughout the years, it speaks to Cox's restraint that he only ever took home one.