Twitter Users Have Some Hilarious Casting Choices For Amazon's God Of War Series
Sony's iconic video game series "God of War" is finally getting the Hollywood treatment via Amazon, which means someone is going to have some epically big shoes to fill playing everyone's favorite god-killing Spartan warrior — Kratos. 
In past iterations of the game, the most famous person to ever portray the legendary character was arguably former "Stargate" actor Christopher Judge, who got his run voicing Kratos in 2018's "God of War" and then again in the 2022 sequel "God of War Ragnarök." There have been nine installments of the video game, spanning back to 2005's "God of War" on Playstation 2.
Looper has propped up and discussed some actors who fans would want to see play the infamous Demi-God, though no one has been officially named by Amazon Prime Video yet. The list includes Gerard Butler, Dwayne Johnson, Jason Momoa, and possibly even Judge himself. But that's not why you've clicked on this article. No, we're here to discuss the most hilarious and unlikely choices being offered up by "God of War" fans, with them being used in concept art and paraded all around Twitter. 
John Travolta, Tom Holland, and WWE's Triple H top the list of hilarious Twitter fancasts for God of War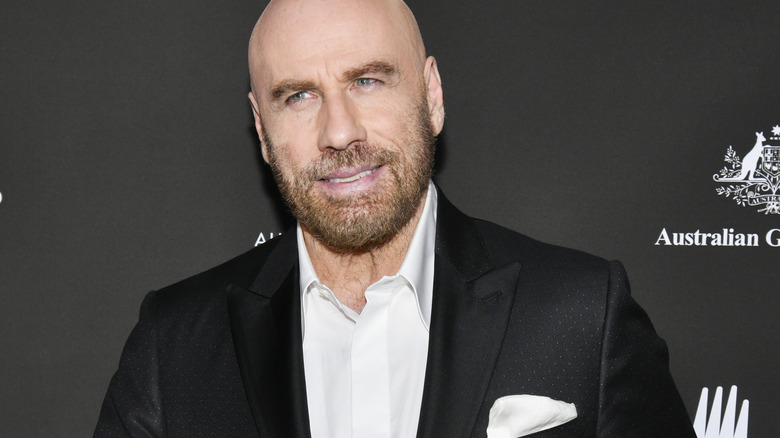 Rodin Eckenroth/Getty Images
As if we needed any more proof that the Internet is undefeated, Twitter users on Wednesday, December 14, came out in droves to tweet hilarious fancasts and concept art for Amazon's "God of War" series — with some naming John Travolta, Tom Holland, Adam Sandler, and even WWE's Triple H as perfect choices for Kratos and some of the other "God of War" characters. 
"John Travolta as Kratos, Make it happen," wrote @Erfan_gg1 in a tweet that's been liked more than 335 times. The post featured an awesome rendering of the "Grease" star as Kratos in full war paint. 
"If Kratos isn't being played by Tom Holland then why even bother?" said @Shpeshal_Nick. Another Holland-related tweet — which was liked over 2,000 times — showed an altered photo of the "Spider-Man" actor sporting a bald head and some Kratos war paint as well. "Tom holland as kratos please," said the poster, @gaalvezs. Another user, @DarkCloudXV, jokingly replied: "I was thinking Chris Pratt would fit the role a little better." The comment wound up sparking a wave of ridiculous casting ideas. 
"Mark Wahlberg as Boi," read one tweet, which has been liked more than 500 times.
"Adam Sandler as memir," said @Robocan3000. 
"Time to play the game," wrote @adamson93, while sharing a GIF of Triple H underneath Amazon's announcement tweet. 
While details are still tightly under wraps, what we do know about Amazon's "God of War" series is that it'll be spearheaded by "The Wheel of Time" showrunner Rafe Judkins, who is said to be working with writers Mark Fergus and Hawk Ostby. The pair's previous work includes 2006's "Children of Men" and the 2008 Marvel hit "Iron Man."