Will Smith's Emancipation Costar Ben Foster Refused To Interact With Him For 6 Months While Shooting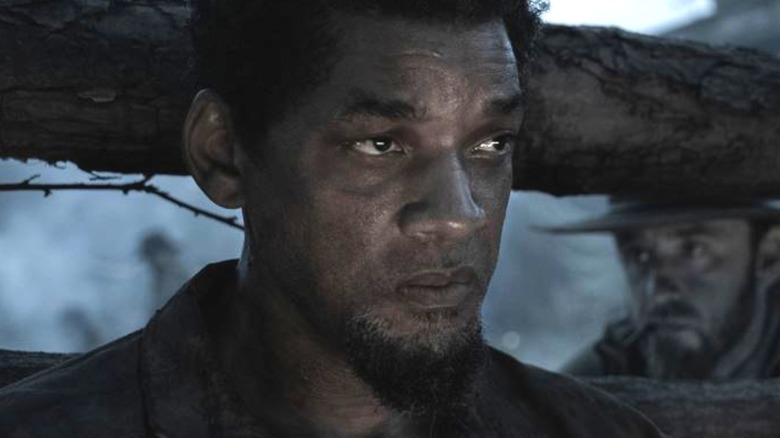 Apple TV+
Arriving on Apple TV+ in early December, Antoine Fuqua's "Emancipation" is a historical epic that sees 2022 Oscar winner Will Smith going toe-to-toe with lauded character actor Ben Foster — who apparently took his role so seriously that he refused to interact with Smith on-set during the entire six-months of shooting.
"He didn't speak to me, he didn't make eye contact with me, he didn't say a word," Smith recalled during a recent taping of "Red Table Talk" on Facebook Watch. "He didn't acknowledge me for six months," Smith added, noting how "Emancipation" was the most psychologically difficult shoot he's ever done. 
"Emancipation," which got a limited theatrical release starting December 2, is a story of determination and hope that spotlights the United States' most turbulent time in history — the American Civil War and the height of slavery in the South. The film is inspired by the real-life tale of Gordon aka "Whipped Peter," who was an enslaved person from Louisiana that managed to escape from his plantation in an effort to find his family. The man later became famous for fighting in the Union Army and highlighting the horrors of slavery by allowing a photographer to take a picture of his severely scarred and whipped back. The image was famously referred to as the "scourged back" photo (via History).
Foster — who has garnered critical acclaim for his performances in "3:10 to Yuma" and "Hell or High Water" — will be playing the role of Jim Fassel, the evil slave driver responsible for Peter's imprisonment and scourged back. Throughout "Emancipation," Fassel is attempting to catch Peter in the swamp and bring him back to the Louisiana plantation where he was enslaved. Foster, being the dedicated character actor he is, chose to take things to another level while portraying the movie's main antagonist.
Foster wanted to give Smith 'his space' on-set to get them both deeper into character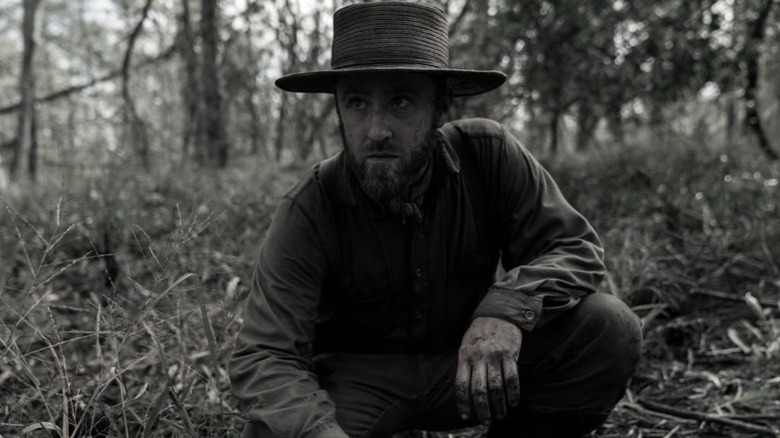 Apple TV+
According to Ben Foster, when it came time to start shooting "Emancipation," he chose to distance himself from Will Smith on Day 1 — and continued to do so for the entire shoot — because he ultimately believed it would help the "King Richard" actor and himself deliver better performances.  
"The first day on set was staggering," Foster explained in a video clip for "Red Table Talk," which had been taped previously. "Two hundred-plus background actors portraying the enslaved," Foster said. "I was walking past men in chains and in situations of such tremendous violence, and then I felt him. I didn't see him — I felt him. It was Will...but it wasn't Will Smith as we know him. It was a man, and that man was vibrating. It's animal stuff, it's hard to explain. But I could feel the presence of this man who was digging deep. And I passed him, and I felt, 'Well, I'm gonna give him his space.'" Foster then revealed: "We didn't speak for six months of shooting." 
In addition to Foster's method acting, the production team of "Emancipation" also worked extremely hard to achieve authenticity. Screenwriter Bill Collage was said to have used actual Civil War-era documents and Peter's own personal diaries to help pen the script, which helped Smith get even deeper into character and sparked a portrayal that blew everyone on set away. 
"This is a performance that speaks to the human spirit against all odds to fight for love, the fight of faith, the fight to endure and endure for love," Foster said in his "Red Table Talk" clip. "I'm blown away by what Will Smith did in this film."