Rumor Has It Aquaman 2 Is Way Way Way Overbudget
Continuing a recent DC Cinematic Universe trend in leaks, rumors, and contradictions to those same leaks and rumors, a new article from Variety has reported two new stories coming out of DC Studios — at least one of which is currently stated to be false.
The headline story was a claim that, according to sources within Warner Bros. and DC, James Gunn and Peter Safran's new DC film continuity would incorporate Matt Reeves' popular 2022 feature "The Batman." The Caped Crusader reboot raked in an impressive box office return and resonated strongly with a large portion of the DC fanbase. Despite confirmation of a sequel starring Robert Pattinson (per NME) and the ongoing production of an HBO Max series centering around Colin Farrell's The Penguin, Gunn quickly took to Twitter to call the claim "entirely false."
Though Variety amended the story to incorporate Gunn's response, both its placement in the article and the response itself seem to avoid confirming or denying another claim made in the piece — that being the rumor that James Wan and Jason Momoa's "Aquaman and the Lost Kingdom" is wildly over-budget.
Aquaman's budget rivals Black Adam's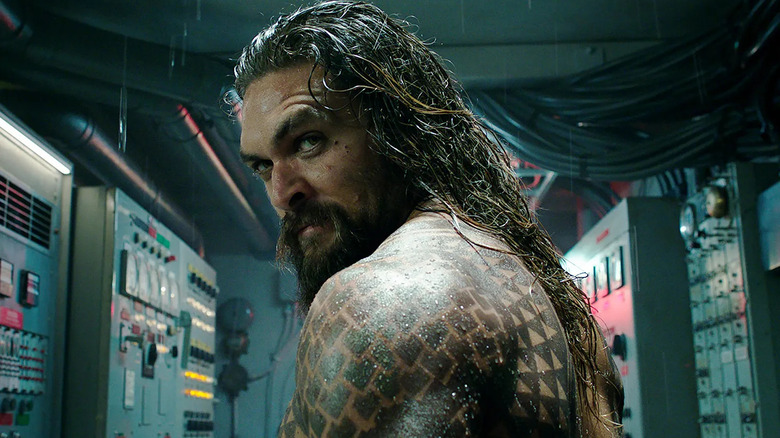 Warner Bros. Pictures
According to the same Variety article, "Aquaman and the Lost Kingdom" has expanded its budget to over $205 million. For context, the highly anticipated yet underperforming "Black Adam" had a disputed budget of between $190-230 million. Depending on who you ask (and if that person happens to be Dwayne Johnson) the best-case scenario is that film makes $50 million — seemingly more realistically, it could lose $50-100 million (per Deadline and The Hollywood Reporter).
Admittedly, it's all too easy to forget that the original "Aquaman" was the highest-grossing Zack Snyder-era DC project, grossing over $1.1 billion. It's still an undeniably confusing rumor considering that The Hollywood Reporter relays that "The Lost Kingdom" will allegedly end the franchise, with the film's star rumored to be recast as DC Studios' Lobo.
Variety also reports that prior to James Gunn and Peter Safran (the latter of whom has been a longtime friend and collaborator of Wan's) taking over DC Studios, the "Aquaman" director was asked to reduce his budget for reshoots. It is unknown if this report would remain true after Gunn and Safran's entrance. Despite the alleged friction from some parties within the studio, Wan excitedly shared the news of their new positions on his Instagram in October of this year.