Dwayne Johnson Allegedly Leaked Misleading Financials As Black Adam Controversy Keeps Growing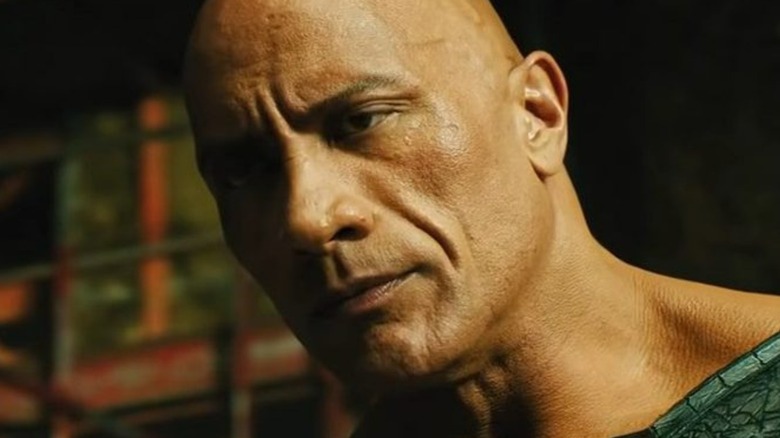 Warner Bros. Discovery/DC
If you based your perception of "Black Adam" on the advertising campaign and lead actor Dwayne "The Rock" Johnson's hype of the film alone, you'd think it was the greatest thing since sliced bread. While it's far from a complete trainwreck of a film, it's equally far from the DC Universe hierarchy-shifting film it was made out to be. Even with the inclusion of the Justice Society of America, Henry Cavill's Superman, and Johnson finally portraying Teth-Adam after years of waiting, not every DC movie fan out there has rushed to the theater to check it out.
In fact, it seems like not enough people have gone out of their way to watch "Black Adam." At the time of this writing, it's resting just under the $400 million mark in terms of worldwide box office gross, which is undeniably an impressive number in isolation. However, when adding context to it — mainly the roughly $200 million budget — it's plain to see that "Black Adam" is nothing short of a box office bomb as its theatrical run reaches the finish line. Although, there's supposedly another element to this story that those following it would be interested to hear.
Allegedly, Dwayne Johnson himself leaked misleading financial info about "Black Adam" on purpose. Here's what the rumor mill has churned up about this situation so far.
Did Johnson send out false Black Adam financials?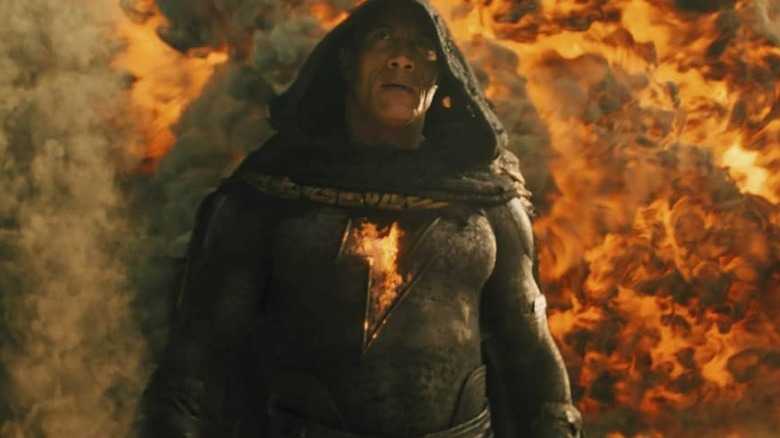 Warner Bros. Discovery/DC
On December 7, 2022, Deadline explained that contrary to other reports citing "Black Adam" as a financial failure, it indeed stands to rake in a sizeable profit. The rough window puts the film's earnings between $52 and $72 million, and it's noted that merchandise will also have to be factored into this number. Less than a week later, however, former editor of The Hollywood Reporter Matt Belloni came forward with a surprising claim. Not only will "Black Adam" not bring in millions for Warner Bros. Discovery, but according to Belloni's sources, Dwayne Johnson himself purposely leaked false financial information to the press.
"Amid all the reports of Black Adam losing money, Team Dwayne Johnson even took to leaking to Deadline and then tweeting a purported 'ultimates' financial sheet," Belloni wrote via Puck, clarifying that Johnson hasn't admitted to any such leak. Belloni then claims that individuals within Warner Bros. Discovery have expressed their belief that Johnson actually put those misleading numbers out there, leading to outlets like Deadline reporting on it. Of course, given the fact that a more concrete source hasn't lent any credence to this situation, one would be wise to take all of this with a pretty big grain of salt.
Things aren't looking good for Black Adam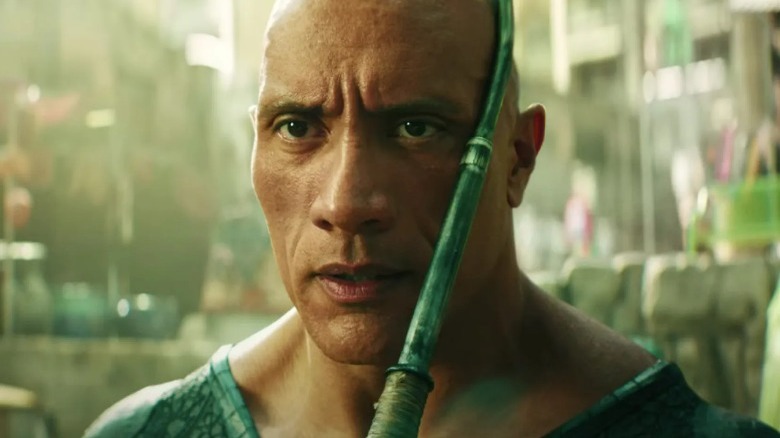 Warner Bros. Discovery/DC
If this report from Matt Belloni is true, one could only imagine the rationale behind leaking fake financial information to the press. Regardless, should this be the case, the fact that it got out is bad news for all involved, given the ethical and legal ramifications of this entire ordeal. One has to imagine it wouldn't bode well for Dwayne Jonhson's future under the DC and Warner Bros. Discovery banners, but then again, that was in jeopardy already. Before this rumor came to light, we learned that major shakeups are on the way, and when they arrive, the "Black Adam" brand might have a lot to worry about.
On December 7, 2022, The Hollywood Reporter noted that under the guidance of James Gunn and Peter Safran, the DC film and television slate is supposedly up for some big changes. "Wonder Woman 3" has been canned, Jason Momoa could switch from Aquaman to Lobo, and Henry Cavill may already be done as Superman even though he just returned to the role. Also, it seems that a sequel for "Black Adam" is out of the question for the time being. THR claims that the first movie's financial woes would be the biggest obstacle preventing a prospective "Black Adam 2" from reaching the silver screen.
With 2023 on the horizon, it's unlikely that "Black Adam" will fall out of the news cycle anytime soon. One can only hope we'll learn the definitive truth of its financial situation so we can weed out the facts from the fiction.