Small Details You Missed In The Santa Clauses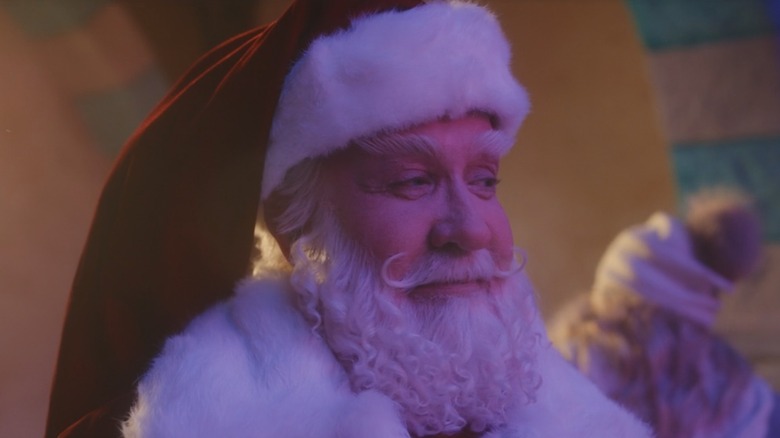 Disney
Disney's holiday miniseries "The Santa Clauses" picks up exactly 28 years after Scott Calvin (Tim Allen) puts on the red coat and becomes Santa Claus in the 1994 movie "The Santa Clause." After 28 years on the job, the number of kids sending letters to Santa is declining, and his list is getting shorter each year. Santa's magic begins to malfunction, leading him to wonder if he is still the right man for the job and question if he ever was.
After an on-the-job accident, Santa contemplates retirement, leading to a round of interviews looking for someone to fill his boots, a big announcement in Santa's workshop, and heartbreak among the elves when they learn Santa is retiring. After securing a replacement, it's time for Santa to become Scott once again when he moves back to Chicago with his wife Carol (Elizabeth Mitchell) and his teenage children Cal (Austin Kane) and Sandra (Elizabeth Allen-Dick) who are both excited and afraid of being around other teens after growing up in the North Pole.
This series makes more than a few references to the film trilogy, pop culture, and how much things have changed since Scott became Santa in the '90s. This series explores how technology, rampant consumerism, and instant gratification in the era of overnight shipping just might destroy the Christmas spirit and the magic that helps Santa and his elves bring joy to children every Christmas. Join us as we explore the small details you missed in "The Santa Clauses."
Warning spoilers ahead!
Santa brings out his old tricks to revive Sara's Christmas Spirit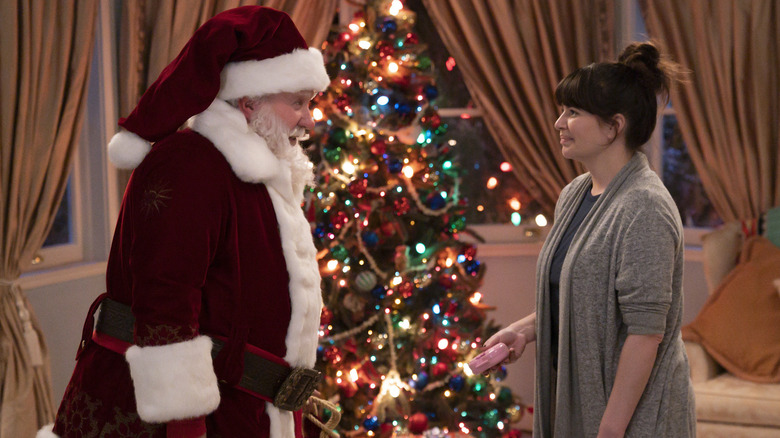 Disney/James Clark
In Episode 1 of "The Santa Clauses," Santa visits the home of a little girl he meets during his first night as Santa back in 1994. Despite the house not being on his list, Santa drops down the chimney looking for a little girl named Sara and is surprised to find a grown woman freaking out because a huge man just broke into her house. It takes a moment for Santa to realize the woman is Sara (Casey Wilson) and she's all grown up.
Of course, she doesn't believe he is Santa, nor does she remember meeting him as a child and leaving soy milk out for him the following year because he told her he was lactose intolerant. When Santa pulls a Polly Pocket — a gift she loved as a child — out of his sack, her conviction that he is an intruder fades and she accepts that he really is Santa, which sparks her Christmas spirit.
This gift reminds Sara of the simple joy she found in play as a child, remembering how much she loved Polly Pocket until her mother threw the toy away. Giving favorite childhood toys to adults harkens back to a trick Scott uses in "The Santa Clause 2" when he gives retro gifts to the teachers at Carol's staff Christmas party to liven things up. These toys evoke nostalgia and revive the adults' Christmas spirit.
Carol has adopted the matronly Mrs. Claus look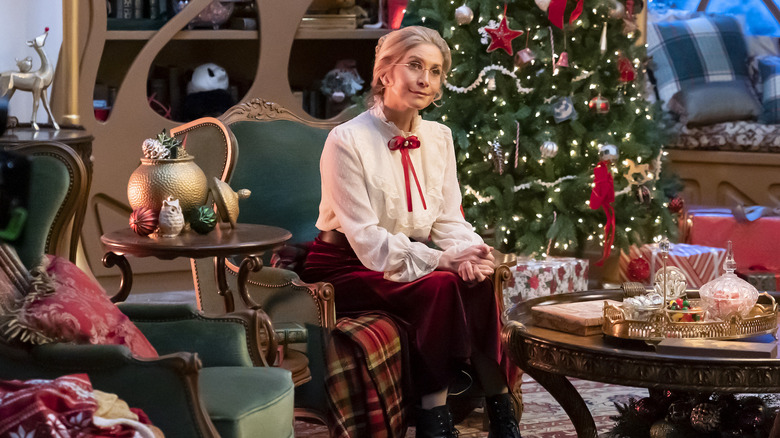 Disney/James Clark
Carol has transformed her look since "The Santa Clause 3: The Escape Clause," which takes place while she's pregnant with their first son. She now looks like the matronly Mrs. Claus one might expect — her hair is tied up in a bun, and she wears unflattering red dresses and wire-rimmed glasses. The dowdy look and role as Mrs. Claus are smothering Carol, who feels marginalized by having no identity outside of being a mother and Santa's wife.
In "The Santa Clause 2," Carol is a school principal and meets Scott when his son Charlie Calvin (Eric Lloyd) gets into trouble for defacing school property with graffiti. Carol is tough and strict with the students at her school, but Scott charms her despite not making a great first impression. By the end of the movie, Carol agrees to marry Scott, uprooting her life to live at the North Pole with Scott as Mrs. Claus.
In "The Santa Clause: The Escape Clause," Carol struggles with being separated from her family while pregnant, but she still wears her hair down; despite dressing in North Pole-appropriate red, white, and green attire, she doesn't look like an old lady. Over the years, it seems Carol has reluctantly taken on the mantle of Mrs. Claus, but in this new series, it is clear Carol has sacrificed a lot for Scott to be Santa and is ready for the next chapter of their lives.
The first episode ends how the first film began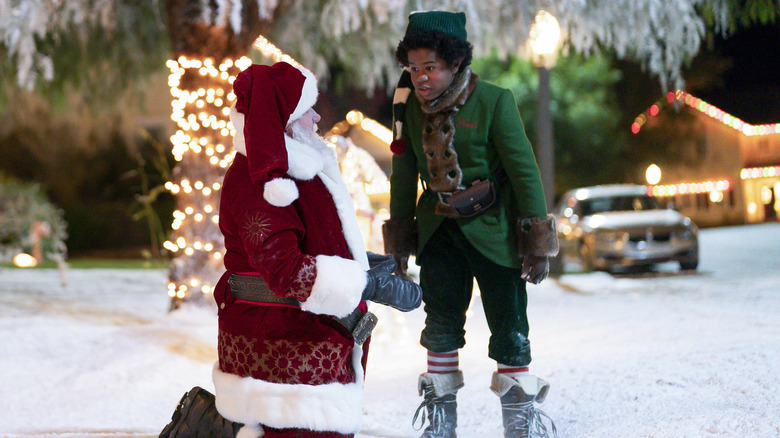 Disney/James Clark
Episode 1 of "The Santa Clauses" ends with Santa falling off the roof while delivering presents, just like the first movie begins. If you remember, Scott starts the series as an executive at a toy company who accidentally becomes Santa when the previous Santa falls off his roof while Scott watches from below. Scott follows the instructions on the card in Santa's jacket, requesting he put on the Santa suit to finish delivering the toys, with the promise that the reindeer know what they're doing.
In the first film, Charlie is amped about his dad becoming Santa, but Scott approaches the development with trepidation and disbelief. Even after delivering toys to children, visiting the North Pole, and being magically transported home to Chicago on Christmas morning, Scott tries to convince himself it was just a dream despite Charlie's insistence that it really happened. When Scott begins gaining weight and growing a white beard, his transformation into Santa becomes impossible to ignore.
When Santa's magic fails during "The Santa Clauses" and he falls off the roof, Santa wonders if he is the right man for the job and if this entire career as Santa was one big fluke. Episode 1 lays the groundwork for Santa contemplating retirement before he vanishes like the previous Santa does in the first film.
They change the workplace injury board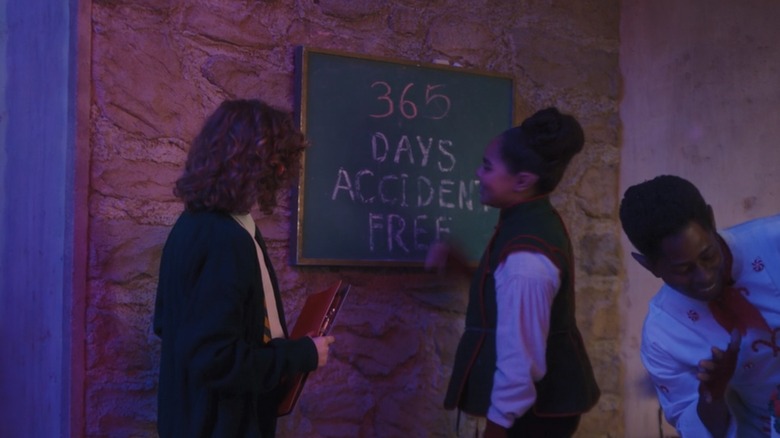 Disney
In Episode 2, when Santa arrives at the North Pole after falling off a roof, his workshop is filled with commotion. Edie (Isabella Bennett) shoos away the elves bringing the annual celebratory cake that says, "Another Perfect Night." Another elf updates the workplace injury board, as it can no longer accurately state that there have been 10,228 days without an on-the-job injury.
Having something as mundane as an injury board, like the OSHA posters displayed in job-site break rooms across the country, somewhere as magical as Santa's workshop is hilarious. Especially after we learn in Episode 3 that the elves don't even know what a union is, and they definitely don't have workman's compensation insurance. In Episode 6 we see the accident board twice during the final episode of the series, confirming there have been no accidents since Santa's fall off a roof in Episode 1.
This detail is funny but also shows the North Pole has a lot of rules. All the clauses Santa encounters in the trilogy of films and the succession clause Santa learns about in Episode 2 are perfect examples of the many rules the elves and the Claus family must follow. There are also rules about not taking any photos, as Simon Choksi (Kal Penn) learns when he visits the North Pole to interview to become Santa in Episode 3.
Noel references the evil Santa from The Santa Clause 2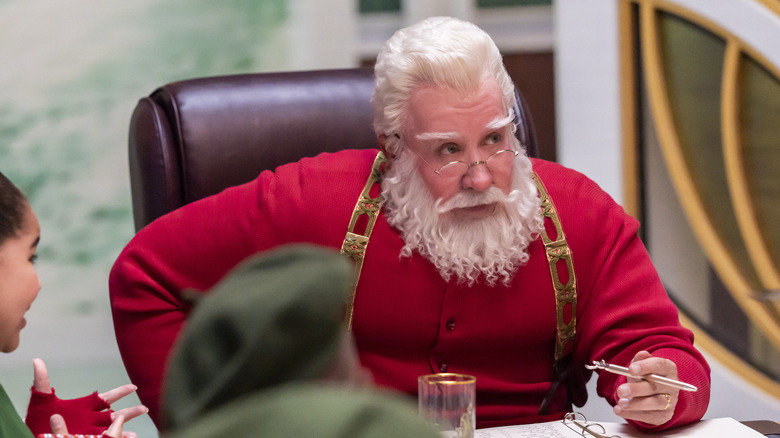 Disney/James Clark
In Episode 2 of "The Santa Clauses" when Noel (Devin Bright) learns from head elf Betty (Matilda Lawler) that Santa is considering retirement, Noel suggests they make a duplicate of Santa to continue doing the job. This references the evil Santa who tries to ruin Christmas in "The Santa Clause 2" while Scott is searching for a wife while visiting his son Charlie in Chicago.
The duplicate Santa is supposed to free Scott up to go to Chicago to look for a wife and deal with his son Charlie's behavior issues, but the duplicate Santa became problematic. The fake Santa takes the North Pole rules and regulations handbook too literally; changes his outfit into fascistic military garb, and after he reviews his list twice and deems them naughty, he gives all the children of the world coal instead of presents.
In contrast to the evil duplicate Santa from "The Santa Clause 2," in the new series, checking the list twice for who is naughty and nice has become a group effort, and they have renamed the naughty list to "the misunderstood list." Kids on the misunderstood list get presents anyway, suggesting things have gotten a little lax in the North Pole.
Simon Choksi is inspired by Silicon Valley tech giants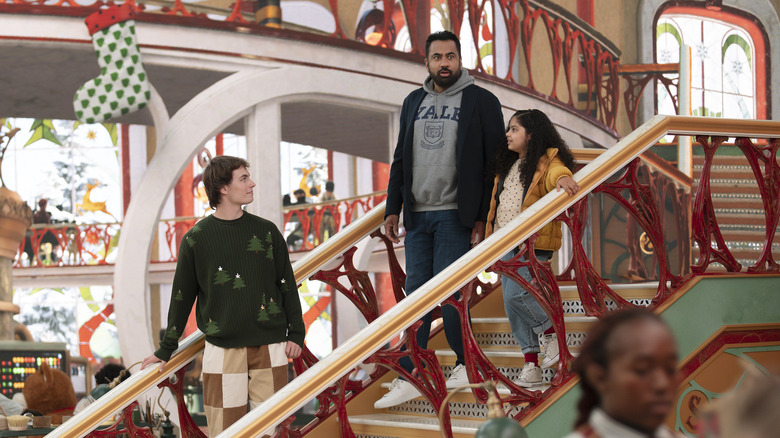 Disney/James Clark
From the virtual reality glasses made by Simon's company Everything Now to his corporate buzzword-laden speech to the elves and his ill-conceived drone delivery system, Simon is both the villain of "The Santa Clauses" and a playful caricature of Silicon Valley tech giants like Mark Zuckerberg and Jeff Bezos. As Ben East with Metro wrote, "The Santa Clauses" asks how the magic of Christmas can stay alive in a modern world with Amazon prime delivery and technology making everything available now to anyone who can afford it.
When Simon and his daughter Grace (Rupali Redd) visit the North Pole and Simon learns Santa is real, he is less amazed by the magic of the North Pole and flying reindeer than he is covetous of Santa's delivery system that uses a little magic and a little science to create portals allowing Santa to deliver countless Christmas presents across the world in one night. When Simon is offered the job to be the next Santa in Episode 3, he doesn't take it because his heart is generous and filled with Christmas spirit; he takes the job to get access to Santa's delivery system so he can implement it to resolve Everything Now's delivery problems.
Peyton Manning's pajamas are monogrammed with his jersey number?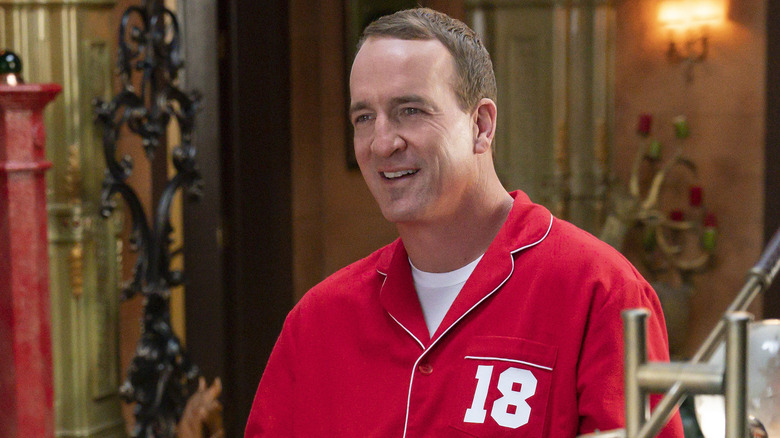 Disney/James Clark
In Episode 3 of "The Santa Clauses," Santa interviews potential replacement Santas. When Peyton Manning arrives at the North Pole for his interview, he shows up wearing pajamas, which seems a little unprofessional despite his enthusiasm. Rather than being monogrammed with SC (short for Santa Claus) like other visitors' pajamas, Peyton's pajamas are monogrammed with the number 18. This was his jersey number as a professional football player in the NFL. Despite Santa not being too impressed by Peyton's completion rates, Betty, who is sitting in on the interview, is pleased with Peyton. Betty thinks he is delightful, and despite being very weird, he seems perfect for the job. Despite Peyton Manning's endearing eccentricities — and perhaps partially due to the fact that Santa considers Tom Brady a better singer — Santa goes another way after interviewing Simon Choksi and Peyton does not become the next Santa Claus.
The series references many Santa figures from other cultures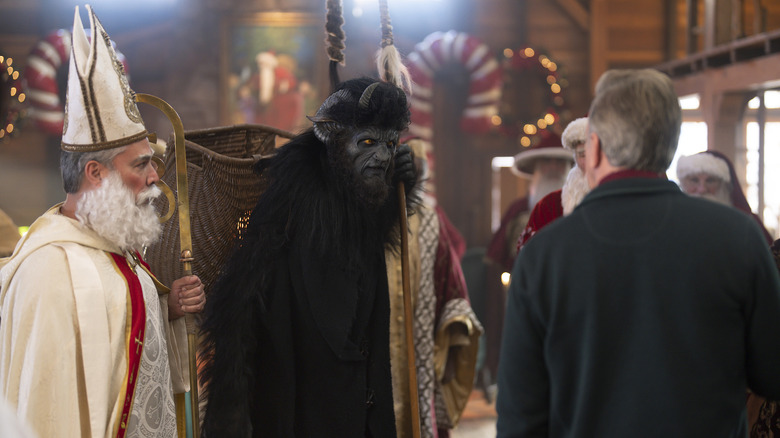 Disney/James Clark
Beginning with La Befana (Laura San Giacomo) in Episode 3, "The Santa Clauses" references multiple Santa-like figures from other cultures and throughout history. In Episode 3, when Santa and Simon go to the wobbly woods together looking for their daughters Sandra and Grace, they find the girls visiting La Befana, who is also called the Christmas Witch at the North Pole. La Befana is a Santa-like figure from Italy who actually predates Santa Claus. In Italian folklore, she delivers gifts to children for the morning of Epiphany while flying on a broomstick.
In Episode 5, after his retirement, Scott Calvin visits an alternate reality he dubs the Yule-verse with Bernard (David Krumholtz). Scott meets numerous Santa-like figures from various cultures including Papa Noel from France and Louisiana and St. Nicholas. This Disney series even introduces Krampus, a Germanic folklore monster who punishes naughty children by beating them and stealing their presents. This darker Santa-like figure's origins are traced to Pagan winter solstice rituals.
Episode 4 references the rebranding of Kentucky Fried Chicken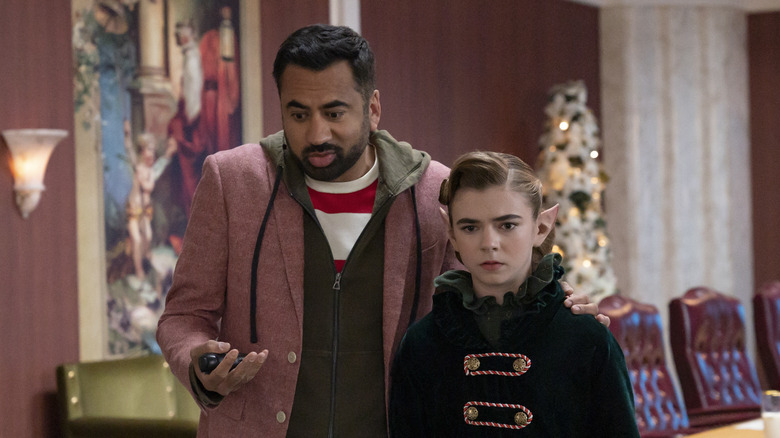 Disney/James Clark
After implementing his insane Christmas EveryDay scheme — which utilizes his company Everything Now and Santa's delivery system to give people whatever they order immediately — Simon contemplates rebranding Christmas EveryDay to CED. According to Simon's market research, Christmas has been on a downward trend for years, and he thinks it might be wise to break from the name so it doesn't drag his new venture down.
This is a subtle reference to the urban legend about Kentucky Fried Chicken rebranding to KFC because the media vilified fried food and the fast-food chain wanted to promote a more health-conscious image. What makes this subtle reference so funny is the real reason Kentucky Fried Chicken became KFC wasn't about breaking up with the word "fried." It was all about money.
As Snopes revealed, Kentucky Fried Chicken became KFC because they could no longer use the word Kentucky without paying for it. In 1990, the state of Kentucky trademarked its name to raise money to help solve its serious fiscal problems. After Simon becomes Santa, the North Pole is no longer a magical place. Simon runs it like a corporation, restructuring operations in the North Pole to include an accounting department, as we learned from one of Betty's frustrated outbursts when she realizes they're charging people.
The Santa who fell off the roof in the first film was the 17th Santa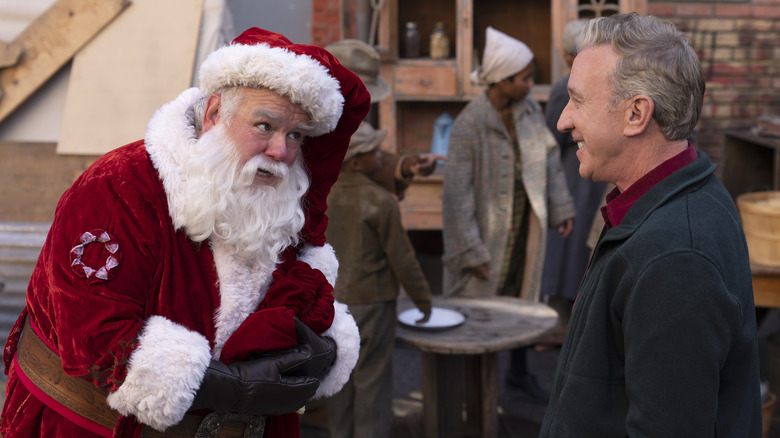 Disney/James Clark
In Episode 5, Scott is visited by Bernard, the head elf from the movie trilogy, who begs Scott to go back to the North Pole and save Christmas. To convince him, Bernard takes Scott to the Yule-verse where Scott meets former Santas from other times and cultures. In the Yule-verse, Scott meets the Santa (Jim O'Heir) who fell off his roof in "The Santa Clause," and learns that the previous Santa had been the 17th Santa, making Scott the 18th Santa.
In the Yule-verse, Scott learns he is the first human Santa and his children are the first humans to grow up in the North Pole, possibly inheriting magical powers. All earlier Santas were ethereal beings. The previous Santa actually met Scott when he was a child on Christmas Eve, and Santa specifically chose Scott for the job because he believed Scott was the right custodian to navigate the Christmas spirit through a modern era where it's threatened by technology.
Learning that he was handpicked to become Santa convinces Scott he must go back to the North Pole, discover why the elves are disappearing, and save Christmas. Christmas spirit has been lagging because fewer children believe in Santa and send their letters to the North Pole, but when Simon takes over, implementing Christmas EveryDay further damages Christmas magic by taking away its specialness.
The foot soldiers from The Santa Clause 2 make an appearance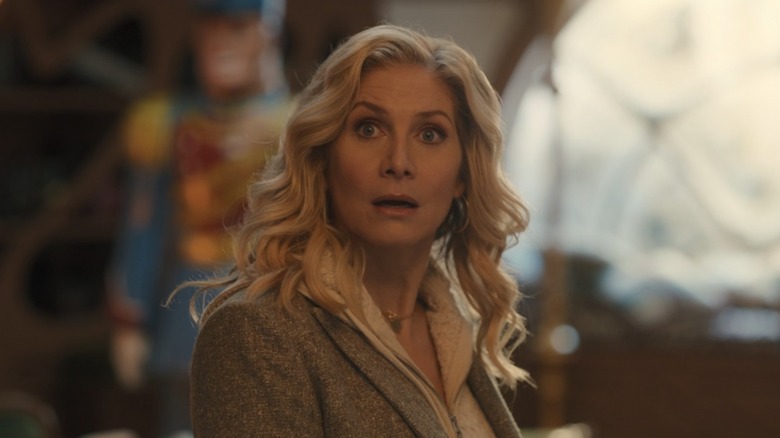 Disney
After Scott Calvin and his family return to the North Pole to save Christmas, Simon is alerted about the intruders by his security drones who tell him where to find additional help. Simon releases foot soldiers from a storage closet. These are the same soldiers who help the evil Santa try to ruin Christmas in "The Santa Clause 2." When Carol finds the soldiers, she recognizes them from the first time she came to the North Pole and beats them up, protecting the North Pole and her family. Carol certainly shows them how vital and tough she is, suggesting if Scott decides to become Santa again, she'll hopefully bring her own personality and a hefty dose of feminism to Mrs. Claus rather than vanishing into the role as she did before. As long as she's not pulled down an electromagnetic pit and forced to detonate a hydrogen bomb into her own face, it'll be a step up for Elizabeth Mitchell. 
Simon and Grace are wearing their pajamas from the North Pole on Christmas morning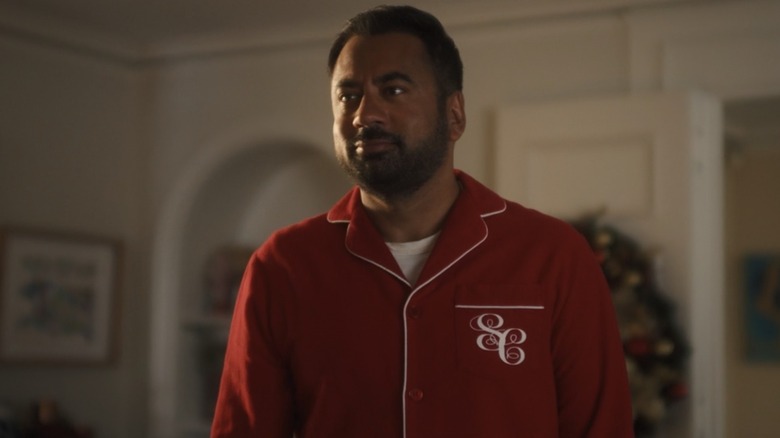 Disney+
After arriving at the North Pole, Scott, Carol, Cal, Sandra, and Noel — who is the only elf who hasn't vanished — search for Santa's magic coat. Although Simon puts up a fight by trying to find the coat first, when Grace asks if he's the bad guy ruining Christmas, Simon remembers his promise to Grace's mother and relinquishes the coat. Scott once again dons the coat and happily returns to his state of Santahood. When he embraces his family, including Simon and Grace, the magic of Christmas returns, and the elves reappear before Santa delivers presents with his family.
Simon and Grace are magically transported home by Edie. They wake up back at their home on Christmas morning, and when they walk into their living room, they are wearing the red pajamas with SC monogrammed on the chest pocket — the same PJs they're wearing when they come to the North Pole for Simon's interview. The smile on Simon's face suggests they got to keep their memories from their time living at the North Pole and will continue to believe in Santa and the magic of Christmas.
The annual celebration cake arrives as the show fades to black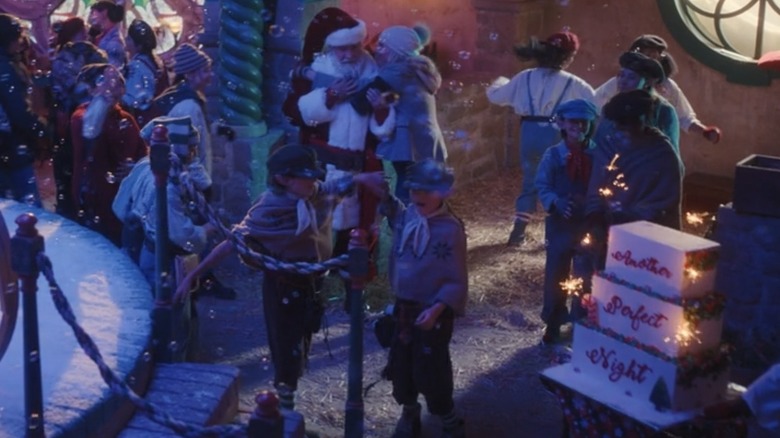 Disney
At the end of this season of "The Santa Clauses," Scott saves Christmas and embraces his role as Santa once again. After starting a new Christmas tradition by taking his family along for the sleigh ride and delivering magic snow globes to everyone (who celebrates Christmas) in the world, the family returns to the North Pole for a Christmas party with the elves. Music is playing, the elves are dancing, and everyone is delighted to be reunited with Santa, Carol, Cal, Sandra, and each other. Just before the screen fades to black, the elves roll out the annual three-tiered celebration cake topped with sparklers and decorated with the words, "Another Perfect Night." The energy of this party is different than it was when Santa came back from delivering presents in Episode 1. In Episode 1, Santa is going through the motions, but this time, Santa has his spark back and he knows it was never a fluke that he became Santa — it was his destiny.