12 Movies About Redemption To Watch After The Whale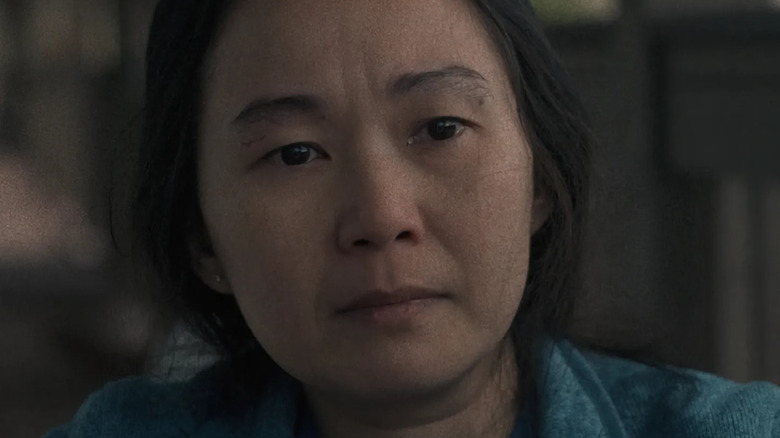 A24
When it comes to character arcs, few can beat a good redemption story. We love to see a character fight back from a low point and reach the top, triumphing over personal adversity, with moments as cheerworthy as any superhero movie.
"The Whale," by director Darren Aronofsky ("Requiem for a Dream"), shows us such a story. Brendan Fraser stars as Charlie, an author who has shut himself off from the world and finds himself slipping further into a downward spiral. Struggling with depression and his ballooning weight, Charlie looks for salvation while hoping to repair his relationship with his estranged teenage daughter, Ellie (Sadie Sink).
As with many of Aronofsky's best, "The Whale" is a film that one needs time to think about before fully appreciating, as it touches on heavier themes than can be analyzed during its runtime. This is nothing new, as redemption stories often carry much deeper meaning than more straightforward dramas. So if you've seen "The Whale" and find yourself ruminating on what it has to say, now might be the right time to track down more films like it to compare and contrast. With that in mind, we've found 12 films with similar redemption stories for you to check out.
If you need help with an eating disorder, or know someone who is, help is available. Visit the National Eating Disorders Association website or contact NEDA's Live Helpline at 1-800-931-2237. You can also receive 24/7 Crisis Support via text (send NEDA to 741-741).

The Wrestler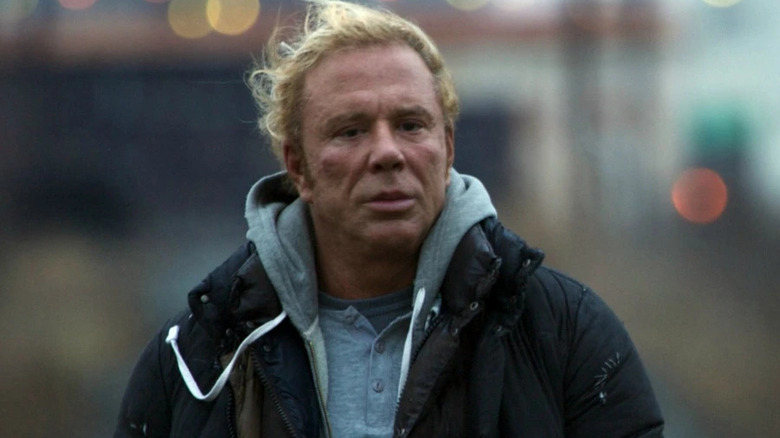 Fox Searchlight
More than just a familiar story about an aging father hoping to mend a complicated relationship, "The Wrestler" also serves as something of a comeback for actor Mickey Rourke. The controversial star received serious attention for his role in the film, much like Brendan Fraser has for "The Whale." It's also directed by Darren Aronofsky, who takes another foray into a redemption arc with the story of a beleaguered ring fighter looking for a second chance.
Rourke plays Robin Ramzinski, known professionally as Randy "The Ram" Robinson, a pro wrestler whose best days were decades ago. Facing poor health and a fading career, he attempts a comeback but faces medical and personal setbacks that leave him feeling lost and desperate. With his prospects dwindling, Robin attempts to reconcile with the daughter he abandoned, only to face even more adversity at home. 
A powerful film met with universal critical acclaim, Roger Ebert called it one of the best movies of the year, praising Rourke for his moving portrayal of the downtrodden wrestler. The film also earned Rourke and co-star Marisa Tomei a pair of Academy Award nominations for their efforts, which gave Rourke a serious career boost that led to a role in the 2010 Marvel sequel "Iron Man 2." Here's hoping that Brendan Fraser can find similar success in the wake of "The Whale," though the cancelation of his role as Firefly in "Batgirl" is a serious setback.
Raymond & Ray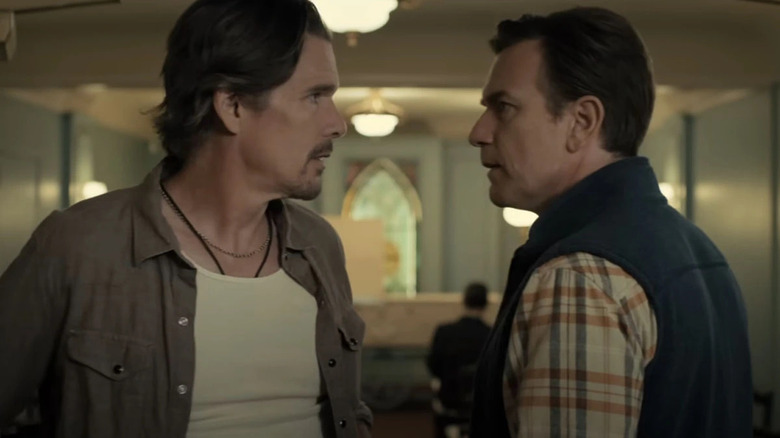 Apple Studios
In "The Whale," Charlie looks to make up for years of lost time with his daughter, Ellie. A similar story plays out in the Rodrigo Garcia drama "Raymond & Ray" but between adult brothers. In this 2022 film that debuted on Apple TV+, we get a double dose of star power with Ewan McGregor and Ethan Hawke. They play a pair of aging half-brothers who don't get along thanks to their troubled relationship with their father, a conflict that drives the film.
Ewan McGregor is Raymond, and Ethan Hawke is his confusingly named brother Ray. They both suffered abuse at the hands of their father, Ben, and haven't spoken in several years. Each has suffered the effects of their shared trauma in different ways, with Raymond having found difficulty maintaining romantic relationships with women and Ray turning to drugs to ease his pain. When their father dies and his last wish is that his children all attend his memorial, it sets the two wayward brothers on a collision course. Together, they are forced to confront the ghosts that have haunted them since childhood.
Mixing in a bit more humor than you might expect from such a heavy film, "Raymond and Ray" is a story of longing for what might have been with some poignant moments that may have you evaluating your own past. Elevated by the strong chemistry between its two stars, the film is a tragic tale of strained family relationships.
If you or someone you know may be the victim of child abuse, please contact the Childhelp National Child Abuse Hotline at 1-800-4-A-Child (1-800-422-4453) or contact their live chat services.
The Way Back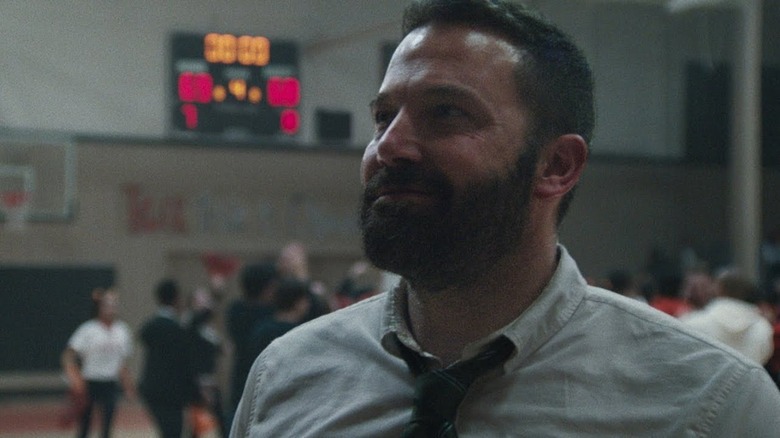 Warner Bros.
Not to be confused with the 2010 gulag escape drama of the same name, 2020's "The Way Back," was directed by Gavin O'Connor and stars Ben Affleck, Al Madrigal, and Janina Gavankar. A sports drama about a former coach who has found himself at the bottom, the movie finds Affleck playing a man hoping to claw his way out of a hole and recapture his past glory.
Jack Cunningham (Affleck) was once a star high school basketball player whose success was the only thing that earned him respect in his father's eyes. Decades later, after eschewing a promising future in the sport, Jack's marriage is falling apart, and his life is in a downward spiral. When he's asked to take a job coaching his old school's basketball team, he finds a new opportunity to turn things around. In doing so, he not only has the chance to make the team successful for the first time since he was a player but also come to terms with a lifetime of regret and rediscover what's really important in life.
Coming on the heels of a string of disappointments, "The Way Back" was also a return to form for Ben Affleck, who'd faced his own personal problems off-screen. Playing a troubled man in the midst of a mid-life crisis, the film allowed him to channel his pain into the role, earning him respect and rave reviews along the way.
The Florida Project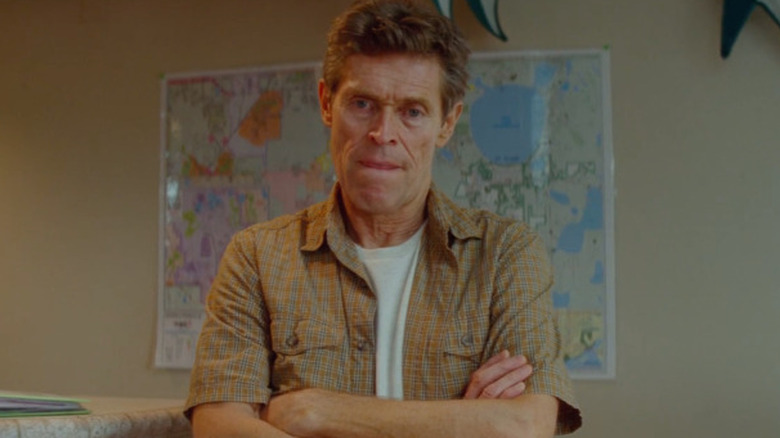 A24
Like "The Whale," "The Florida Project" is a story of redemption that features one of Hollywood's most underrated talents, in this case, Willem Dafoe, who never seems to get the accolades he deserves. In the film, the veteran Hollywood heavyweight takes on an unconventional role that's far from the over-the-top villains fans may know him for. In the understated role of motel manager Bobby Hicks, the star instead plays a somber, aging father figure.
However, the redemption story here is not Bobby's, and it does not get resolved in the way we might be rooting for. The film revolves around a 6-year-old girl named Moonee (Brooklynn Prince), who lives with her struggling mother, Halley (Bria Vinaite), in Magic Castle, a motel not far from Walt Disney World in Florida. Bobby Hicks runs the place, but he is not the tyrannical landlord that you might expect. He's a kind and gentle older man who quickly becomes a patronly protector of the children in his motel, who are always getting into trouble. 
Bobby's problems run deeper than some mischievous kids, as Halley's losing fight for atonement leads to difficult decisions for the motel manager. Faced with mounting crises, both he and Halley are confronted with life-altering dilemmas, and not everyone will get the happy ending they deserve. A stark look at the realities of life at the bottom, "The Florida Project" is social commentary wrapped in a dreary drama.
Warrior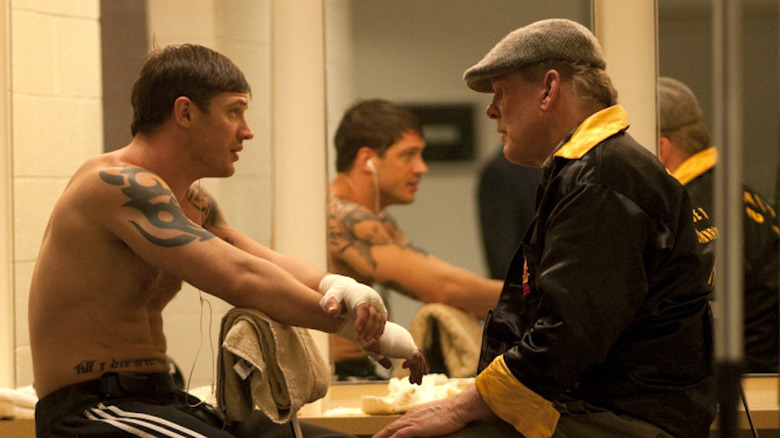 Lionsgate
Sports movies lend themselves to stories of redemption, and "Warrior" is another entry in that genre. Directed by Gavin O'Connor, who would helm "The Way Back" a few years later, "Warrior" stars Tom Hardy, Joel Edgerton, and Nick Nolte as three members of an estranged family. This film strikes more than once, with multiple characters looking to work their way out of trouble and towards absolution. 
Hardy plays a fighter named Tommy Riordan Conlon. Growing up, Tommy and his brother, Brendan (Edgerton), struggled in an abusive home run by their hard-drinking father, Paddy Conlon (Nolte). Tommy fled Paddy's abuse and took his mother with him, and he has never been able to forgive his father or his brother for the life he's had to live as a result. Years later, Tommy is an amateur fighter who gains notoriety after defeating a pro and decides to enter a tournament that offers a massive cash prize that could change his life. To help him train, Tommy surprisingly turns to his father, who claims to have changed, and asks for a chance to mend their relationship. 
Complicating matters, Brendan winds up entering the same tournament in the hopes of defeating his personal demons. A deeply affecting story of family and forgiveness, its bone-crushing fight scenes help drive home the raw emotions that so often seethe from the deepest wounds.
If you or someone you know may be the victim of child abuse, please contact the Childhelp National Child Abuse Hotline at 1-800-4-A-Child (1-800-422-4453) or contact their live chat services.
Chapter & Verse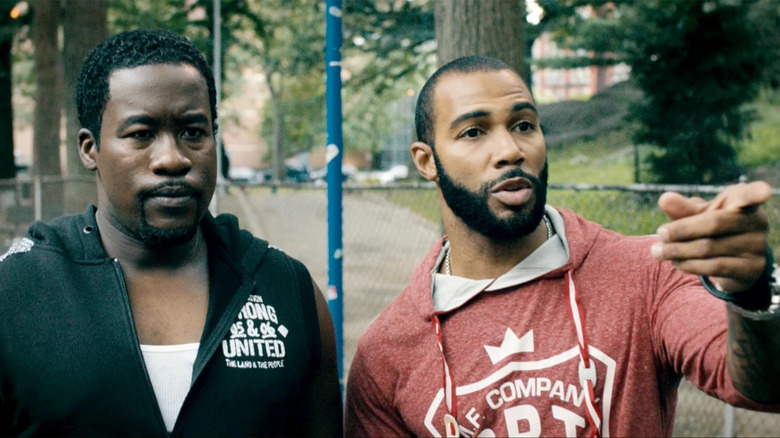 Paladin
In terms of redemptive arcs, few can match stories involving people released from long stretches in prison who must face a world that has moved on without them. Seeking to put right what went wrong in their past, they show us a way forward through sheer determination. The 2016 indie drama "Chapter & Verse" is one such film. Having served six years in Leavenworth before becoming a professor at Columbia University (per NPR), writer-director Jamal Joseph crafts a story strongly inspired by his own experiences.
In the film, Daniel Beaty stars as Lance, a former gang leader who receives parole after serving eight years in prison. However, coming back home isn't as easy as he hoped, and picking up the pieces of his life seems even more of a challenge. Taking a job at a food bank, he frequently visits Miss Maddy (Loretta Devine of "Grey's Anatomy"), an elderly woman and one-time beauty queen whose life is also filled with regret. Through their unlikely friendship, Lance is able to readjust to society, and they both learn about the power of hope, friendship, and redemption.
A lesser-seen indie gem, the honesty and sincerity of Jamal Joseph's life-turned-film give "Chapter & Verse" an earnestness that most films of this type lack. With as much to say about social inequity as finding new meaning in life, the film triumphs and is made all the more impressive by its humble production.
Birdman or (The Unexpected Virtue of Ignorance)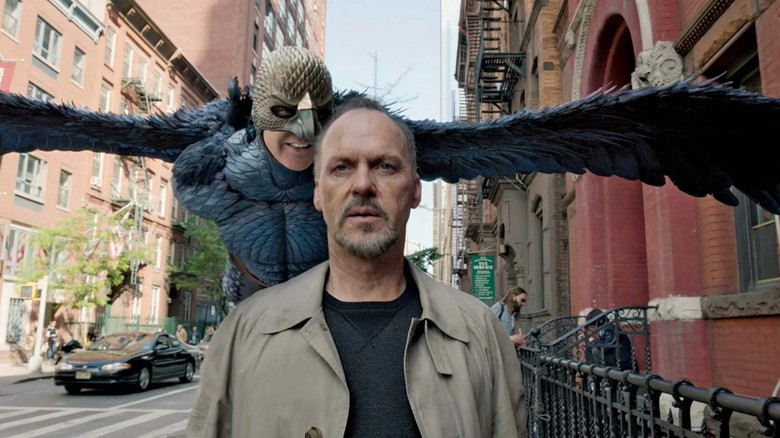 Fox Searchlight
When it comes to redemption stories, few are bigger or better than "Birdman," the 2014 black comedy from Alejandro González Iñárritu. Though several of the director's earlier films like "Biutiful" and "Babel" garnered plenty of Oscar attention, the nine nominations and four Academy Award wins for "Birdman" (including best picture and best director) put Iñárritu on the map. The film also served as a comeback for star Michael Keaton, who hadn't led a high-profile film in nearly a decade.
The film puts Keaton in the role of Riggan Thomson, who, like the real-life actor, is a one-time Hollywood A-lister famous for playing a superhero. Since his heyday, Thomson has fallen out of favor in the movie business. His personal life has fallen apart, too. After securing a leading role in a major Broadway production, Riggan has high hopes of reviving his sagging career and proving his worth. New troubles with a fellow castmate (Edward Norton), and drama with his estranged daughter (Emma Stone) don't make things easy. 
A surreal exploration of redemption, "Birdman" takes the unusual route of presenting its story in a single continuous shot (though camera tricks were used to achieve the feat). Keaton delivers a tour-de-force performance in the meta-role of struggling actor Riggan, and he earned an Oscar nomination for his efforts. "Birdman" would also help him land roles in major movies like "Spider-Man: Homecoming," "The Founder," and "Dumbo."
Two Ways Home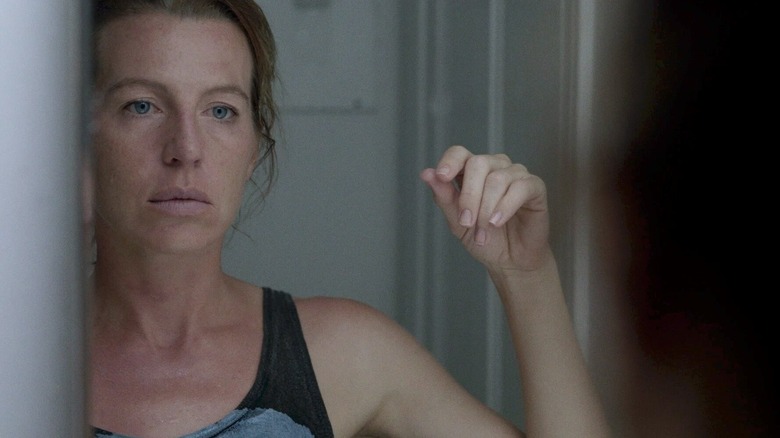 Gravitas Ventures
"Two Ways Home" follows recently released inmate Kathy (Tanna Frederick), who seeks to reconnect and readjust to a life that has passed her by.  During her stay in prison for robbery, doctors discover Kathy's bipolar disorder, and with treatment, she gets an early release and returns to her home in Iowa.
When Kathy arrives, she learns that those around her have suffered in her absence. Her grandfather, Walter (Tom Bower), has had a traumatic heart attack and also suffers from PTSD, while her ex-husband has moved on and is now dating an old schoolmate. With a new job and little to hold on to, Kathy faces an uncertain future made worse when her parents try to have Walter sent to a home. While attempting to patch things up with her embittered pre-teen daughter, Walter tasks Kathy with one last wish for her to fulfill. 
On top of all that, Kathy faces the judgment of the locals who do not understand or empathize with her problems, her suffering, or her past. It all adds up to an ambitious drama that attempts to break down the stigmas surrounding mental illness. It doesn't succeed at all of its lofty goals, but it soars when it does.
I Love My Dad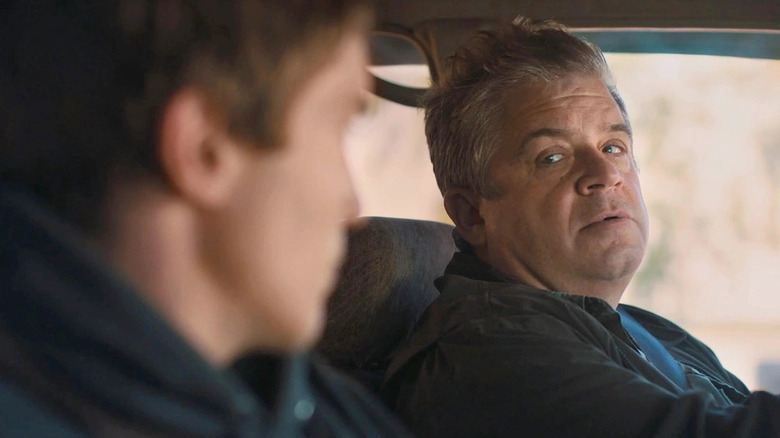 Magnolia Pictures
Somber stories of redemption are rarely comedies, but we get one in the form of the 2022 film "I Love My Dad." Writer-director James Morosini based it on a bizarre true story from his own life. When you hear it, you might be a little perturbed, as it truly skirts the edges of awful and is bound to make more than a few viewers uncomfortable.
The story centers on Chuck (Patton Oswalt) and his troubled adult son, Franklin (played by Morosini himself), who have a poor relationship, to say the least. Following a stint in rehab after a suicide attempt, Franklin decides to cut off all communication with his father for the sake of his mental health. Rather than accept what's best for his son, Chuck takes the unusual step of creating a fake online persona and following Franklin on social media. But things take a disturbing turn when Franklin begins to fall in love with the woman his father is pretending to be.
Going to places that will either make you laugh hysterically or cringe with discomfort, "I Love My Dad" is a case study in modern-day social psychology. As Chuck's ruse spirals out of control, you'll have to decide for yourself if redemption is ever achieved — or even deserved.
If you or anyone you know is having suicidal thoughts, please call the National Suicide Prevention Lifeline​ at​ 1-800-273-TALK (8255)​.
Shame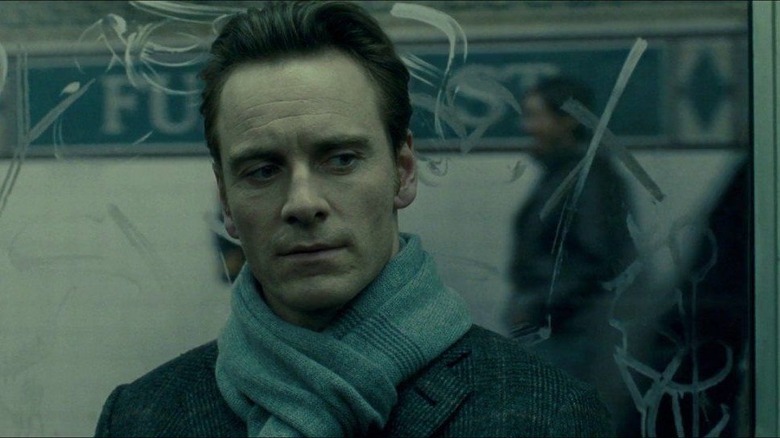 Momentum Films
Redemption stories often deal with deeply personal struggles. In "Shame," starring Michael Fassbender, we meet a man facing an unusual but no less problematic struggle than Charlie's obesity in "The Whale." In the case of Brandon Sullivan (Fassbender), it's an addiction to sex that has kept him from leading a normal, healthy life and has made relationships with those close to him difficult. 
Constantly distracted by his compulsions, Brandon has frequent dalliances with random women and sex workers and only ever the briefest of romances. When his sister, Sissy (Carey Mulligan), discovers his disturbing behavior, it forces Brandon to confront the reality of his life. However, Sissy has her problems, too, and together, they must root out the demons that plague them. 
Though it deals with many of the same difficult ideas as "The Whale," "Shame" takes a much darker turn, with a tone that might not sit right with some moviegoers. Not for the faint of heart, you'll have to go into this one with a thick skin and be prepared for some of the controversial, complex, and weighty issues it addresses. Ultimately, the film is less an uplifting story of redemption than a cautionary tale for those who don't do enough to seek it.
If you or someone you know needs help with mental health, please contact the Crisis Text Line by texting HOME to 741741, call the National Alliance on Mental Illness helpline at 1-800-950-NAMI (6264), or visit the National Institute of Mental Health website.
The Unforgivable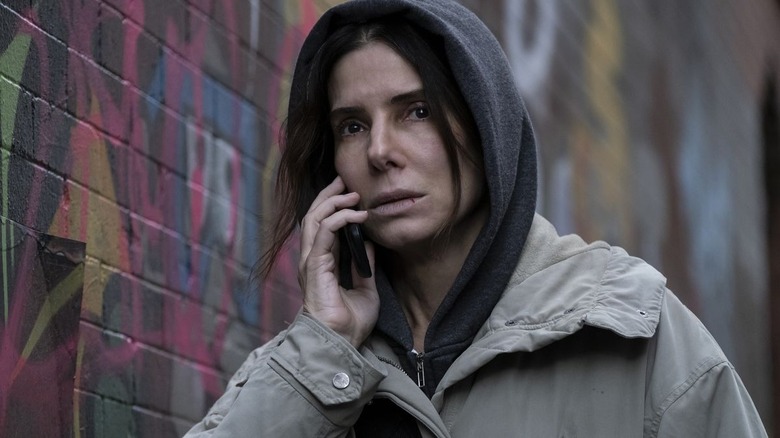 Netflix
As with many streaming originals, the Sandra Bullock film "The Unforgivable" flew under most people's radar when released on Netflix in 2021. Written by Peter Craig, who worked on such well-received blockbusters as "Top Gun: Maverick," "The Batman," and "The Hunger Games: Mockingjay," it was directed by Nora Fingscheidt in her American directorial debut and adapted from a 2009 British TV miniseries titled "Unforgiven." 
Bullock stars as Ruth Slater, a convicted murderer whose killing of a sheriff led to a two-decade stint behind bars. Now an aging ex-con, Ruth comes home and begins a quest to find her long-lost younger sister, Katie (Aisling Franciosi), with the help of a lawyer (Vincent D'Onofrio, who took over the role played by "Doctor Who" alum Peter Davison in the British TV version), who now lives in her childhood home. While back in town, Katie must also fight to be accepted back into society, as few will allow her to forget what happened, not least of all, Keith (Thomas Guiry), the son of the sheriff she murdered.
When Ruth finds that Katie, still carrying the emotional scars from the fateful day her sister committed the gruesome killing, is part of a new family and wants little to do with her, both sisters are forced to embrace their pasts and overcome unthinkable obstacles if they are to have any future.
The Master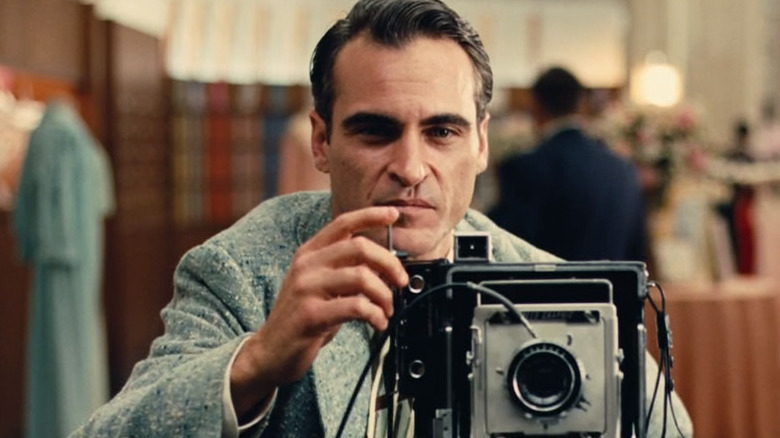 The Weinstein Company
From Paul Thomas Anderson, the director of "There Will be Blood" and "Inherent Vice," comes the psychological drama "The Master," starring Joaquin Phoenix ("The Joker"), Philip Seymour Hoffman ("Capote"), and Amy Adams ("Arrival"). Instead of a parent looking to reconnect with family or an ex-con fresh out of prison, the film revolves around a World War II vet who's returned home and is fighting to find his place in a post-war world.
Freddie Quell (Phoenix) served in the United States Navy during the war and now finds himself directionless back home. The war has taken its toll on him, leaving him with a serious case of PTSD, which makes holding down a job and keeping friends difficult. On one lonely night, Quell sneaks aboard a yacht in San Francisco Bay, and his life changes forever. Aboard the vessel, Quell meets a cult-like religious leader named Lancaster Dodd (Hoffman) and quickly grows enamored with his burgeoning fanatical movement.
The story of a man seeking redemption, "The Master" has much in common with "The Whale," but diverts with how Quell seeks it out. His path is not one of repentance, as his desperate need to belong forces him down a dark path in pursuit of acceptance. Full of deeper meaning, the film may take some time to digest to be fully appreciated, but any cinephile will marvel at its compelling story, strong performances, and affecting cinematography.
If you or someone you know needs help with mental health, please contact the Crisis Text Line by texting HOME to 741741, call the National Alliance on Mental Illness helpline at 1-800-950-NAMI (6264), or visit the National Institute of Mental Health website.