Dax Shepard Cast In Netflix's The Ranch After Danny Masterson Departure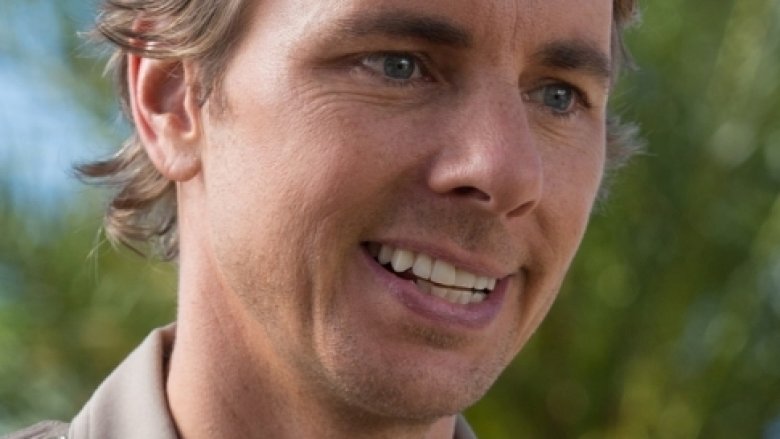 Warner Bros. Pictures
Netflix's The Ranch has tapped Dax Shepard to join the series following the exit of its former co-leading man, Danny Masterson. 
As detailed by Deadline, Shepard is on board as a recurring guest star for the second half season three of The Ranch. The multi-camera comedy series has already filmed ten installments of its 20-episode third turn.
Since Shepard was just cast in Fox's comedy pilot Bless This Mess, in which he stars opposite Lake Bell, the actor isn't and won't be a series regular — so don't get too comfortable seeing his scruffy blond hair grace your television screen as you watch The Ranch. He also isn't replacing Masterson — who played Jameson "Rooster" Bennett, the older brother to Ashton Kutcher's Colt Bennett — like Kutcher did when Charlie Sheen got the boot on Two and a Half Men. Sources close to the outlet indicate that his involvement is exactly what it seems: a recurring guest star role and nothing more. Details on his character haven't yet been revealed. 
Shepard is expected to appear in about half of the upcoming ten episodes, and will help make up for the gap in the series Masterson left when he was fired from The Ranch late last year. In March of 2017, it was reported that the Los Angeles Police Department had begun an investigation into a number of allegations made against Masterson. At least three women accused him of sexually assaulting them in the 2000s, and five allegations of rape have been lodged against him. Several months later, in December of 2017, Netflix officially severed ties with the former That '70s Show actor. "As a result of ongoing discussions, Netflix and the producers have written Danny Masterson out of The Ranch," a spokesperson for Netflix said at the time. "Production will resume in early 2018 without him."
For his new role on The Ranch, Shepard will star alongside Debra Winger as Margaret "Maggie" Bennett, Elisha Cuthbert as Abigail "Abby" Phillips, Sam Elliott as Beau Bennett, Barry Corbin as Dale Rivers, Grady Lee Richmond as Hank, Bret Harrison as Kenneth "Kenny" Ballard, Megyn Price as Mary Roth, Kelli Goss as Heather Roth, Molly McCook as Darlene Roth, Kathy Baker as Joanne, Ethan Suplee as "Beer Pong Billy" Tompkins, Aimee Teegarden as Nikki, Chasty Ballesteros as Tanya Showers, Laura Vallejo as Maria, Sharon Lawrence as Brenda Sanders, and Maggie Lawson as Jen the engineer. 
Here's the synopsis for the series: "Ashton Kutcher stars in this Netflix-original sitcom as Colt, who returns home to his family's ranch in Colorado after his semi-pro football career ends in failure. Colt plans to run the ranching business with his older brother, Rooster, and his father, Beau (Sam Elliott), whom he hasn't seen in 15 years. In addition to proving himself to his father and navigating family dynamics, Colt is torn between his current girlfriend and his high school sweetheart, Abby (Elisha Cuthbert), when she expresses doubts about her fiance."
Shepard recently appeared in the 2017 CHiPS reboot as well as in Netflix's Wet Hot American Summer. 
No release date has been announced for The Ranch season three, so it remains a mystery as to when we'll see Dax Shepard make his return to Netflix.