Why Ghostbusters' Ernie Hudson Still Loves The Franchise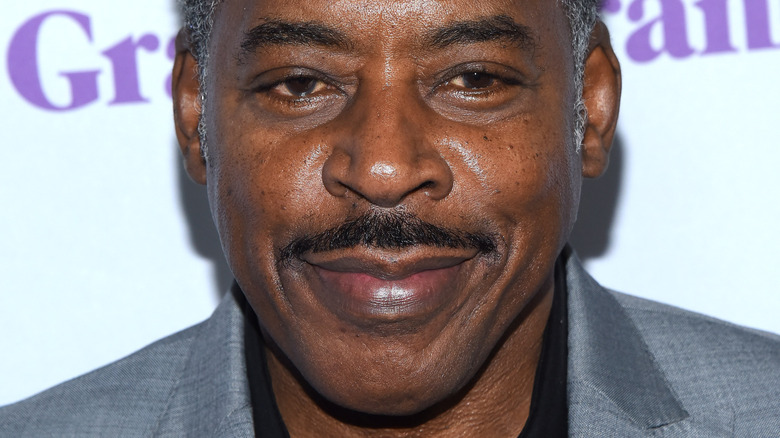 DFree/Shutterstock
Enough time has passed to confidently declare that the "Ghostbusters" franchise has become as immortal as the apparitions we see on screen. Of course, it all traces back to the original 1984 installment which featured Egon (Harold Ramis), Ray (Dan Aykroyd), and Peter (Bill Murray), taking on ghosts running amok in Manhattan. Ernie Hudson, who played Winston Zeddemore, missed out on the crew's development but became as important as the others about 3/4 into the movie. Nearly four decades later, Hudson reprised the character in "Ghostbusters: Afterlife," and he not only still loves the franchise, but is excited to see where it's heading.
Hudson has been vocal about his appreciation for Winston, as he was when speaking to the AV Club. "I love 'Ghostbusters,'" he said. "I love Winston Zeddemore." When asked who he could envision playing the same role if the original got the reboot treatment, his answer was simple: "Me!" 
At this point, a reboot seems necessary. By end of "Ghostbusters: Afterlife," it was clear to fans that the franchise was not only officially back, but had a future. In a post-credits scene, Winston is catching up with his old coworker, Janine (Annie Potts). Though he's now a wealthy entrepreneur, he expresses that he'll always be a Ghostbuster at heart. The scene concludes at the old firehouse, where the Ghost Containment Unit from the first film springs to life with activity. And this tease of a subsequent movie — and one with the promise of more Zeddemore — not only excited fans, but Hudson himself.
Love for the franchise has spread globally
Ernie Hudson has every reason to love being part of the "Ghostbusters" franchise. "When we did the first one, I couldn't imagine we'd be having a conversation about it now ...," he told SyFy. "I have actor friends who, like me, have been doing this for a long time and a lot of them don't have any specific thing in their filmography that [is this iconic]." When asked how he feels about the franchise today, Hudson explained that his ongoing zeal for it comes from how "Ghostbusters" still means something to people all around the globe.
"I love the fact that the fans continually ask about it," he said. "I was watching the news yesterday and there was a Ukrainian soldier, who, I think, made it out of Russia. I can't remember all the details, but he was so excited and he escaped with his guitar ... and he started singing an acoustic version of [the] Ghostbusters [theme song]. So, the fact that it's touched people all around the world, I'm just so honored to be a part of it."
Hudson hasn't yet gotten any official word on whether or not he will be part of a future film. "Winston was set up in the last one to be an important part of moving forward," he said. "So, yeah, I'm excited by that. I think it'll probably happen within the next few months." Well, the "Ghostbusters: Afterlife" post-credits scene surely points to Winston playing a major role in a possible new head-to-head battle between the paranormal and everyone's favorite proton-pack-carrying heroes.