Avatar 2 Producer Teases The Introduction Of New Clans And Biomes As The Franchise Continues
"Avatar: The Way of Water" will soon be released into the cinematic wilds. And if James Cameron's latest blockbuster delight looks set to teach us anything, it's that one simply should not bet against the Oscar-winning director.
Still, there were those who wondered not only if there was still an audience for the world of "Avatar" more than a decade after the original film debuted, but if Cameron could possibly even match that film in terms of spectacle and emotional payoff. By almost every critical appraisal so far (84 percent on Rotten Tomatoes), Cameron not only matched "Avatar" on all fronts, but frequently eclipsed the original with a film so boldly rendered, and deeply felt, he's set a high bar for the already in the works followups.
Of course, if there's one thing the legendary filmmaker has proven throughout his career, it's that he loves a good challenge. According to Cameron's long-time producer Jon Landau — who's been working with the director since 1997's Best Picture-winning blockbuster "Titanic" — the cinematic innovator has only scratched the surface of what's possible in the realm of the "Avatar" universe. And Cameron has big plans to discover new clans and biomes on Pandora before the franchise ends.
Seems there are wonders still to see in the wilds of Pandora
As audiences prepare to return to Pandora for "Avatar: The Way of Water," the sequel finds the surviving characters from "Avatar" leaving their jungle environs in an attempt to enlist another clan on the fantastical world in the coming battle against their greedy human counterparts. That clan is the sea-faring Metkeyina faction, who spend much of their time convening with Pandora's vast underwater ecosystems. And yes, as conjured from the mind and technical prowess of James Cameron, the world of the Metkeyina is every bit as impressive as you can imagine. 
"The Way of Water" is, of course, the first of several sequels Cameron has in the works, which means fans of the franchise can no doubt expect to see more eye-popping sights as the war on Pandora stretches into other biomes across the planet. Per Jon Landau's recent comments to Collider, that is precisely what Cameron has been planning all along. "Well, I think we're gonna continue to raise the bar with the storytelling first," Landau said, adding, "I think that what we're gonna do is go out and meet new clans. We're gonna go out and see different biomes." 
Per Landau, that tactic will indeed force Cameron and his creative team to innovate even further in not only in their narrative approach, but in terms of the technology needed to bring their story to life, with the producer claiming, "That's gonna present its own technological challenges ... just like water presented challenges in this one." And yes, that world-expanding tease should be enough to keep "Avatar" fans hyped for the franchise's third chapter, set to release in December of 2024.
Where else can Cameron actually go with Avatar 3?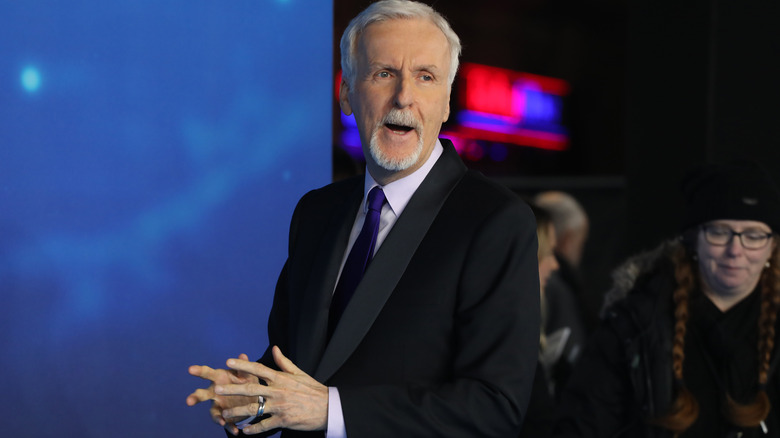 Lia Toby/Getty Images
While Jon Landau's comments are certain to intrigue "Avatar" devotees, one has to wonder where exactly James Cameron is planning to take things in "Avatar 3." He has, after all, explored Pandora by air, land, mountain, and sea in fairly vivid detail over the course of the first two movies. And as of this writing, all we really know about "Avatar 3" is that it'll be released in 2024, much of "The Way of Water" cast will be back, and Cameron will once again be directing the action.
That last fact is not insubstantial as Cameron has historically taken several years off between directing gigs. In fact, 2009's "Avatar" was the last fictional film he directed before helming "The Way of Water." It is, however, clear the world of Pandora, and it's all but limitless possibilities have inspired him in ways few of his past projects have. At least so far, the filmmaker's apparent joy at playing in the world of Pandora has inspired legitimate awe in viewers the world over.
Still, much will hinge on whether Cameron can continue to dazzle the "Avatar" loving masses purely by introducing new tribes and biomes as he's done that twice already. And even as extraordinary as the ride has been, he's gonna need to pull out some serious stops to keep people from cynically labeling the third chapter "'Avatar' at the center of Pandora," or wherever the action should go. Again, only a fool would bet against Cameron. But even he might admit he's got his work cut out for him.