Darren Aronofsky Doesn't Get The Criticism Of The Whale At All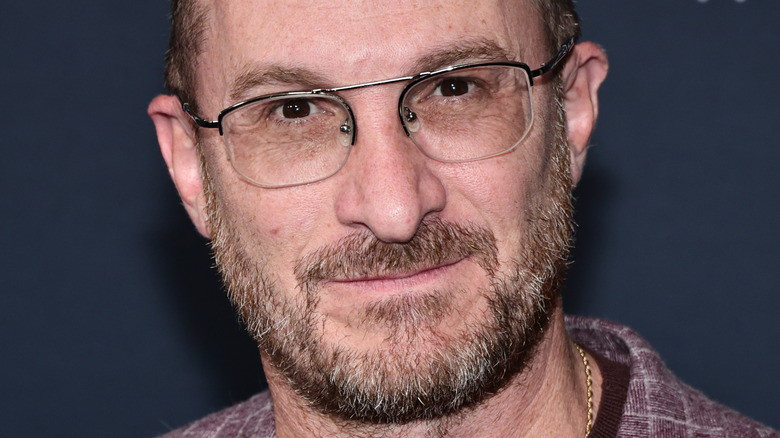 Jamie Mccarthy/Getty Images
Darren Aronofsky and A24's "The Whale" has made quite the splash this year — and not for entirely positive reasons. The film, which the studio describes as "the story of a reclusive English teacher who attempts to reconnect with his estranged teenage daughter," began its life as a stageplay penned by Samuel D. Hunter (per Playbill). Translating the work from its lauded run at Playwrights Horizons (an esteemed off-Broadway venue) to an art-house film backed by some of Hollywood's most daring players seems like it should have been a breeze. Save one crucial detail — "The Whale's" leading man is written to be over 600 pounds.
It's a challenge, not because 600 pound people don't exist, but because they rarely find themselves on stage or screen unless they're the butt of a heartless joke. In the lifespan of "The Whale," it appears stage productions employed larger actors who some may consider men of size — but the term is uniquely subjective. Shuler Hensley (the Jud to Hugh Jackman's Curly in 1999's "Oklahoma!") was certainly no Timothée Chalamet when he performed the role at Playwrights Horizons, nor was Theatre Exile's Scott Greer — yet both men had to don "fat suits" to portray the character's true size. This tradition — at best a careful, realistic, and necessary measure and at worst a horribly offensive mockery of the sort of actor they should've hired — continues in Aronofsky's adaptation, with Brendan Fraser adding 300 pounds to his frame via prosthetics (per Variety). While many are highly critical of the choice, the film's director has an entirely different perspective on the issue.
An exercise in empathy
Jamie Mccarthy/Getty Images
As The Wrap reports, "The Whale" has come under fire for both its use of prosthetics and its grim depiction of obesity. Though some — especially those who consider themselves fat (which can be a self-identifier often reclaimed in an affirming manner) — wish Hollywood would let actors of such weight tell more positive stories, Darren Aronofsky defends his choices as both realistic and empathetic.
"The lengths we went to portray the realism of the make-up has never been done before," the director said to Yahoo!. "One of my first calls after casting Brendan [Fraser] was to my makeup artist, Adrien Morot. I asked him, 'Can we do something that's realistic?' Because if it's going to look like a joke, then we shouldn't do it." Fraser's transformation, as upsetting as it may be, is certainly not used as a comedic prop. Aronofsky went on to say, "We wanted to create a fully worked-out character who has bad parts about him and good parts about him; Charlie is very selfish, but he's also full of love and is seeking forgiveness. So [the controversy] makes no sense to me. Brendan Fraser is the right actor to play this role, and the film is an exercise in empathy."
Fraser defended his own casting in an interview with Newsweek, stating that while he isn't 600 pounds, he's "not a small man." It's particularly interesting for this conversation to surround Fraser, an actor who personally experienced "fat-shaming" when he returned to public life without the six-pack he used to carry on the set of "The Mummy." "I don't know what the metric is to qualify to play the role," said Fraser of "The Whale." "I only know that I had to give as honest a performance as I can."