The Iconic Full House Prop John Stamos Stole From Set
DFree/Shutterstock
There are a lot of enviable advantages to being an actor. Being a part of a television program or in a movie that garners millions of fans is one such thing — and being part of something that shares a large, meaningful message is also something pretty special. The last thing, aside from all the kindhearted mushiness, is being able to take awesome props when the lights go out and the cameras cut for the final time.
Props are unique — these tools in all shapes and sizes help make those fake worlds feel a lot more realistic. For the stars of the production, they are a nice tribute to the time spent on the set, and the time spent together with costars, directors, and writers. Just ask John Stamos, whose souvenir from the "Full House" set can only be described as awesome.
John Stamos, who was on "Full House" from 1987 to 1995 and returned for Netflix's revival "Fuller House" from 2016 to 2020, played the beloved Uncle Jesse, Danny Tanner's brother-in-law, and later husband to Aunt Becky, and father to the adorable twins, Nicky, and Alex. Stamos' presence was one viewers' favorites. After all, how could you not love Uncle Jesse? 
With the conclusion of "Fuller House" finally ending the stories of D.J., Stephanie, and Kimmy Gibbler on a happy note, it seems that Stamos was finally free to snatch his favorite prop from the set where he spent so many years. What did he end up taking?
The blue and white couch!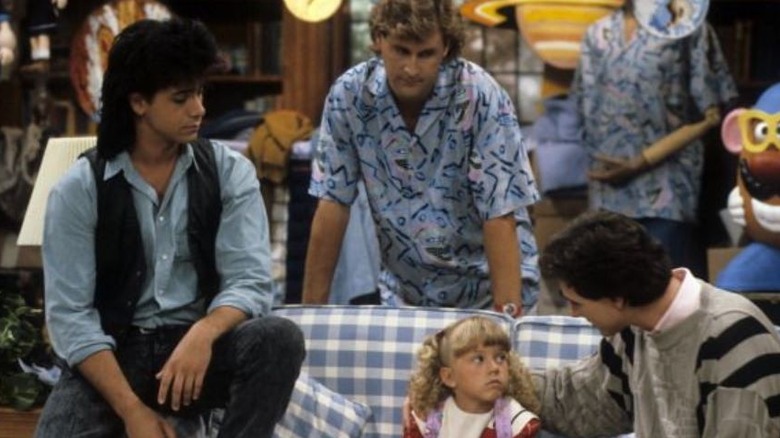 ABC
Those who watched the original "Full House" series will remember the fun set, which helped make the Tanner household feel warm, cozy, and comfortable. They may even remember the classic white and blue gingham couch, which is now right at home in the home of John Stamos! 
The couch is certainly a large prop to take, but it's ready to make some new memories in Stamos' own living room. He proudly shared his prop on Instagram, likening it to a baby gate as it blocked the stairs from his young son. It's a legendary piece of television history in a new home. 
Now instead of being a place for the three Tanner sisters to sit, or for Kimmy Gibbler to sleep on during an uninvited stay, Stamos can enjoy the memories of his hard work with his "Full House" family every time he takes a seat. The prop certainly feels more meaningful now, especially following the 2022 passing of costar Bob Saget, who played Danny Tanner. Stamos has always been very open about how much his time on "Full House" and "Fuller House" meant to him, and getting the couch is a further testament to that sentiment. 
Getting to take props after filming concludes is fun no matter what it is, but the more meaningful, the better. Stamos will undoubtedly make more memories and continue to enjoy the good days with such an iconic TV couch.