The Only Two Times Angelo Badalamenti Actually Appeared Onscreen In Lynch's Movies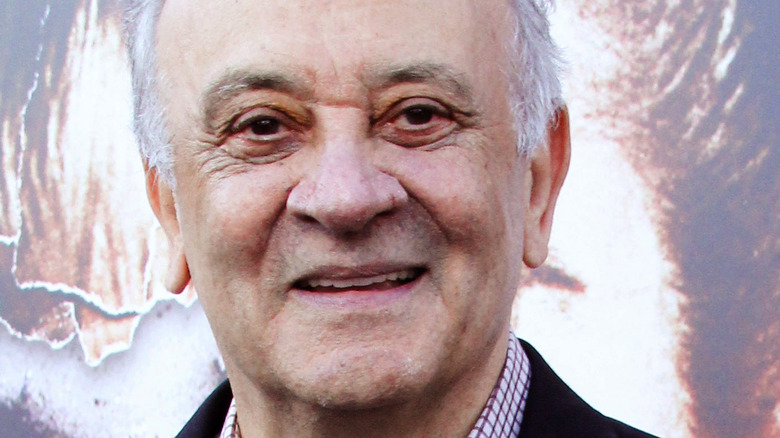 Kathy Hutchins/Shutterstock
Longtime David Lynch composer Angelo Badalamenti passed away at the age of 85, his family informed The Hollywood Reporter. The composer's music will be instantly recognizable to Lynch fans as he collaborated with the filmmaker on "Twin Peaks," "Twin Peaks: Fire Walk With Me," "Lost Highway," and numerous other projects. Badalamenti was nominated for three Emmys for his outstanding music for "Twin Peaks," per IMDb. 
Outside of his work with Lynch, the composer also worked on films like "A Very Long Engagement" and "Dark Water." He even composed the memorable theme song to "Inside the Actor's Studio." It was his partnership with Lynch, however, that arguably led to his crowning achievements. Badalamenti's big break came with 1986's "Blue Velvet," where he served as composer and a vocal coach for actress Isabella Rossellini, as he recalled in 2015 to Spirit & Flesh. He also helped write the song "Mysteries of Love" for the film and recruited Julee Cruise to sing it, per The Guardian. Cruise would also go on to become a frequent collaborator of Lynch's and, in turn, the composer who recommended her for "Blue Velvet," via IMDb. 
On top of his musical work for Lynch, Badalamenti also made his way in front of the camera for the director, though only twice in movies. He also briefly appeared as a piano player in the short-lived "On the Air" from Lynch in 1992, but which films from the "Eraserhead" filmmaker did the composer pop up in?
Angelo Badalamenti appears in Blue Velvet
Naturally, one of Angelo Badalamenti's appearances in David Lynch's filmography was in their breakout hit "Blue Velvet." Similar to his "On the Air" role, Badalamenti portrayed a piano player in "Blue Velvet." Fans may remember the composer during the iconic singing scene featuring Isabella Rossellini. It's an appropriate appearance since Badalamenti served as her vocal coach. 
Badalamenti recalled in his interview with Spirit & Flesh that he was asked to board the movie after Rossellini was not happy with her other singing coaches, and the collaboration expanded from there. The composer recalled that he asked Lynch to write lyrics for "Mysteries of Love," but he was at first simply confused by the simple lyric offered: "Sometimes the wind blows and you and I float in love and kiss forever in the darkness."
"So I called David and said, 'Your lyric is really something' – I didn't say bad or good – 'and by the way, what kind of music do you hear?' 'Oh, just let it float like the tides of the ocean, make it collect space and time, timeless and endless.' So Julee Cruise comes in and sings it in a beautiful, soft tone in the upper register," he said. As for his acting scene, Badalamenti said he was fighting for screen time. 
"I wanted to get my face on camera, and Isabella kept blocking it. So every time she would move to the right, I would go just a little bit further to the right to get into frame," he joked in a September 2001 interview with Film Score, per Lynch Net. 
Angelo Badalamenti also appears in Mullholland Drive
Angelo Badalamenti would not pop up in a David Lynch movie again until 2001's "Mulholland Drive." Badalamenti must have been some kind of good luck charm for Lynch because in both movies where the musician appeared in front of the camera, Lynch walked away with a Best Director Academy Award nomination, via IMDb. 
Badalamenti actually plays a named character in "Mullholland Drive," appearing as gangster Luigi Castigliane, one of two brothers, the other being Vincenzo (Dan Hedaya). Badalamenti also composed the music for the film and played the same role in the original Lynch-directed pilot the movie was based on.
Badalamenti revealed after the fact that the character he portrayed was based on someone he met in New Jersey years before, a mysterious man who absolutely refused to say what he did for a living. The musician remembered the man because he seemed wealthy, and when asked if he was in a specific field, he would only say, "kind of." From the sounds of it, Badalamenti had nothing but a good time with the expanded role. 
"I told David this story three years ago, and David never forgot the story or the way I told it. And he wrote this part in 'Mulholland Drive' based on that character. It was a ball, and I loved acting in the film," the actor said, via Lynch Net.