The Handmaid's Tale Season 2 Photo Reveals New Look At Alexis Bledel's Ofglen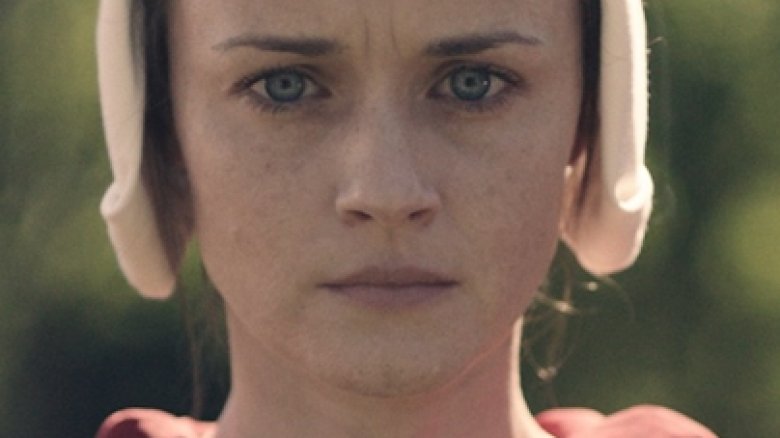 Warning: This post contains spoilers for The Handmaid's Tale season one. 
When Hulu's The Handmaid's Tale wrapped up its freshman season, viewers were left wondering what would happen to Alexis Bledel's character, Ofglen. Watching her get carted off, presumably to spend the remainder of her days working in the Colonies, wasn't easy for fans — many of whom held out hope that a miracle would happen and Ofglen could escape impending danger.
However, a new photo from season two of The Handmaid's Tale reveals the fate of Alexis Bledel's Ofglen: She is, indeed, toiling away in the Colonies. 
Hulu released the bleak snap from the upcoming season on Wednesday (via TVLine). The pic shows Ofglen wearing a shabby blue overcoat, thick gloves, and work boots as she stares off into the distance. The air around her is fogged with clouds of dirt, and it's evident that her health and safety is compromised by being in the radioactive prison land. 
An upside (perhaps the only one to her situation) is that Ofglen isn't alone; she's surrounded by the women the Republic of Gilead deemed deviant and threw into the Colonies. That minor positive gets crushed, unfortunately, when you remember that everyone living in the Colonies will eventually die from the side effects of radiation exposure. 
Ofglen — whose real name is Emily — was never the perfect citizen in the eyes of Gilead's elite. Before the war, she was a university professor and was married to a woman. She attempted to start an uprising in the series' first season, stealing a car and driving recklessly into a group of Gilead police officers. Actress Tattiawna Jones later joined the series as Ofglen #2.
Bledel won an Emmy in the Outstanding Guest Actress in a Drama Series category for her performance as Ofglen/Emily. The Handmaid's Tale lead actress Elisabeth Moss, who plays Offred/June Osborne, also took home a shiny statue for Outstanding Lead Actress in a Drama Series at the 2017 Primetime Emmy Awards.
The series also stars Joseph Fiennes as Commander Fred Waterford, Yvonne Strahovski as Serena Joy Waterford, Madeline Brewer as Ofwarren/Janine, Ann Dowd as Aunt Lydia, O. T. Fagbenle as Luke Bankole, Max Minghella as Nick Blaine, Samira Wiley as Moira, Amanda Brugel as Rita, Ever Carradine as Naomi Putnam, Kristen Gutoskie as Beth, Jenessa Grant as Ofsamuel, Jordana Blake as Hannah Osborne, and Erin Way as Erin. 
Season two of The Handmaid's Tale will feature a handful of fresh faces: Sydney Sweeney as Eden, Bradley Whitford as Commander Joseph Lawrence, Cherry Jones as June's mother Holly Osborne, and Clea DuVall as Ofglen/Emily's wife Sylvia. Marisa Tomei also has a role in the new season, though it has yet to be announced.
The Handmaid's Tale is set to return to Hulu for season two in a two-episode premiere on Wednesday, April 25. New episodes will be released weekly from then on.