Chicago PD's Marina Squerciati Was In Tears Over Al Olinsky's Tragic Death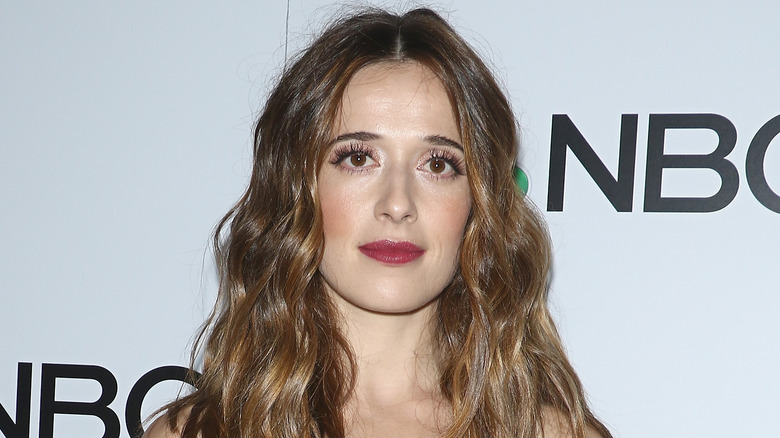 Jim Spellman/Getty Images
Throughout the run of the "One Chicago" suite of shows, there have been many happy moments alongside some tragedies as characters come and go. This can be seen to a substantial degree in all three shows since "Chicago P.D.," "Chicago Fire," and "Chicago Med" are all set in a police precinct, fire and rescue unit, and hospital, respectively. The compelling cases, rescues, and patient traumas make for peak procedural television thanks to the creative skills of the various showrunner and executive producer Dick Wolf, who ensure the programs exist within the same universe as his NYC-set "Law & Order" shows (via Variety).
Character deaths in the "One Chicago" franchise are to be expected from time to time, and this goes for notable characters, supporting players, and numerous guest stars. But there are instances where the circumstances surrounding a fan favorite can become distressing for audiences. Rebecca Jones from "Chicago Fire," Leslie Shay from "Chicago Med," and Hallie Thomas from "Chicago Fire" are but a few tragic losses. But the demise of "Chicago P.D.'s" Al Olinsky (Elias Koteas) was a rough blow for audiences, which brought fellow co-star Marina Squerciati (Kim Burgess) to tears.
Marina Squerciati found Al Olinksy's death to be painful as Elias Koteas exited the show
The death of Detective Alvin Olinsky proved to be the single most heartbreaking moment from "Chicago P.D." Season 5. Olinsky had been convicted of a homicide he did not perpetrate, only to be murdered while incarcerated. His demise also marked Elias Koteas leaving the show. In a 2018 interview with Us Weekly, Marina Squerciati was asked about Olinsky's death and Koteas' departure. She replied, "We're generally called by the producers to tell us what's going to happen because it is really hard for us to take, and I don't think they want a bunch of actors sobbing when they're trying to work," she said. "So we got the information at home, then we took Elias out to dinner. It's hard; it's losing ... It's hard; I get sad."
Squerciati likely found it much harder to lose out on a continued working relationship with Koteas, as she also told Hollywood Life in 2018 when asked a similar question, "You're also giving the actor a sendoff. He was an incredibly loving beacon on our show, and I miss that." Al's passing and the actor's exit from the series were all part of a dramatic, creative plan. Showrunner Rick Eid told Us Weekly in 2018 that once the writer's formed the idea of Olinsky being wrongly accused, the tragedy of his demise was something the scribes all agreed upon due to the dramatic effect it would have.