The Saddest One Chicago Franchise Deaths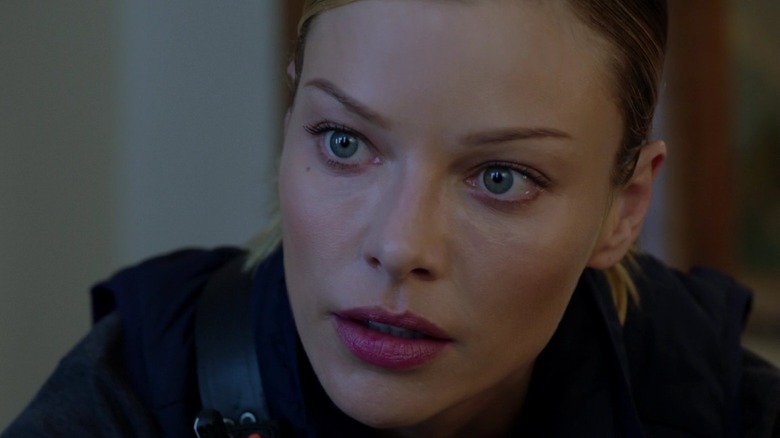 NBCUniversal Television Distribution
Created by Dick Wolf, producer and creator of the long-running "Law & Order" franchise, "One Chicago" began with "Chicago Fire" in 2012, centered on Windy City's bravest, the men and women at Firehouse 51. With soap opera levels of intense drama mixed with thrilling, cinematic action, the series was a big hit. It soon spawned several spin-offs that included cop drama "Chicago P.D." and hospital drama "Chicago Med," as well as the short-lived courtroom drama "Chicago Justice."
Like "Law & Order," the "One Chicago" franchise has become known for its rotating ensemble cast of characters that includes a wide range of recurring guest stars, with new additions and fresh exits coming almost every season. However, even more than Wolf's previous franchise, "One Chicago" could credit its rotating cast to its characters' untimely deaths, as it has rarely been afraid to kill off central personalities. When it did, it often did so in heartbreaking fashion, and the episodes in which fan-favorite characters exit often wind up among the series best-loved and highest-rated episodes. 
Just because a character was part of the main cast didn't make them safe from the writers' axe, which was swung hard and often. Over the past decade and across the four series, there have been plenty of tragic deaths. Here, we've compiled the "One Chicago" passings that are most likely to draw tears.
Caroline Charles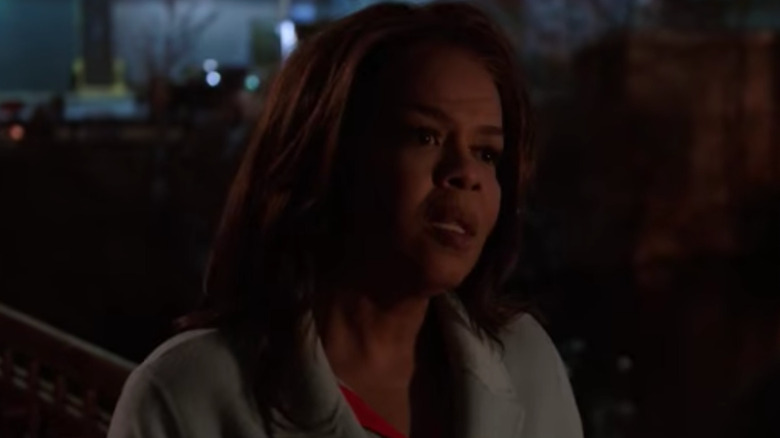 NBCUniversal Television Distribution
Introduced in the "Chicago Med" fourth season episode "Be My Better Half" was Dr. Daniel Charles' first ex-wife, Caroline "CeCe" Charles. She comes back into her ex-husband's life after being diagnosed with terminal cancer, arriving at Chicago Med in the hopes of taking part in a clinical trial for a new experimental treatment. While in the Windy City, CeCe reconnects with Dr. Charles, which quickly leads to a romantic rekindling and, ultimately, a marriage proposal. Over the course of the fourth and fifth season, she would play a bigger part in the "Chicago Med" series, with their wedding taking place in Hawaii in the fourth season finale, "With a Brave Heart."
Just as things start to look up for the newly rewedded couple, CeCe's cancer takes a turn for the worse. Though Dr. Charles vows not to let her die, he ultimately has to accept her fate. He takes her on a special farewell trip before she passes away in "I Can't Imagine the Future," an episode with a touching message for anyone who has ever lost a loved one to a long battle with a devastating disease.
Detective Holloway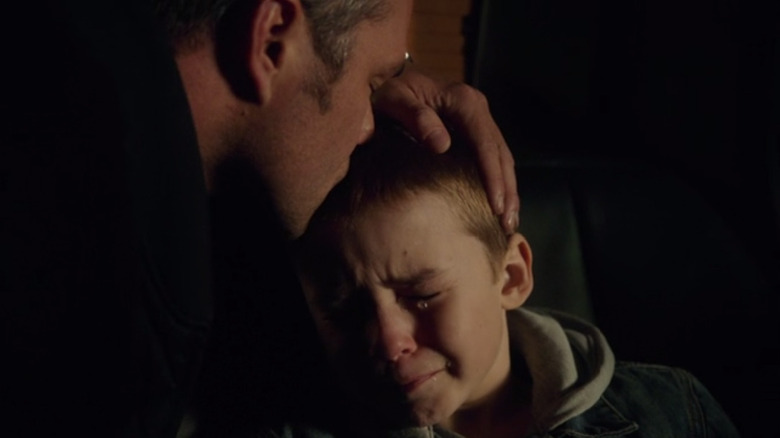 NBCUniversal Television Distribution
She may have only appeared in a three-episode arc in "Chicago Fire," but Detective Bianca Holloway leaves a mark on the series. Her death in "The Last One for Mom" may just be one of the most devastating losses we've seen on the entire "One Chicago" franchise. Not just because she is a compelling, likable character with a close connection to a main cast member, but because of the impact her death has on the little boy she leaves behind. 
Introduced as a tough undercover officer with the Chicago Police Department, Holloway asks Severide to watch her son, J.J., while she heads to court to testify in a critical case. Kelly and J.J. begin to bond, but things go bad when Holloway is killed on her way to court. Severide is tasked with breaking the news to J.J. in what becomes one of the series most emotional moments. After Severide says a tearful goodbye, J.J. goes to live with his aunt, but tells Kelly that his mother had feelings for him, dropping another bomb on the audience with a gut punch about what might have been if tragedy had not struck. 
Dr. David Downey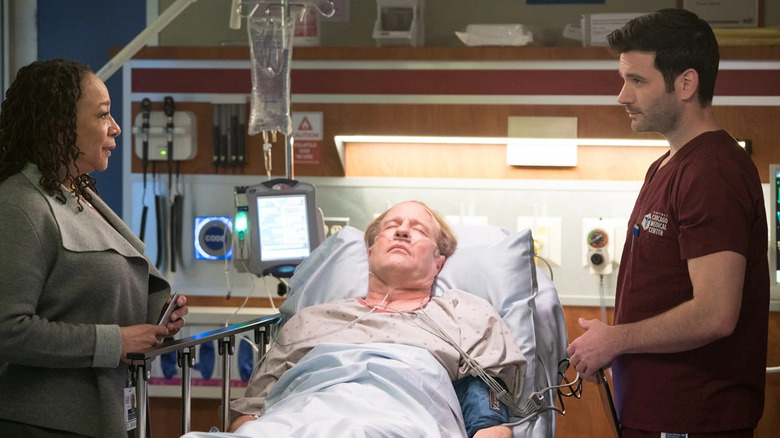 NBCUniversal Television Distribution
If it's a big season finale on a "One Chicago" series, that probably means audiences can expect a big change coming, usually in the form of a character's untimely death or exit from the series. The "Chicago Med" first season-ender "Timing" certainly lived up to that expectation. 
To be fair, Downey's death in the episode is not exactly a shocking or sudden loss. He is introduced in the season opener as having been suffering from liver cancer for years and is periodically afflicted with traumatic symptoms. However, in the first season's finale, things go from bad to worse, as the cancer is revealed to have spread to his brain, and invasive surgery appears to be the only option for him.
As a surgeon himself, Downey knows the odds are heavily stacked against him, and he opts to forego the surgery. He asks Dr. Rhodes to assist him in suicide, but it proves needless, as he dies shortly thereafter. Downey's final words bring tears to viewers' eyes as he expresses his love for his staff and friends, saying "Thank you. For everything," before passing. After he dies, his ashes are scattered in the Hawaiian ocean. 
Rebecca Jones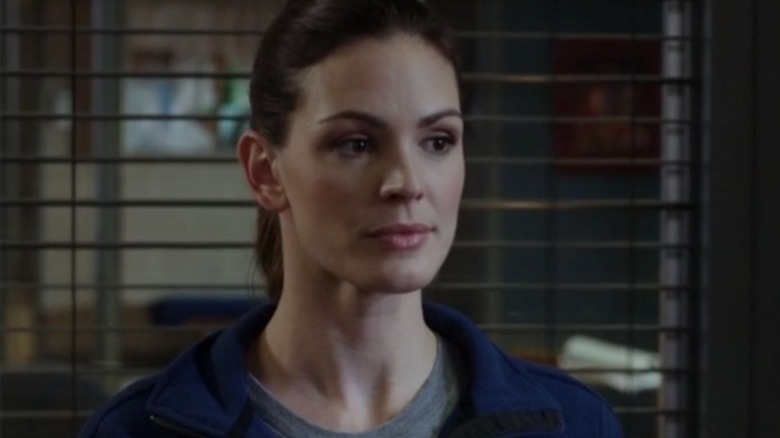 NBCUniversal Television Distribution
Whether it's by fire, shooting, or disease, death in "One Chicago" can come at any time and to anyone, as audiences have often learned. Whether a prominent cast member, a recurring character, or a single episode guest star, nobody was safe, and in the second season of "Chicago Fire," the dark hand of fate would strike a tragic and troubled recurring character, firefighter candidate Rebecca Jones.
Introduced as a member of a long firefighting lineage, all the men in Rebecca's family have served within the department in some capacity. Her father served as a high-ranking officer, and her brothers are both lieutenants. But her family did not believe women should serve as firefighters, and Jones was driven to prove them wrong and join the crew of Firehouse 51. 
Unfortunately, her ambition proved problematic, as she is caught cheating on the firefighter exams and eventually proves to be a toxic presence that causes issues with the team. Just as she begins to fit in, her father orders her reassigned. Distraught by the betrayal, Rebecca takes her own life in "Until Your Feet Leave the Ground."
If you or someone you know is having suicidal thoughts, please call the National Suicide Prevention Lifeline​ at​ 1-800-273-TALK (8255)​.
Julia Willhite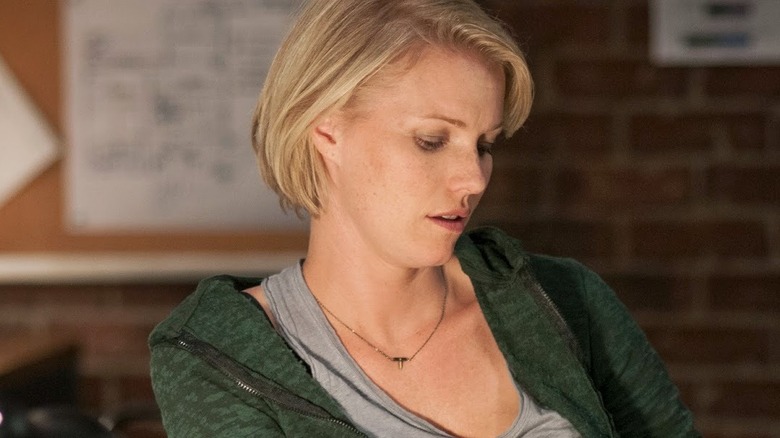 NBCUniversal Television Distribution
It may have happened in the very first episode of "Chicago P.D.," but it was no less shocking than others on this list, as it appeared the character of Julia Willhite was being set up as a regular recurring character. That assumption seemed justified, as Willhite had appeared once before in an episode of "Chicago Fire" and was intended as a main cast member and potentially the primary female lead of the new cop-centric spin-off. However, Deadline reported that midway through during production, it was decided that actress Melissa Sagemiller, who played Willhite, would not have a starring role in the new series. This left producers in a bind, but rather than write the character out, they killed her off in the series premiere.
At the climax of the episode, Willhite — along with officer Antonio Dawson — entered the apartment of Pulpo, crime lord and drug kingpin who would recur through the rest of the first season. When Voight discovers that the suspect is still inside though, his warning to Dawson comes too late, as one of the Pulpo's men fires straight through the door, hitting Willhite in the neck with a fatal shot. She dies in the ambulance on the way to hospital, sending a message to new viewers that nobody is safe in "One Chicago."
Nadia Decotis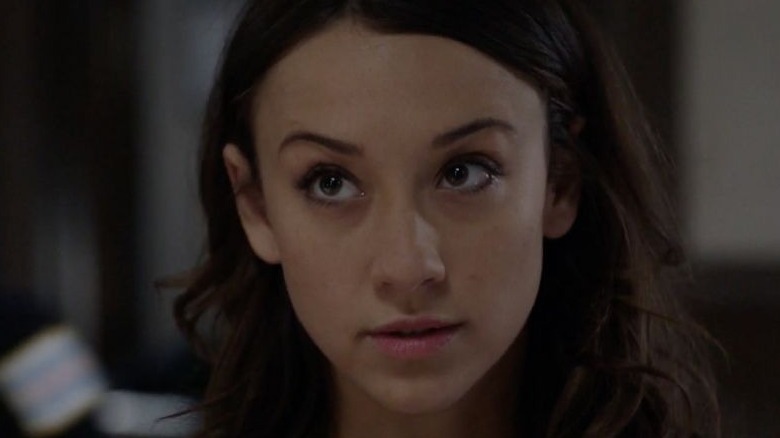 NBCUniversal Television Distribution
Some of the most exciting story arcs in the "One Chicago" series occur during crossover episodes. These crossovers include cast members from other "One Chicago" shows and characters from Dick Wolf's other major franchise, "Law & Order." However, these mashups are often filled with twists and turns, and tragedy is never far behind.  That's precisely what happened when "Chicago P.D.," "Chicago Fire," and "Law & Order: Special Victims Unit" got together for a special three-part event story. 
The crossover begins when recurring guest star Nadia Decosta is kidnapped by a convict named Greg Yates, who finds a way out of the Chicago prison he is serving time in. Yates takes Nadia across the country to New York City, where the detectives of "Law & Order" work the case in the Big Apple. Unfortunately, Benson, Finn, and the crew of "SVU" can't get to her in time, and she is murdered by the escaped serial killer.
Nadia was introduced as a troubled teen addict and sex worker who is able to turn her life around and find peace thanks to the tireless efforts of "Chicago P.D." Detective Erin Lindsay. Her abrupt departure from the series was a heartbreaking turn for a character who audiences had been rooting for.
Leslie Shay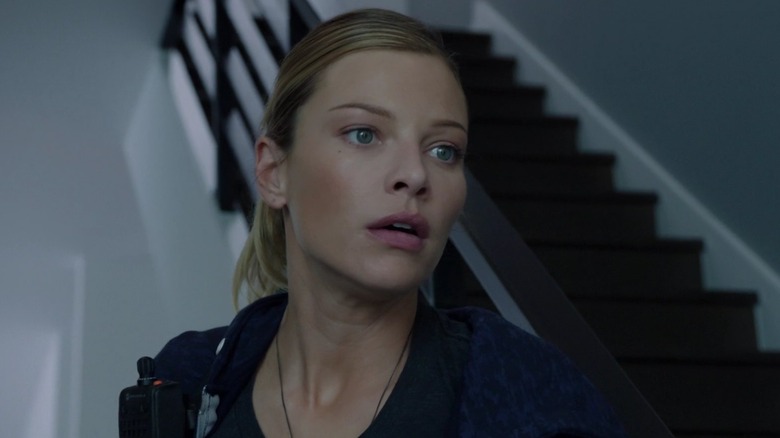 NBCUniversal Television Distribution
Leslie Shay is a fan-favorite character on "Chicago Med," and her death still stands as one of the most stunning losses of the entire "One Chicago" franchise. A stalwart mainstay of the "Chicago Fire" series through its first two seasons, she serves as a paramedic assigned to the company's Ambulance 61. She is also the show's most prominent LGBTQ character, and many of the show's biggest supporters criticized the move as a possible example of Hollywood's unfortunate tendency to kill off characters from marginalized groups. 
Nevertheless, Shay is shockingly killed off in the finale of the second season, "Real Never Waits," when she is told to lead a team into a burning building following a devastating explosion. While inside, Shay is struck in the head by a falling pipe, causing an injury that proves fatal. Gabby tries desperately tries to save her, but it is in vain. Shay dies, and the audience is left dumbstruck by the sudden death of a beloved series regular.
Ava Bekker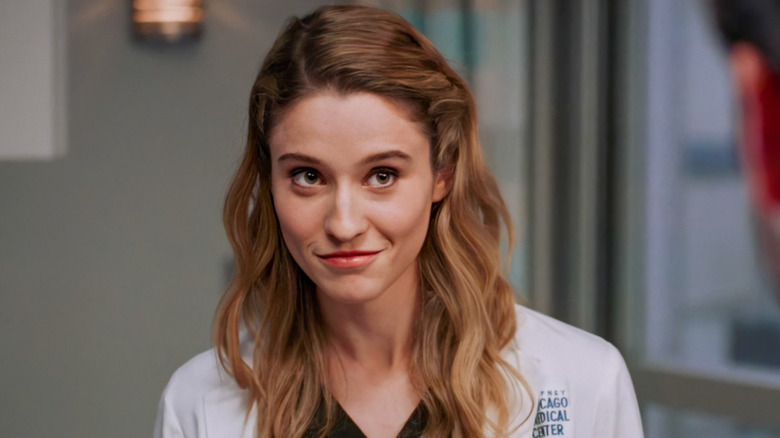 NBCUniversal Television Distribution
Appearing as a recurring character in the second season before joining the main cast in the third, Dr. Ava Bekker is an attending trauma surgeon on "Chicago Med." Her disturbing death would mark the departure of no less than three important characters from the series, in a chain of events sparked by her own disturbing and vicious behavior.
Hailing from Cape Town, South Africa, Ava at first has a contentious rivalry with Dr. Connor Rhodes, but that eventually becomes a romantic relationship. When Dr. Rhodes' father Cornelius alleges that Bekker slept with him in an effort to extract a favor, Connor ends the relationship. 
Jilted, Bekker's dark side surfaces, and she overdoses the elder Rhodes on insulin as revenge. Though she attempts to cover up the murder, she is ultimately found out. Rather than face the consequences, Bekker commits suicide. Though it was enough of a painful loss on its face, it is the aftermath that added to the sorrow, as Rhodes is never the same after losing his father and his lover. He eventually leaves Chicago for good after the dual tragedies. 
Justin Voight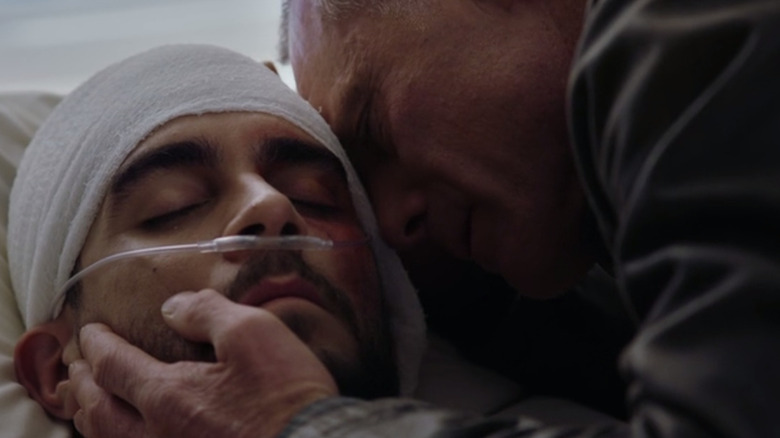 NBCUniversal Television Distribution
Appearing in a handful of episodes across the first three seasons of "Chicago P.D.," Justin Voight was the adult son of veteran Chicago police officer Hank Voight. The elder Voight may be a controversial figure, as a cop unafraid to break the rules to do what he feels is right — even if it isn't legal — but his love for his son is straight and true. Despite years of estrangement after the death of his mother, Justin, who has problems of his own, eventually forms an unshakable bond with his father, who is willing to do just about anything for him. So it is all the more heartwrenching when the younger Voight loses his life in the jaw-dropping third season finale.
Murdered in a random attack on the streets of the Windy City in "Start Digging," the incident is an example of the senseless violence that the officers of "Chicago P.D." sometimes face. However, this is one murder that hits too close to home and sets Hank Voight out on a mission of revenge, leading him to his son's killer, setting in motion a cascade of events that would lead to another devastating loss.
Hallie Thomas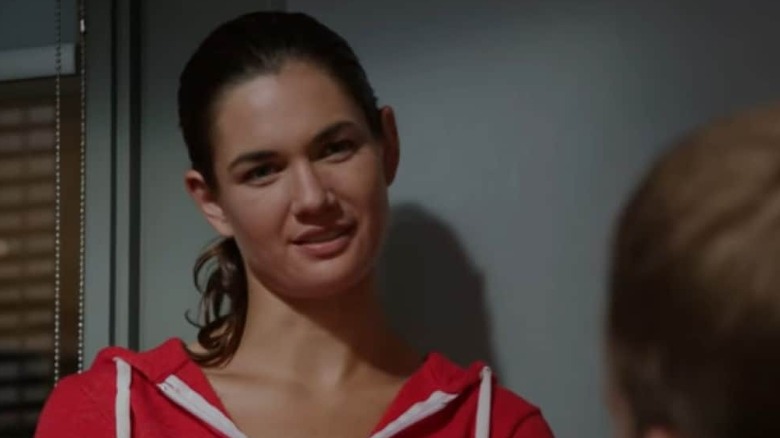 NBCUniversal Television Distribution
In the first season of "Chicago Fire," Hallie Thomas seems like a physician with a bright future on the show. The former fiancée of fire captain Matt Casey, the pair have an on-again-off-again relationship that adds some soap opera drama and makes them one of the more interesting couples on the series. 
However, her job as a resident physician at the Lakeshore clinic creates trouble for her at the tail end of the first season when she unwittingly discovers a drug-trafficking scheme that is being run out of the back of the facility. A man named Timothy Campbell realizes she was on to it and kills her to keep her quiet before setting the clinic on fire in an attempt to cover the evidence of her murder.
Though it's initially thought to be an accidental fire, the arson investigation quickly reveals the truth of her death. It is the series' first major loss, and it hit audiences hard, but they'd eventually get justice when Campbell is tracked down and fatally shot by "Chicago P.D." star Hank Voight.
Cornelius Rhodes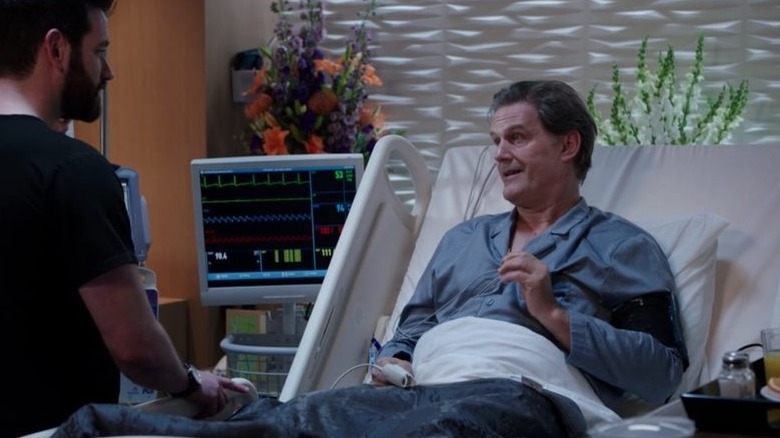 NBCUniversal Television Distribution
In his first appearance on "Chicago Med," Cornelius Rhodes is introduced as the wealthy but estranged father of Dr. Connor Rhodes, who has never forgiven his son for not going into the family business with him. Connor, meanwhile, harbors a long-held belief that his mother's suicide was the fault of years of spousal abuse. Eventually, Cornelius uses his tremendous wealth to get a seat on the hospital's board as a way of getting back into his son's life, which at first upsets the younger Rhodes. However, the two begin to form a renewed relationship over time.
Death comes for Cornelius after he sleeps with his son's girlfriend Ava Bekker, who is using him to get funding for Connor's new project at the hospital and hoping to keep the affair a secret. But when Cornelius confesses, it drives Ava to seek revenge, and she poisons Cornelius with an overdose of insulin. It was an astonishing turn of events for the series and one that few saw coming. 
Brian "Otis" Zvonecek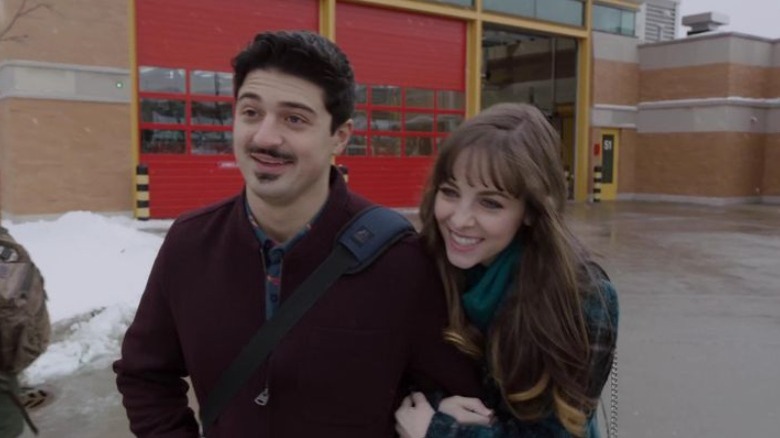 NBCUniversal Television Distribution
There were fewer more sudden, unexpected, and emotionally powerful deaths than the loss of Brian "Otis" Zvonecek in the "Chicago Fire" episode "Sacred Ground." It was a true television shocker, coming in the eighth season premiere, rather than a season-ender where viewers have come to expect major losses, life-threatening events, and big cast shake-ups. 
A true fan-favorite, Otis was perhaps the most lovable characters in the "One Chicago" franchise and was a main series cast member for the entirety of its run, right up until his death. However, with the crew throwing themselves into deadly fires week after week, someone was bound to meet their end in a blaze, and in this episode, Otis draws the short end of the stick.
After a massive explosion at a Chicago factory, Otis valiantly attempts an evacuation against all odds, and it doesn't go well. While Otis is suffering severe injuries, his crew is able to drag him from the smoldering rubble and get him to a hospital with a slim hope of saving him. With his friend Cruz at his bedside, however, Otis succumbs to his injuries in a tear-inducing loss that remains shocking today.
Benny Severide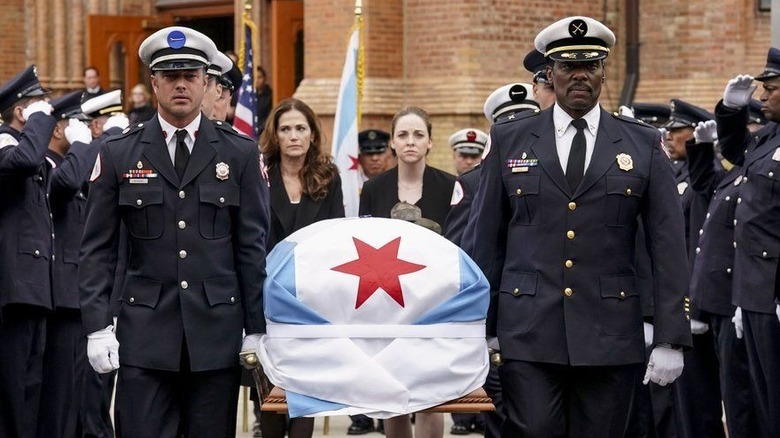 NBCUniversal Television Distribution
A former Chicago firefighter and the father of Kelly Severide, Benny often helps his son during cases, as he was also once the head of the Office of Fire Investigations. He is a well-respected member of the department and revered for his decades of service to the city. 
Benny is a complicated man, however, with a less-than-ideal family life. He had been a famous womanizer and had a troubled relationship with his children, including a daughter he didn't meet for 20 years. Despite being just a recurring guest star on "Chicago Fire," Benny would play an important role across the first seven seasons of the series. It all ends in the seventh season episode, "All The Proof," when he suffers a sudden and fatal stroke.
Tragic for more reasons than the abrupt loss, the audience's hearts broke for Kelly, the son who is haunted by unresolved issues with his father. Thankfully, in the aftermath of his father's death, Kelly is able to come to terms by securing Benny a proper department funeral, something usually reserved only for those officers who die in the line of duty.
Alvin Olinsky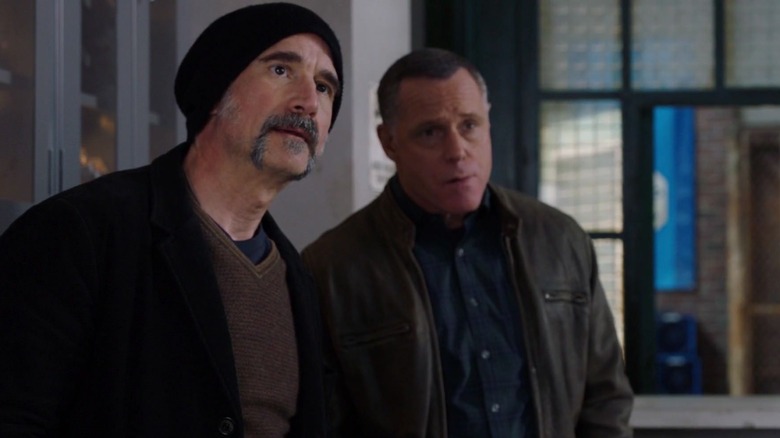 NBCUniversal Television Distribution
Played by Hollywood veteran Elias Koteas (the actor who played Casey Jones in "Teenage Mutant Ninja Turtles"), Alvin Olinsky is a central figure of "Chicago P.D." before his horrifying death in the fifth season finale. Olinsky is a former soldier who returns home and joins the Chicago P.D., serving alongside Hank Voight for over a decade. His job sees him going on tough undercover assignments that often put him in dangerous situations, and he survives several shootouts before meeting his end. Despite all the narrow escapes in his life, from the army to the police department, Olinsky doesn't lose his life in the line of duty as he deserves, as he dies in prison.
After his partner Hank Voight catches up with the man who killed his son, he takes his revenge. Unfortunately, Olinsky takes the fall, as he is unwilling to point the finger at his old partner to save himself. Voight struggles to dig up evidence that would clear Olinsky, but just as he is able to strike a deal to get them both off the hook, Olinsky is stabbed by another inmate. Olinsky dies in the prison infirmary while awaiting trial for a crime he didn't commit.