The White Lotus Creator Answers The Burning Question Of Harper And Cameron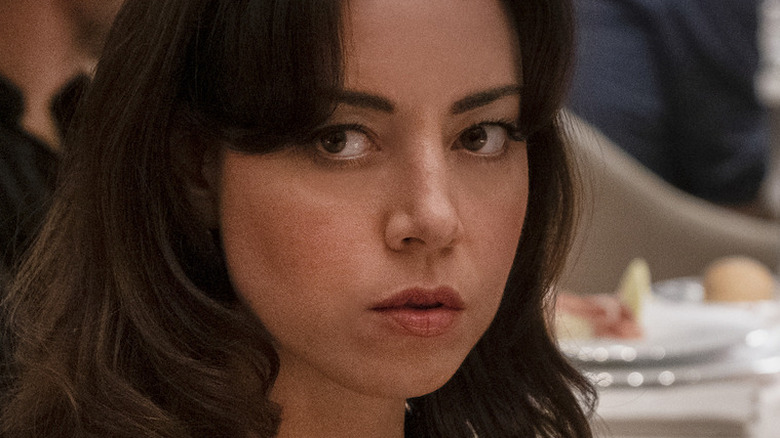 Warner Media
Warning: Spoilers for "The White Lotus" Season 2, Episode 7
HBO's "The White Lotus" ended its second season with a bang — several, actually.
Before being renewed for a third season, the series offered a host of conclusions all at once shocking and sobering, and ranging wildly in severity — from Valentina's (Sabrina Impacciatore) surprisingly tender acceptance of her sexual identity, to Tanya's (Jennifer Coolidge) and Portia's (Haley Lu Richardson) discovery of a cabal of gay men conspiring to murder the oblivious heiress on behalf of her husband, Greg (John Gries). Somewhere in the middle of this chaos was the relatively subdued resolution to what could be argued as the season's central plotline: Harper's (Aubrey Plaza) and Ethan's (Will Sharpe) couples' vacation from hell.
After much pressure from Ethan, Harper admits that she shared a brief kiss with his college roommate, Cameron (Theo James) — the nigh-sociopathic hedge fund investor who invited the couple to the White Lotus only to squeeze a deal out of his recently-wealthy friend. She confirms the move was both in retaliation for his drug-fueled orgy (which saw Ethan dangerously close to infidelity himself) and as an expression of Ethan's perceived lack of attraction toward her.
Though it's implied she followed Cameron to their room explicitly to have sex with him, Harper firmly denies anything more than a kiss occurred. Ethan is unconvinced and unsatisfied, even after unleashing his anger on Cameron and nearly killing him. It isn't until Daphne (Meghann Fahy), Cameron's wife, invites Ethan to an unseen location on the beach that he's able to let go of his suspicions. Though the audience is intentionally left to wonder whether or not either of the mismatched duo actually slept together, the show's creator provided speculation and his own interpretation of how their stories wrap up.
Harper was telling the truth -- probably
Warner Media
In an exclusive interview with HBO that can be found after the credits of the Season 2 finale on HBO Max, series creator Mike White weighed in on whether or not Harper and Cameron did more than Harper claimed. Though he maintains the ambiguity of Ethan's "dalliance" with the ever-coping Daphne, he asserts that whatever happened between them allowed Ethan to forgive an offense he had mostly built up in his own head. Of Harper and Cameron's kiss, White told HBO, "I think probably, that's just all that happened."
Because there's a 10-minute gap between Harper texting Ethan and when he found her in their room with the door dead-bolted, he's left only to imagine the worst. "There's some time that isn't completely accounted for. And I think that that's why it's, like, eating at Ethan," said White. Ethan's fears are fueled by his prolonged jealousy of Cameron, which manifests itself in a variety of ways throughout the season. In one episode, he's eager to dismiss Cameron and Daphne's relationship as perfectly happy to fit his own perception of their lives — in another, he bitterly accuses Cameron of trying to sleep with every girl he's had a crush on. Like Harper, White seems to believe their conflict is about more than two isolated incidents.
The season attempts to blur the ethical lines of the subject several times across its major storylines, with both Cameron and Bert Di Grasso (F. Murray Abraham) independently dismissing infidelity as a commonplace necessity. In other words, "The White Lotus" is less concerned with the morality of the act itself and instead the reaction to and context surrounding it.
Infidelity as a marital-aid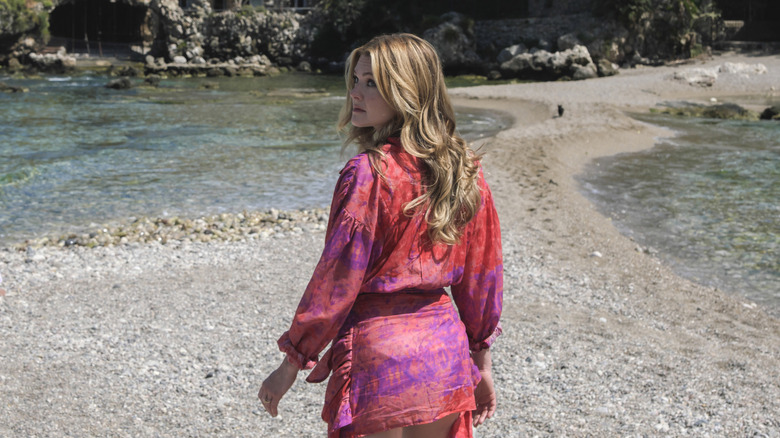 Warner Media
It's heavily implied that Daphne cheats on Cameron to maintain her family — in doing so, she avoids taking on the burdensome role of "victim." She vaguely advises this course of action to both Harper and Ethan separately, though one can imagine that she might have personally propositioned the latter. Still, their potential affair would not have been an act of retaliation, but one of preservation.
"Whatever happened [between Ethan and Daphne], it allows him to let go of the jealousy that has been brewing with him..." Mike White said to HBO. The unseen moment not only allows Ethan to seemingly forgive his longtime friend but to rekindle his sexual desire for Harper. In an interview with Men's Health, Theo James theorized that their story was about finding a middle ground between antiquated and modern views of masculinity. "You need a piece of the animal and a piece of the existential." Speaking to HBO, White offered a similar sentiment, pondering "...maybe what Ethan and Harper needed was just a small dash of what Cameron and Daphne have."
Of course, the series offers no conclusive point of view as to whether or not this theory is healthy or even accurate. "You wonder if that's gonna ultimately catch up with them," said White, on Cameron and Daphne's affairs. "It is somewhat of a happy ending, although there's dark clouds in the horizon too."
Despite the smiles and toasts, this ominous feeling is subtly present in the season's final airport sequence — as the couples wait for their planes, Daphne has to pull Cameron's attention back to her. Perhaps there will come a day when she finally grows tired of fighting for his glance.