Shazam! Fury Of The Gods Director Reveals The Scene Inspired By Akira
"Shazam! Fury of the Gods" director David F. Sandberg recently shared some news on the upcoming DC film that is sure to excite anime fans. The sequel to 2019's "Shazam!," "Fury of the Gods" will revisit Billy Batson (Asher Angel) and his family of superpowered foster siblings as they go up against the Daughters of Atlas. "Shazam!" proved to be a surprise success for the DC Extended Universe. The film earned critical praise with a 90% Certified Fresh Tomatometer score on Rotten Tomatoes and saw considerable box office success, earning over $366 million worldwide (via Box Office Mojo). The sequel has quite a bit to live up to, but with its thrilling concept and a fantastic cast of new additions including the likes of Lucy Liu, Helen Mirren, and Rachel Zegler, fans are readying themselves for another colorful, lighthearted good time.
The "Shazam!" movies would likely not have the same mix of great comedy and heart without Sandberg's guiding hand. While the Swedish filmmaker has hit it big within the world of blockbuster superhero flicks, his own origin story lies in the world of genre films. Acclaimed horror titles "Lights Out" and "Annabelle: Creation" helped get his name out in the industry, and it's not hard to see influences from the genre in "Shazam!" (that boardroom massacre scene didn't need to go that hard). For the 2023 follow-up, Sandberg is already teasing another notable genre inspiration that comes with a bang.
The Akira explosion was harder to pull off than Sandberg thought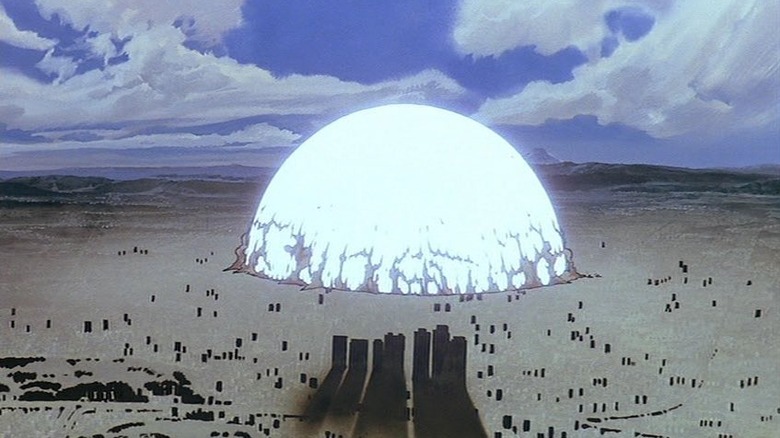 Toho
Explosions are pretty much a requirement of any modern-day superhero blockbuster, but rarely do you find one with a specific influence. In "Shazam! Fury of the Gods," however, fans can expect to see an homage to one of the most iconic explosions in movie history. Director David F. Sandberg took to Twitter, where he shared, "There's a shot in 'Shazam 2' inspired by this moment from 'Akira.'" The shot in question is the 1988 Japanese animated sci-fi cyberpunk film's opening, which sees a massive white explosion destroy Tokyo, eventually leading to World War III.
Trying to replicate such a shot would be a tall order for anyone to pull off, Sandberg included. He continued his tweet by discussing the technical process, saying, "This was one moment where I wanted 1000+ nits. There was a bunch of detail within the explosion still visible in HDR though so we had to really push things to get that solid white look." But the director's clear admiration for the sequence and attention to detail is sure to give fans an eyeful.
Taking place in a dystopian 2019, "Akira" follows the leader of a biker gang who must fight his dangerous telekinetic-powered friend. The film influenced several projects over the decades, including "The Matrix" and "Kill Bill" (via Crunchyroll).