Kelli Giddish Thought Law & Order: SVU Fans Would Go Ballistic If They Didn't Get A Rollisi Wedding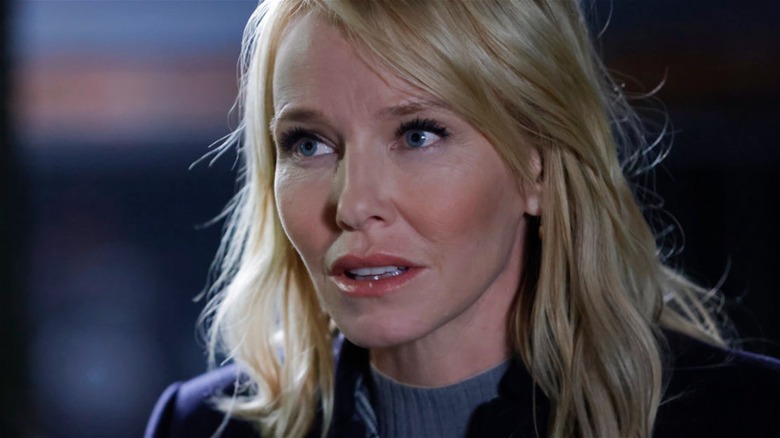 Will Hart/NBC
When it was announced that Kelli Giddish, who plays Detective Amanda Rollins, was leaving "Law & Order: Special Victims Unit" during its 24th Season, viewers were shocked, with many saddened by the thought of the long-term character's exit. One Reddit thread on the topic had more than 300 comments, including one that read, "I'm honestly shocked about this, and her statement makes me wonder if this was actually her decision — I am inclined to think it wasn't. Wow." 
Now that her last episode has finally aired, Giddish has set the record straight in an interview with Variety, addressing why she left (even Variety had previously reported the decision wasn't hers) and what will become of her character. 
When asked to explain her side of the story, Giddish said she discovered she was leaving the show before filming for Season 24 began. "My side of things is just that it's time in the Rollins storyline. I felt like where it was heading, and where it headed last night, just seemed the right place to leave it right now. I am so excited about things going on in my personal life and kind of the mirroring of what's going on in my personal life and in Rollins', there's a lot of joy to be experienced."
She went on to explain that she helped craft Rollins' departure in some key ways.
Giddish worked with writers on her character's ending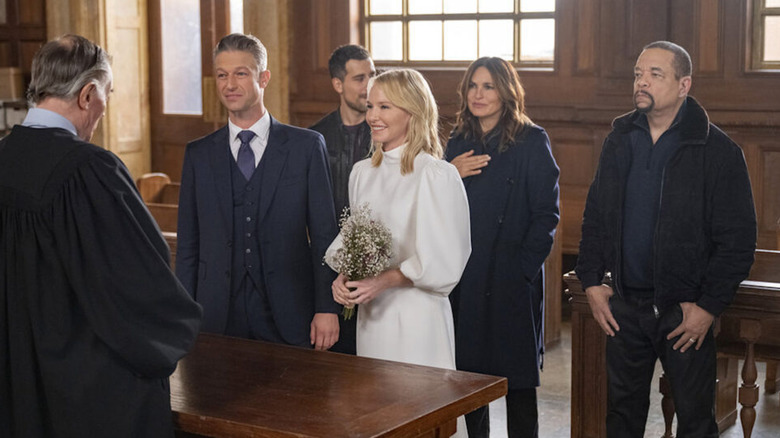 Will Hart/NBC
During the winter finale of "Law & Order: Special Victims Unit," Detective Amanda Rollins accepted a teaching job at Fordham, married her former partner-now assistant district attorney Dominick "Sonny" Carisi (played by Peter Scanavino), and made a vow to her friend, Captain Olivia Benson (Mariska Hargitay), not to disappear, allowing her to have a happy ending of sorts. Giddish told Variety she worked on her departing storyline with showrunners. "I think the last episode culminated the beautiful Rollins and Benson relationship, and we got to see Carisi and Rollins get married, which was such a treat," she said. 
She also said the wedding was a nice reward for long-time viewers, who have watched Carisi and Rollins progress from partners to friends with sexual tension to, finally, a real couple. "I was so happy, because I was like, 'Thank God' — because the fans are going to freak out if they don't get it! Let's give it to them," she said.
Giddish's final moments on the show ended with the team applauding Rollins as she walked out of the station. Thankfully, though, this won't be the last time viewers see the character. 
There's a chance viewers might see her on the show again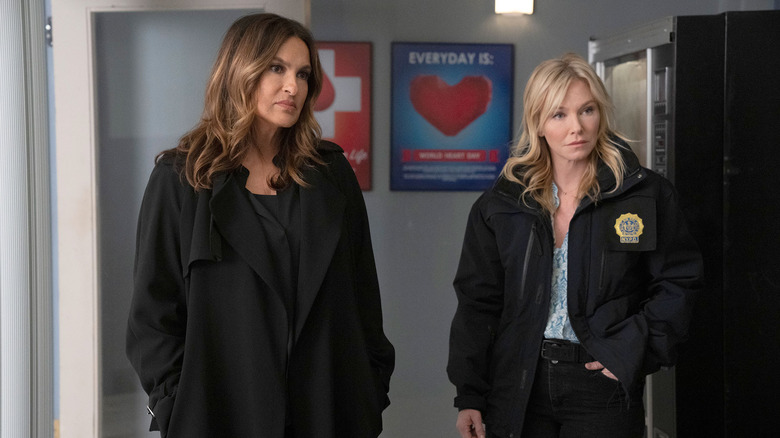 Will Hart/NBC
Aside from Carisi, the most important work relationship Rollins had on "Law & Order: SVU" was with Benson. When Rollins first met Benson in Season 13, the two had a rocky start, with a young Rollins desperate to learn from and impress the more-experienced Benson. By Season 24, the two had become best friends who supported each other personally and professionally. When Rollins told Benson about her decision to accept another job, Benson was understandably upset, but the final episode saw the two reconcile, culminating in Rollins' promise not to disappear on Benson the way her former partner, Stabler (Christopher Meloni), had done years before. 
Variety reports viewers will see Rollins again when she makes an appearance on the upcoming spin-off "Law & Order: Organized Crime," so don't count the character out just yet.
Actor Kelli Giddish said there's always a chance she could appear on "Special Victims Unit" again, too. "The door is un-shut. The world that Dick Wolf has created with all these shows now — I mean, the crossovers that happen, the people that come back. Chris Meloni was gone for 12 years and then his character came back. S. Epatha [Merkerson] is on "Chicago Med." These characters are so beloved and so well-defined, because you get to see them day in and day out [...] Dick Wolf has got such a fertile universe that's going on, that people can pop up in different places."