Everything Everywhere All At Once Star Jamie Lee Curtis Explains The Reasoning Behind The Movie's Chaos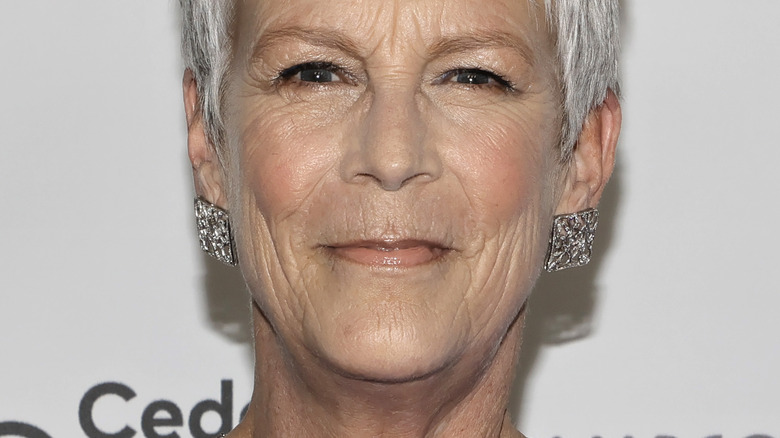 Kevin Winter/Getty Images
"Everything Everywhere All at Once" took everyone by surprise when the film — directed by Daniel Kwan and Daniel Scheinert — became A24's first movie to make more than $100 million at the worldwide box office, as reported by Variety. The black comedy about an aging Chinese immigrant, Evelyn Wang (played by Michelle Yeoh), who becomes swept up in a multiverse adventure and pursued by a malevolent order, brought in approximately $70 million in the United States alone (via Box Office Mojo) and will likely be a contender this awards season (via IndieWire).
As Evelyn and her husband, Waymond (played by former child star Ke Huy Quan), face an IRS audit, Evelyn is suddenly confronted by another version of Waymond, who tells her she is the key to saving the universe. Evelyn is then whisked from one universe to another, where she sees different ways her life could have played out as alternate versions of people she's interacted with pursuing her. Not only is there a universe where Evelyn is a rock, but there's another version where people have hot dog hands, and she's also in a romantic relationship with Deirdre Beaubeirdre (played by Jamie Lee Curtis), the IRS agent handling the audit.
Jamie Lee Curtis says there is a reason behind the zany plot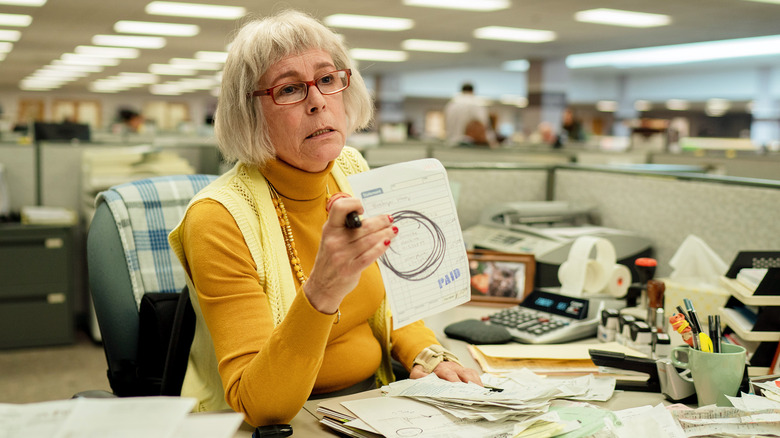 A24
Jamie Lee Curtis recently reflected on her career and legacy in a discussion with actor Colin Farrell for Variety, and Farrell asked Curtis what "Everything Everywhere All at Once" meant to her. The actress, who got her start in the "Halloween" franchise in 1978, explained the reasoning behind the film's chaotic plot. "Daniel Kwan has talked about the origins of the movie," she said. "And he talked about our phones and the society we live in, which is this digital input: In one second, we're seeing the catastrophe of the nightclub shooting last night. And then in one swipe of our finger, it's a cat video. And one swipe of our finger, it's politics and Twitter. And then the amount of information that we're processing as human beings now, demanding it from our brain ..."
When Farrell added, "They transposed that chaos, that kind of instantaneous agitation ..." Curtis responded, "... and found the center. Which is love, kindness, family, forgiveness, living with regret. We all live with regret." 
Curtis says the movie is about the human condition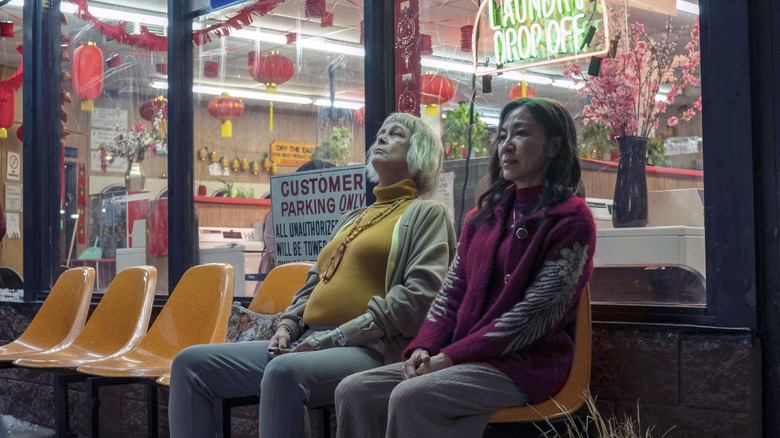 A24
Colin Farrell reflected on the plot of "Everything Everywhere All at Once" in his conversation with Curtis, noting he thought the scene that depicted Evelyn and her daughter as rocks "was one of the best-written and performed scenes." The two actors also noted Farrell's film, "The Banshees of Inisherin," shares a similar theme — "the awareness of the ticking of the clock. And as long as the clock has enough breath to go from 11 to 12, there's an ability to reverse course," Farrell said.
Ultimately, "Everything Everywhere All at Once" is about Evelyn's regrets and mistakes, centered around her family, and her growth in addressing them, which allows her to mend relationships. Indiewire notes Michelle Yeoh is an almost certain Oscar nominee for her portrayal of Evelyn. As for Curtis, she told Entertainment Weekly she wanted to look as real and "weird" as possible, so she did not wear special makeup, hair products, or body shapers to affect her appearance in her role. "I wanted to just be truthful to this woman," Curtis said. Director Daniel Kwan added, "Everyone assumes that her belly in the movie is a prosthetic, but it's actually her real belly. She was grateful that she was allowed to just let it out."