Is The Whale Based On A True Story?
Theater-goers are once again seeing a movie starring Brendan Fraser as "The Whale" heads to cinemas following critical acclaim, including that now-famous and six-minute-long standing ovation that the actor received at the Venice Film Festival. Fraser plays Charlie, a 600-pound English teacher trying to reconnect with his daughter Ellie (Sadie Sink). Fraser recently told Yahoo! Entertainment, "Charlie is not the person he presents. He's not the person who we so often dismiss. He's a man who lives with obesity, but he's also a father and he's also a teacher. He's someone who can bring out the best in others even when they can't see that in themselves. Tragically, he can't do that for himself."
Fraser is receiving plenty of awards buzz as reviews for "The Whale" continue to come in. ABC News stated, "Brendan Fraser is on the march to Oscar." Dwayne Johnson gave his own praise to Fraser, who he worked alongside in "The Mummy" franchise. "I wanna see him on that Oscar stage, and hold that sucker up...," he told MTV News. Meanwhile, Looper's own review applauded the vulnerability in Fraser's performance. While many are riveted by Fraser's performance, many people may also be wondering if the film is based on a true story.
The source material that helped to bring The Whale to theaters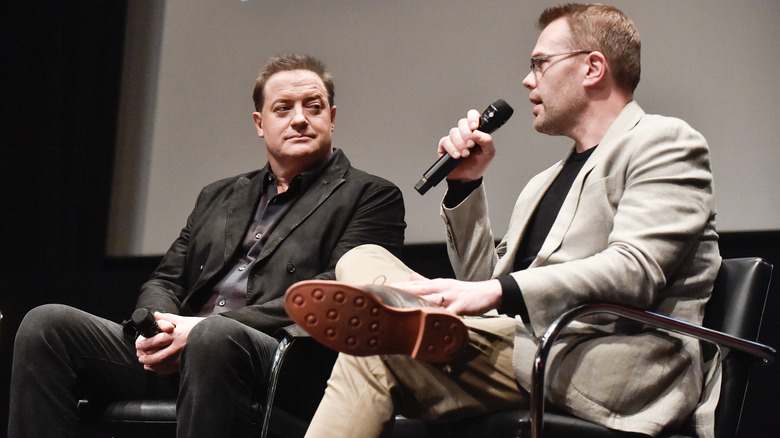 Rodin Eckenroth/Getty Images
"The Whale" is not based on a true story. It's actually based on a play written by Samuel D. Hunter, who also wrote the film's screenplay. Playbill has reported that the play was performed Off-Broadway in 2012, earning several awards before heading to England in 2018. "It's a very rare experience for a playwright to get to adapt their own play, in a way that's pretty faithful to the original text, with some cinematic language in there...," Hunter told TheaterMania during an interview with Fraser, who noted that he hadn't seen the play beforehand. However, it was Hunter's screenplay that drew him to the project.
Fraser himself is no stranger to theater, having starred as Kjell Bjarne in "Elling" on Broadway back in 2010. Meanwhile, his co-star Sadie Sink -– known to many as Max in the Netflix hit series "Stranger Things" — has also been on Broadway, performing in "Annie" from 2012 to 2013 and "The Audience" in 2015. According to IGN, a limited theatrical release for "The Whale" started on December 9, 2022, and a wider release is scheduled to begin on December 20, 2022.