The Nixed Michael Keaton Batman Movie Would Reportedly Have Rekindled Bruce Wayne And Catwoman's Romance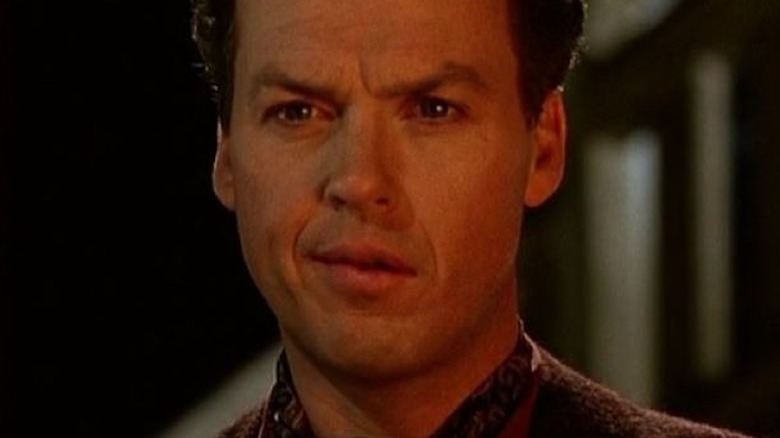 Warner Bros.
Fans can now add a potential Michael Keaton "Batman" movie to the growing list of would-be films that appear to have been stopped in their tracks at DC Studios. "Wonder Woman 3," "Batgirl," and a potential "Man of Steel" sequel have made headlines recently due to alleged scrapped plans or sudden halts in production.
Keaton's Batman and Jack Nicholson's Joker became a part of pop culture in 1989's "Batman." In 1992, Keaton would once again don the cape of the Dark Knight in "Batman Returns," starring alongside Michelle Pfeiffer as Catwoman. The film explores the tumultuous connection between the DC icons while Catwoman seeks revenge against her terrible boss and ultimately joins the Penguin (Danny DeVito) in his plans to wreak havoc on Batman and Gotham City.
While fans can still expect to see Keaton in the upcoming "The Flash" movie, hopes for a new standalone "Batman" movie with Keaton have reportedly been nixed. Based on a recent report, it sounds like that movie would have included the rekindling of the Batman and Catwoman romance from "Batman Returns."
Michael Keaton's Batman film was reportedly being written before plans changed
According to The Hollywood Reporter, Christina Hodson –- the writer behind the cancelled "Batgirl" project –- was set to write Michael Keaton's new standalone "Batman" adventure that was meant to be a spin-off of the upcoming "The Flash" movie. It would have reportedly brought Batman and Catwoman's romantic spark back to the big screen, although it is unclear if Michelle Pfeiffer was set to return. Hodson was working on the script when she was told to stop writing it. The red light came shortly after James Gunn and Peter Safran were crowned the new co-chairs and co-CEOs of DC Studios. This marks the second red light for Michael Keaton's Batman, who was also scheduled to appear in "Batgirl."
While all of this news of scrapped projects may sound bleak to DC fans, it's not all doom and gloom. The Hollywood Reporter published a report earlier this week regarding the shutdown of "Wonder Woman 3," noting that Safran and Gunn are set to talk to Warner Bros. Discovery CEO David Zaslav about their vision. Gunn responded on Twitter, noting that some of the report is somewhat true, while other details have not yet been decided. "We know we are not going to make every single person happy every step of the way," Gunn said, "but we can promise everything we do is done in the service of the STORY & in the service of the DC CHARACTERS we know you cherish and we have cherished our whole lives ..."