Andor's Andy Serkis Says Getting To Act Opposite Diego Luna Drew Him To The Project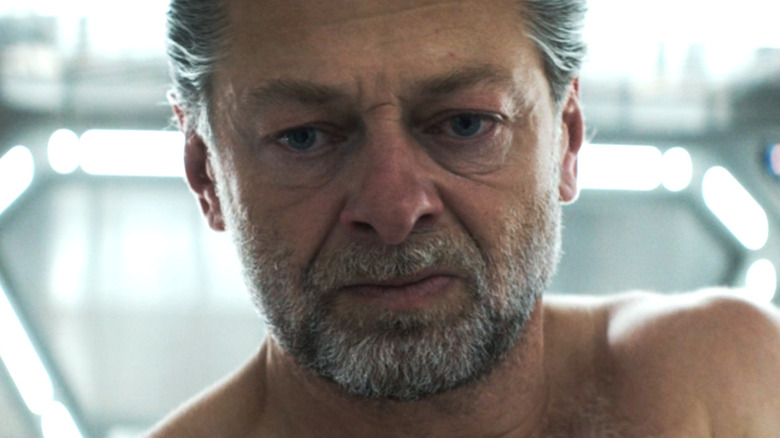 Disney+
Andy Serkis made a name for himself as the foremost motion capture actor in Hollywood, portraying CGI characters such as Gollum and Caesar the Ape. But lately, he's been putting his real face forward in movies like "The Batman" and, now, in the "Star Wars" Disney+ series "Andor." In fact, "Andor" reflects the actor's new career phase, as he previously portrayed the CGI Snoke in Disney's "Star Wars" trilogy (via IMDb).
Serkis appeared in a multi-episode arc on "Andor" in which he portrays Kino Loy, a fellow prisoner in a gulag-like Imperial work camp alongside Digo Luna's titular Cassian Andor. He's in charge of one of the camp's workrooms that are revealed to make Death Star parts, and runs it obediently, believing that if he serves his time with good behavior he'll be freed and can put the camp behind him. But after learning that the Empire has no intention of letting its prisoners live, let alone walk free, he joins forces with Cassian to organize a prison break during the episode "One Way Out." But his newfound rebellion is cut short when the prisoners jump from the decks of the prison into the ocean surrounding it. Unable to swim, Kino is left behind in one of the show's most emotional moments, presumably to be executed for his role in the riot.
Since his character's arc aired on Disney+, Serkis has been lavished with praise for his standout performance, bringing an aching humanity to Kino that helps him stand out as one of the series highlights. Serkis recently spoke to the official Star Wars blog to break down his experience working on Andor. As he revealed, what initially drew him to the project was getting to work alongside Diego Luna.
Serkis loved Luna in Rogue One and jumped at the chance to work with him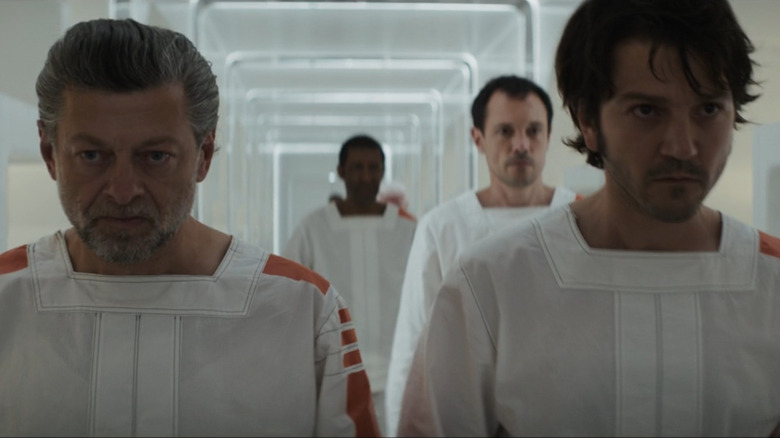 Disney+
Speaking to Star Wars, actor Andy Serkis noted that one of his major attractions to the role of Kino Loy on "Andor" was getting to work alongside series lead Diego Luna. According to Serkis, he jumped at the opportunity to be a part of the project because he'd become a fan of his now-castmate after seeing Luna first portray Cassian Andor in "Rogue One: A Star Wars Story." Said Serkis, "Another very strong reason I wanted to do this [is] because I really love Diego's acting and I love Cassian as a character. So to have a chance to really intimately get to work together was incredible."
Serkis continued to sing Luna's praises, highlighting the other actor's many skillsets, including one they share in common. "He's such a major talent and a brilliantly gifted actor and storyteller and really generous, a really great natural leader. He also directs, so it was lovely to have that conversation with him as well." That latter point may have especially ingratiated Luna to Serkis, who has also taken up directing, most notably taking the helm of "Venom: Let There Be Carnage."
Though it's likely the end of the road for Kino Loy after the character's tragic sacrifice (despite what fans may think), his onscreen chemistry with Luna is undeniable, and many fans would surely be excited to see the two reunite for future projects, as would both actors.